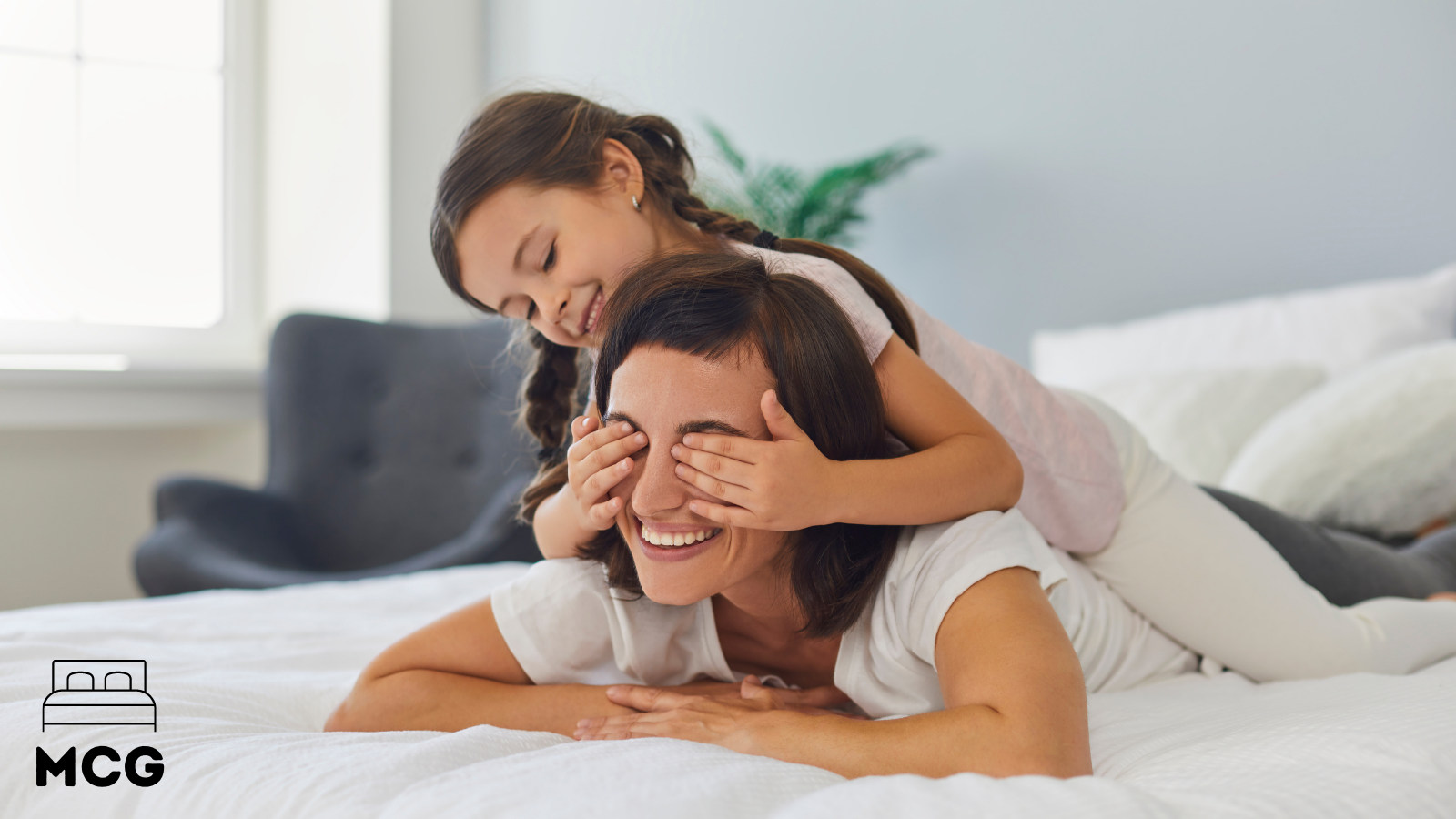 A box spring is a device that is placed beneath a mattress to deliver extra support and height by raising it off the ground.  They consist of a mattress-sized frame filled with rows of supportive steel springs. The frame can be made from either wood or metal and is covered in fabric.
Box springs were traditionally coupled with older innerspring mattresses. These mattresses had narrow profiles and required extra support and height for comfort. This is where the box spring came in. They deliver several benefits including increased support, comfort, height, and air circulation.
However, box springs are not in common use today. They are rarely needed if you purchase a high-quality mattress. And, they should not be used with most memory foam, latex, or hybrids.  These mattress types are incompatible with box springs.
---
BOX SPRING GUIDE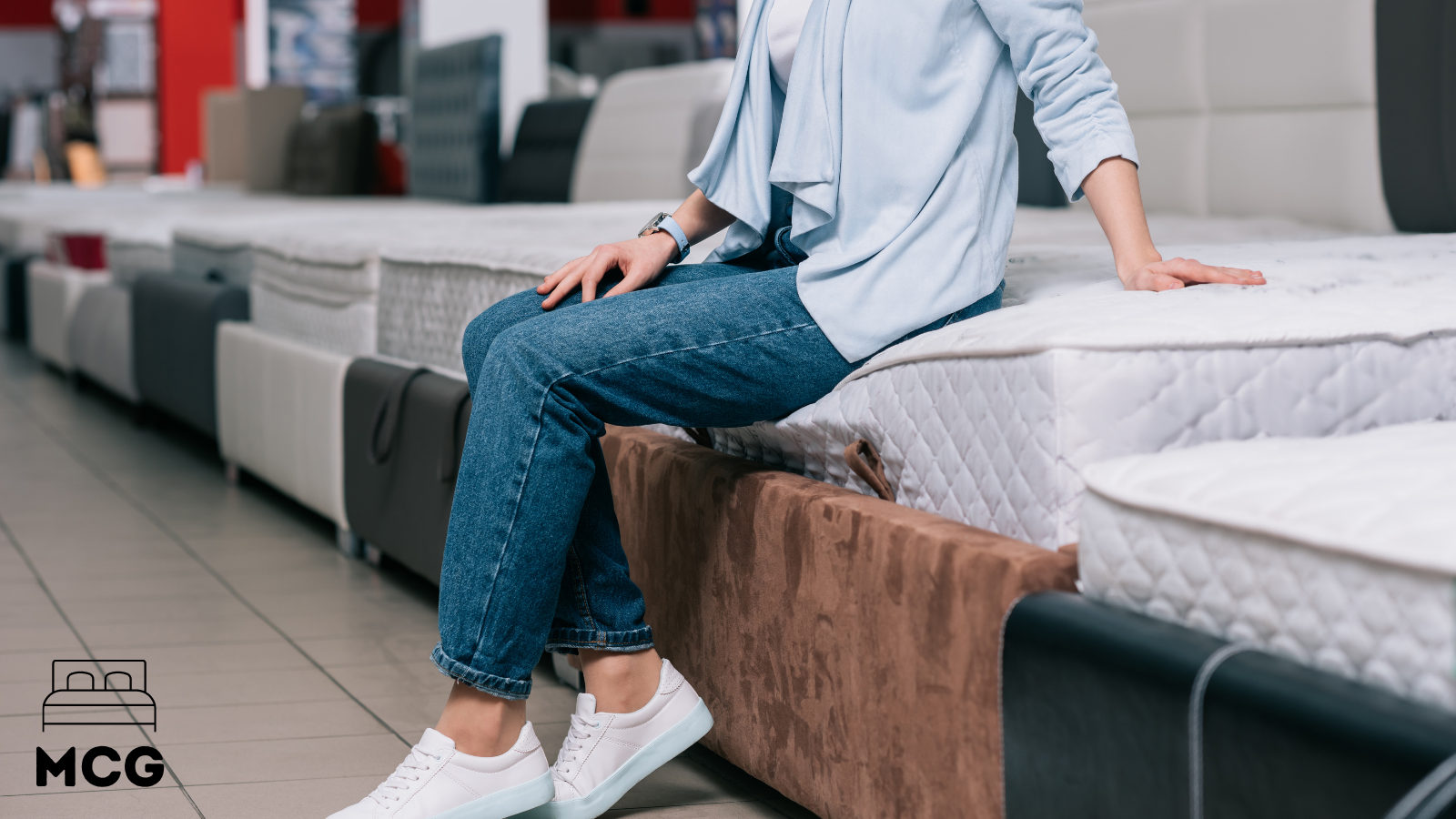 • When Not to Use a Box Spring
• Bed Foundations, Platforms & Adjustable Beds
---
WHAT ARE THE BENEFITS OF A BOX SPRING?
What are the advantages of using a box spring? Box springs are designed for use with mattresses that require additional support, height, and airflow. To experience the benefits of a boxspring you must place a mattress directly on its surface. Let's take a closer look at the advantages of a box spring.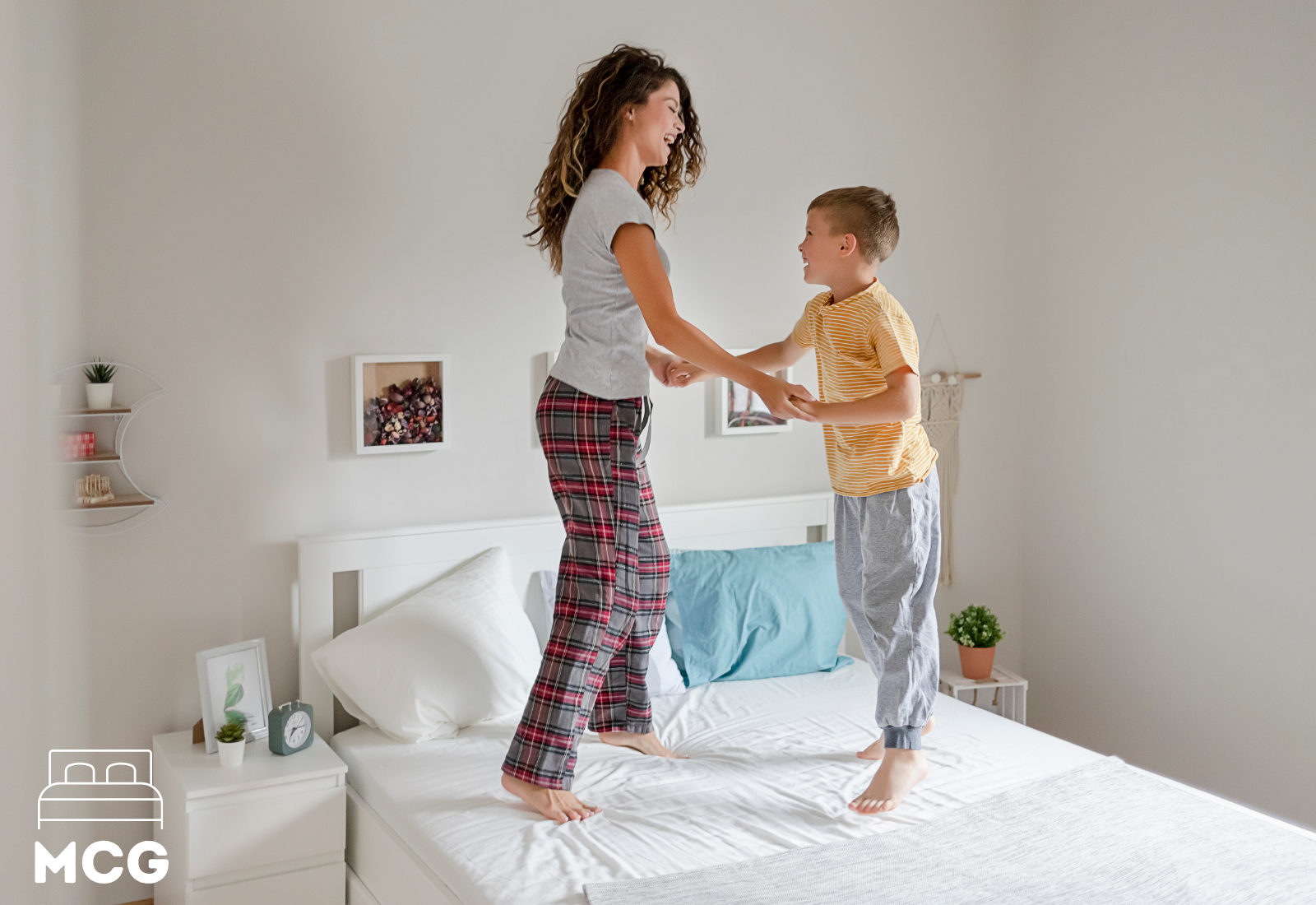 ADDED HEIGHT
One of the key benefits of a box spring is that they add height to your mattress. They raise it up off the floor to a more comfortable level. This makes it much easier to climb in and out of bed. If your mattress is sitting too low you can instantly add some height by placing it on a box spring. It's a simple, fast, and cost-effective way of raising the height of your mattress.
Many people choose to use a box spring in place of a bed frame. This allows you to lift your mattress up off the floor and is a key benefit for anyone with mobility issues that has difficulty getting into a mattress that is positioned too close to the ground.
MATTRESS SUPPORT
Box springs provide an added layer of firm support and bounce for a mattress. They are an excellent way of providing an extra supportive layer to a mattress. Box springs are positioned directly below a mattress and are designed to deliver responsive support and shock absorption to the mattress above.
In fact, some innerspring mattresses require the use of a box spring below for support and protection. Failure to comply can result in your warranty being voided. A strong supportive box spring delivers the support needed to help prevent a mattress from sagging and prolong its useable life.
BETTER AIRFLOW
Box springs are great for boosting airflow around and through your mattress. This has two key advantages – cooling and drying. Many of us tend to sleep hot. Our temperature rises during the night and it can be difficult to get comfortable. By adding a boxspring you can boost air circulation below and through the mattress. This allows warm air to escape and will help keep you cool during the night.
Additionally, increased airflow will help keep your mattress dry. Mattresses tend to attract moisture in the form of sweat and other bodily fluids. Over the years this moisture can accumulate if not dried out by sufficient airflow. Using a box spring will help keep your mattress dry and free from mold and mildew.
ABSORB IMPACT
Box springs are great at absorbing impact. After all, they are made of springs. Placing your mattress on a box spring will protect and prolong the life of the mattress by absorbing impact. It will also protect the bed frame if you're using a bed frame.
If a box spring is placed between a mattress and a bed frame it will act as a protective layer for both the frame below and the mattress above. The springs inside the boxspring will absorb shock and sudden movement – such as someone jumping on the bed. Providing you have a mattress that requires a box spring – it will add years to its life.
FOLDING BEDS
Box springs work well with folding beds. In fact, they are a great addition to any kind of temporary bed. If you've ever slept on a foldable or collapsable bed you will have noticed how they tend to lack support. Not only that, but they can sag or buckle in the middle while lying in them.
You can solve this problem by placing them on a box spring. They provide the firm support and steady base that a foldable bed lacks. When you put the two things together you will experience a much more comfortable and supportive sleeping surface.
---
HOW TO USE A BOX SPRING?
How do you use a box spring?  And, where are they placed.  Don't worry, they're incredibly easy to use. Just follow the steps below and you'll be set up in minutes.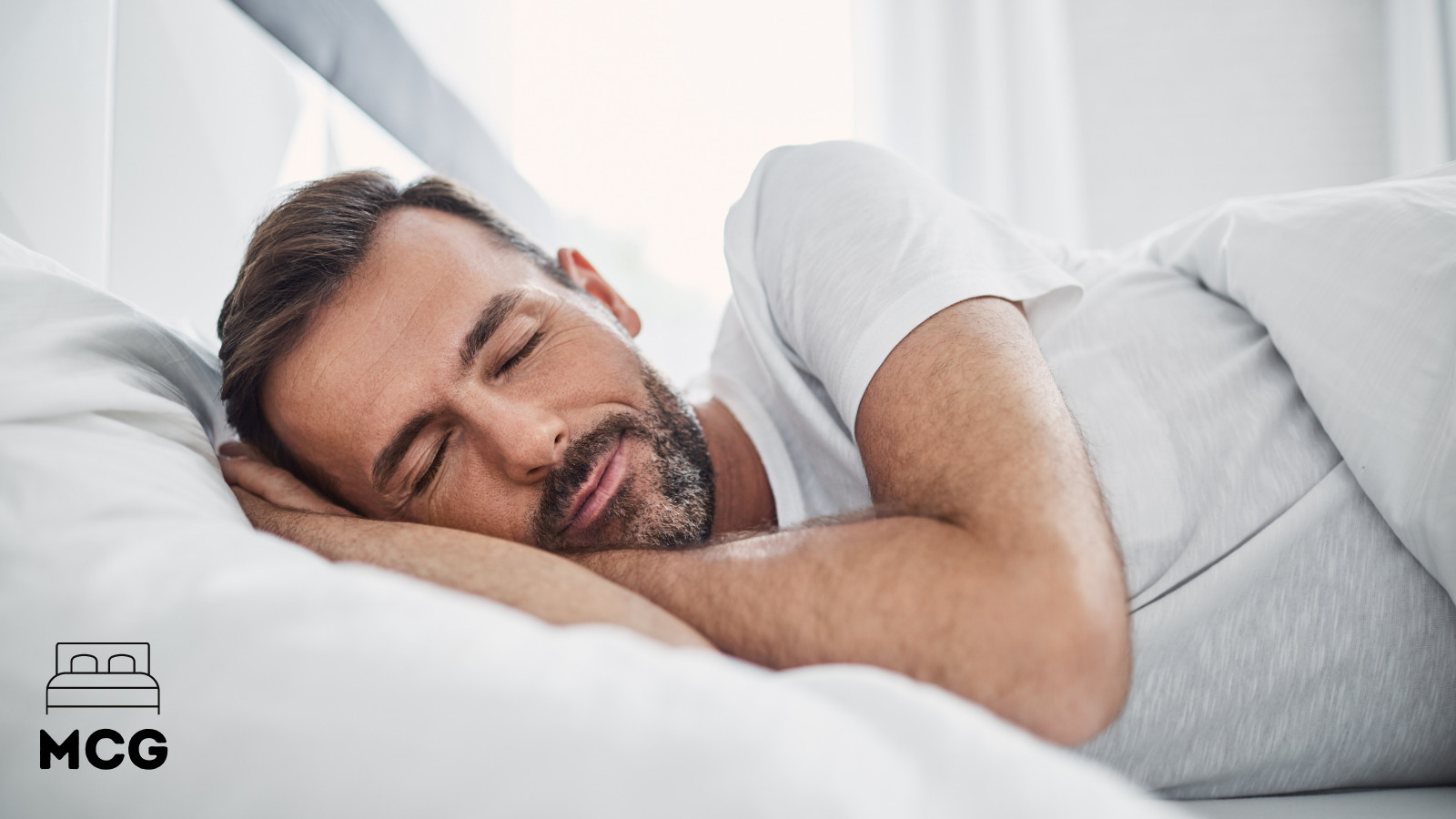 1: DETERMINE SUITABILITY OF MATTRESS FOR BOX SPRING
Is your mattress suitable for use with a box spring? Some mattresses should not be placed on one.  In general, coiled spring mattresses can. While foam, latex, and hybrid mattresses cannot. Using an unsuitable mattress with a box spring can damage your mattress.
To find out, check the label on your mattress for instructions. If you can't find any information there, contact your mattress manufacturer to determine if your mattress can be placed on a box spring.
2: PLACE BOX SPRING ON FLOOR OR BED FRAME
Once you've confirmed your mattress is suitable you can go ahead and position the box spring. Place it directly on the floor of your room or if you're using a bed frame you can place it on the bed frame. Make sure the bed frame is suitable for use with a box spring. And, make sure it is the same size and can safely support the device.
Check the orientation of the box spring when placing it in position. Does it have an upper and lower surface? Place the bottom side against the floor or bed frame and make sure the top surface is facing up and ready for your mattress.
3: PLACE MATTRESS ON BOX SPRING
Finally, place your mattress directly on the surface of the box spring. The underside of your mattress should sit directly on the surface of the box spring. Carefully line up all sides and corners so the mattress is flush completely flush. This optimizes the support and stability of the mattress-boxspring combination.
---
TYPES OF BOX SPRING
What are the different types of box spring? And, what are their key features? Box springs are simple bedroom accessories. They consist of a frame filled with coiled metal springs. The frame is made from either metal or wood and is covered in fabric. Box springs are used primarily to deliver extra support and height to a mattress.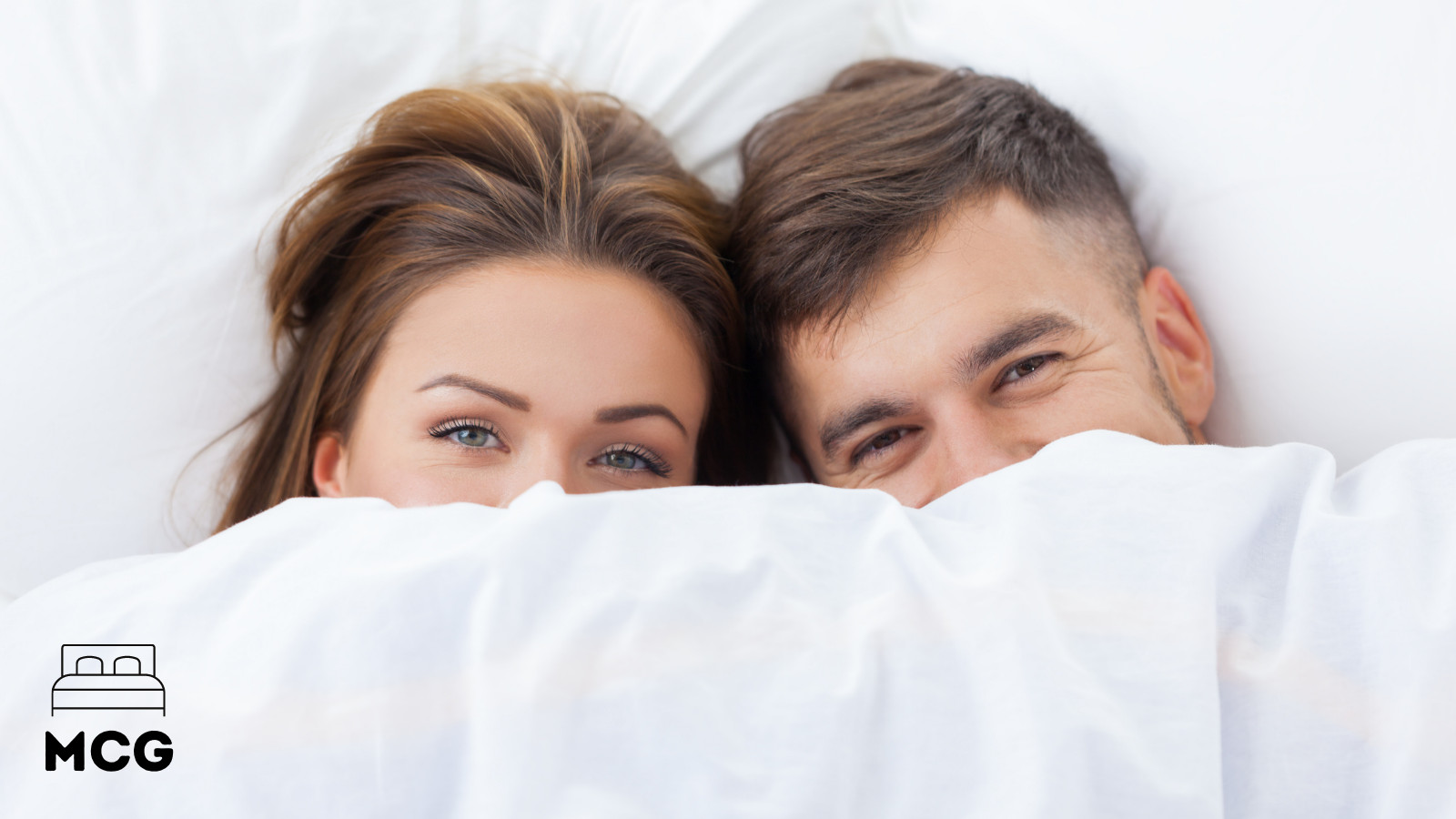 You can use a boxspring to lift your existing mattress off the ground and deliver some extra firm support and help prevent sagging. However, some mattresses are not compatible. Check with your mattress manufacturer before placing it on a box spring.
LOW PROFILE BOX SPRING
Low-profile box springs are low in height. They sit close to the ground. These boxsprings measure no more than 5 inches in height. They are a good choice for people that want to position their mattress very close to the floor.
STANDARD PROFILE BOX SPRING
Standard profile box springs are the most popular profile type. Most people that have used a box spring will be familiar with their dimensions. They measure between 5-9" inches high and deliver a more substantial boost in height for your mattress.
HIGH PROFILE BOX SPRING
High-profile box springs are the biggest type. They measure 9" inches or higher. These box springs are used by people that want to add plenty of height and lift their mattress well above the ground. High-profile box springs are favored by tall people.
STORAGE EQUIPPED BOX SPRINGS
Storage-equipped box springs have been specially designed to contain compartments that can be used for storage. They are great for packing away pillows and bedclothes that aren't being used. Storage-equipped box springs are fully functional and match regular box springs in terms of support and all-round performance.
SPLIT BOX SPRINGS
Split box springs come split into individual parts. These box springs are used in beds that have moveable parts. The best example of where they are used is in an adjustable bed. Adjustable beds have sections that can be raised or lowered to meet specific needs.
FOLDABLE BOX SPRINGS
Foldable box springs fold in half. They are designed to fold down the middle with one half stacking up on top of the other. They are ideal for temporary bed setups that you want to pack away when not in use. Foldable box springs are great for rolling out when visitors call over.
---
WHEN YOU SHOULD NOT USE A BOX SPRING
Not all mattresses are compatible with box springs. Especially modern memory foam, latex, or hybrid mattresses. You can damage a mattress by placing it on a box spring if it is not compatible.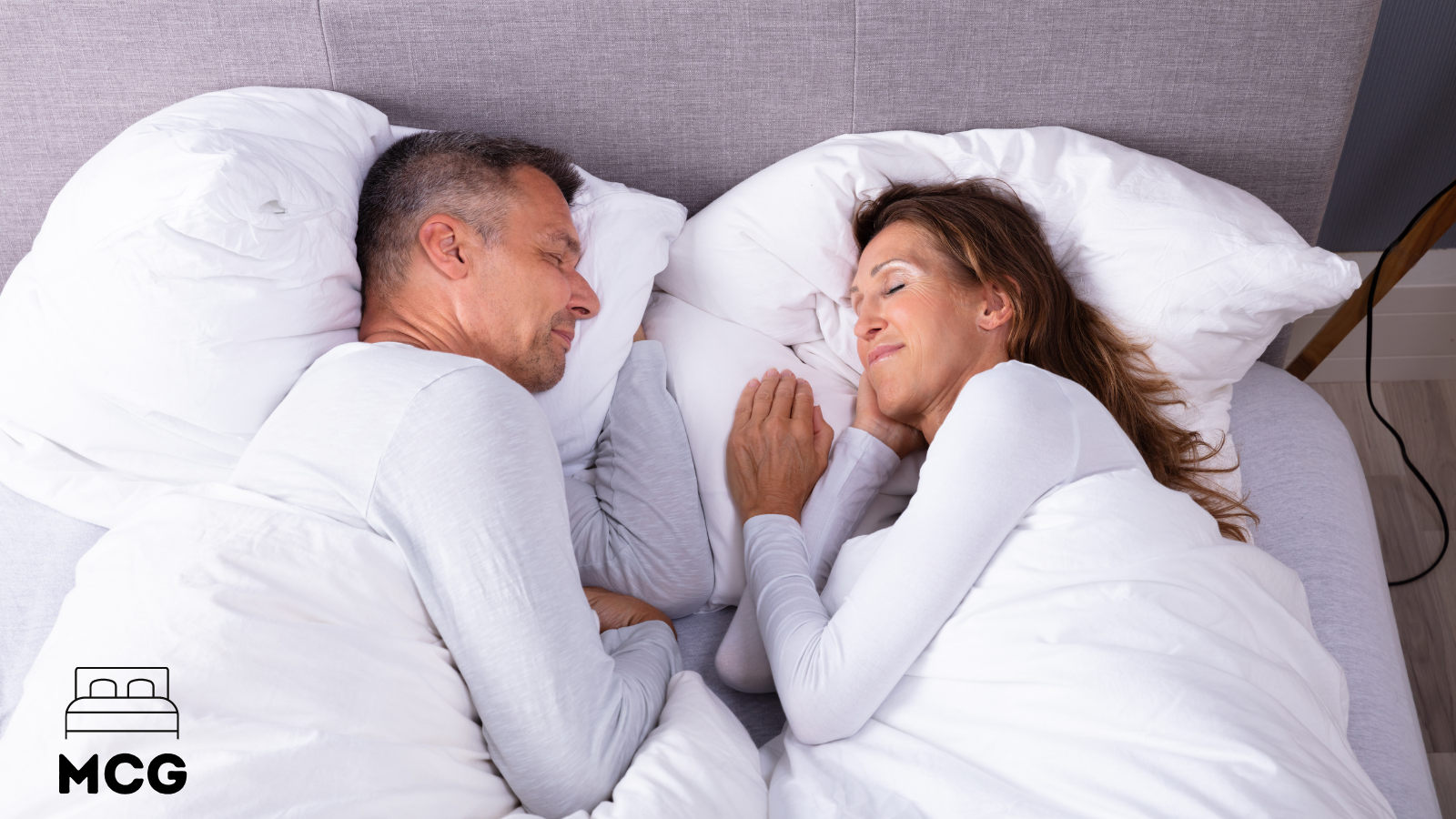 For this reason, you must check to see if your mattress can be used with a box spring before firing ahead and doing so. You can even void your warranty by using a box spring with an incompatible mattress – you have been warned.
In general, you should not use a box spring with the following mattress types.
---
BOX SPRING vs. FOUNDATION, PLATFORM & ADJUSTABLE BED?
What's the difference between a box spring, bed foundation, platform bed, and an adjustable bed? Below we explain the key differences between these types of bed base.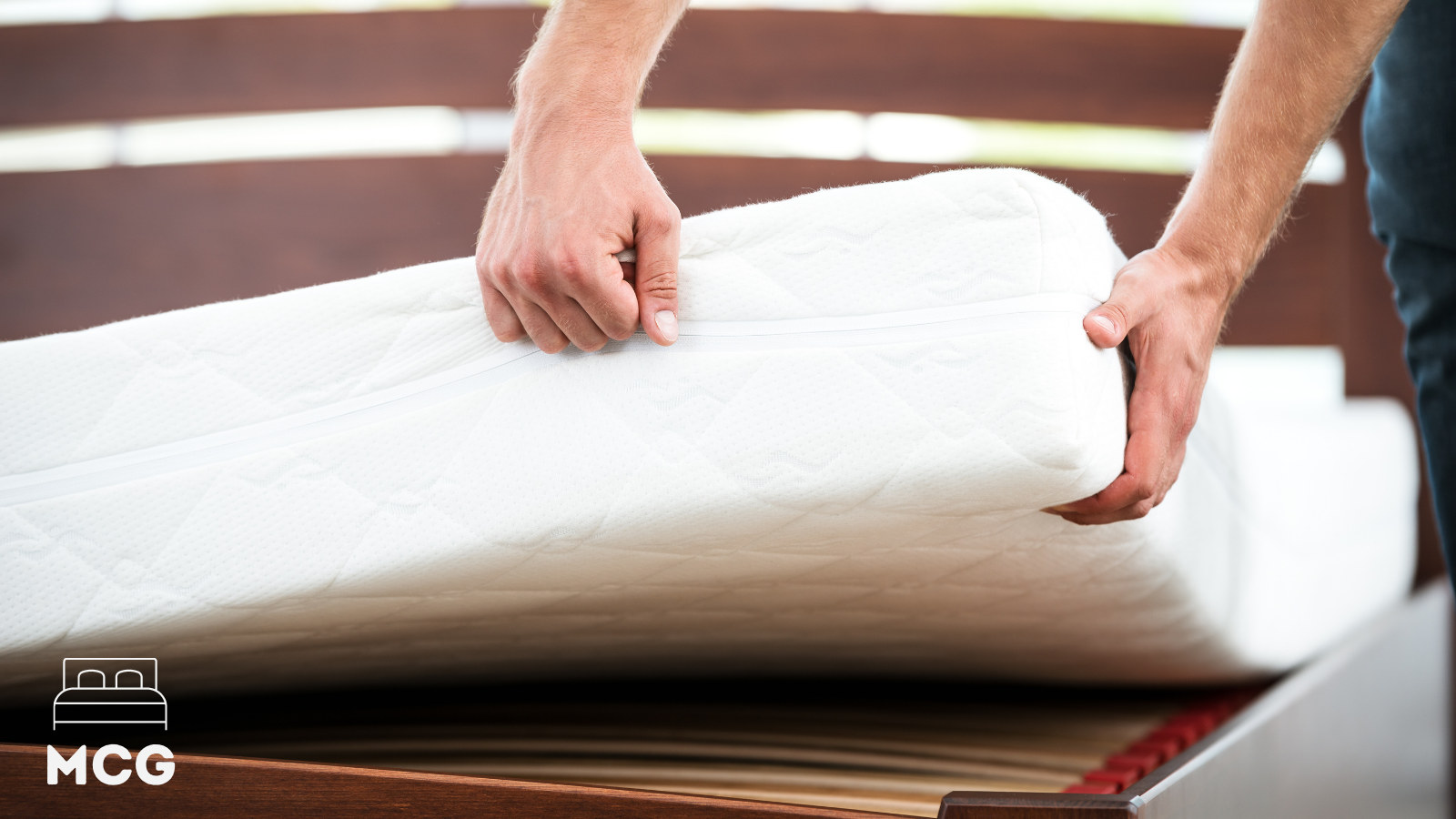 BOX SPRING
A box spring is a frame that is filled with coiled springs and covered in a protective fabric. They are used to deliver added height and support for a mattress, and are usually used with innerspring mattresses. They have several benefits including increased comfort, cooling, and prolonging the lifespan of a mattress.
BED FOUNDATION
A bed foundation is another type of mattress base. They are most commonly used with modern foam mattresses – such as memory foam. Foundations consist of a series of solid slats that provide a firm base for a mattress. They are usually placed inside a bed frame. They are made from wood and don't contain any springs.
PLATFORM BED
A platform bed is a mattress base that combines both a bed frame and a bed foundation. The bed frame raises the bed foundation off the ground and adds height and cooling. They create a small space between the floor and the bed foundation. This space is often used for bedroom storage. Platform beds are very popular as they tick a lot of boxes.
ADJUSTABLE BED
An adjustable bed has a special type of bed frame that can be adjusted to multiple positions. They have one or more pivot points that allow sections of the bed to be raised or lowered. A hospital bed is an example of an adjustable bed. The upper and lower sections can be raised depending on the requirements of the patient. For more, see Benefits of an Adjustable Bed.
---
HOW MUCH IS A BOX SPRING?
Box springs cost between $100-$600. If you want something of quality that will last you should aim to part with at least $400. Low-quality models will set you back between $100-$200. But, these models are usually of low quality and perform poorly.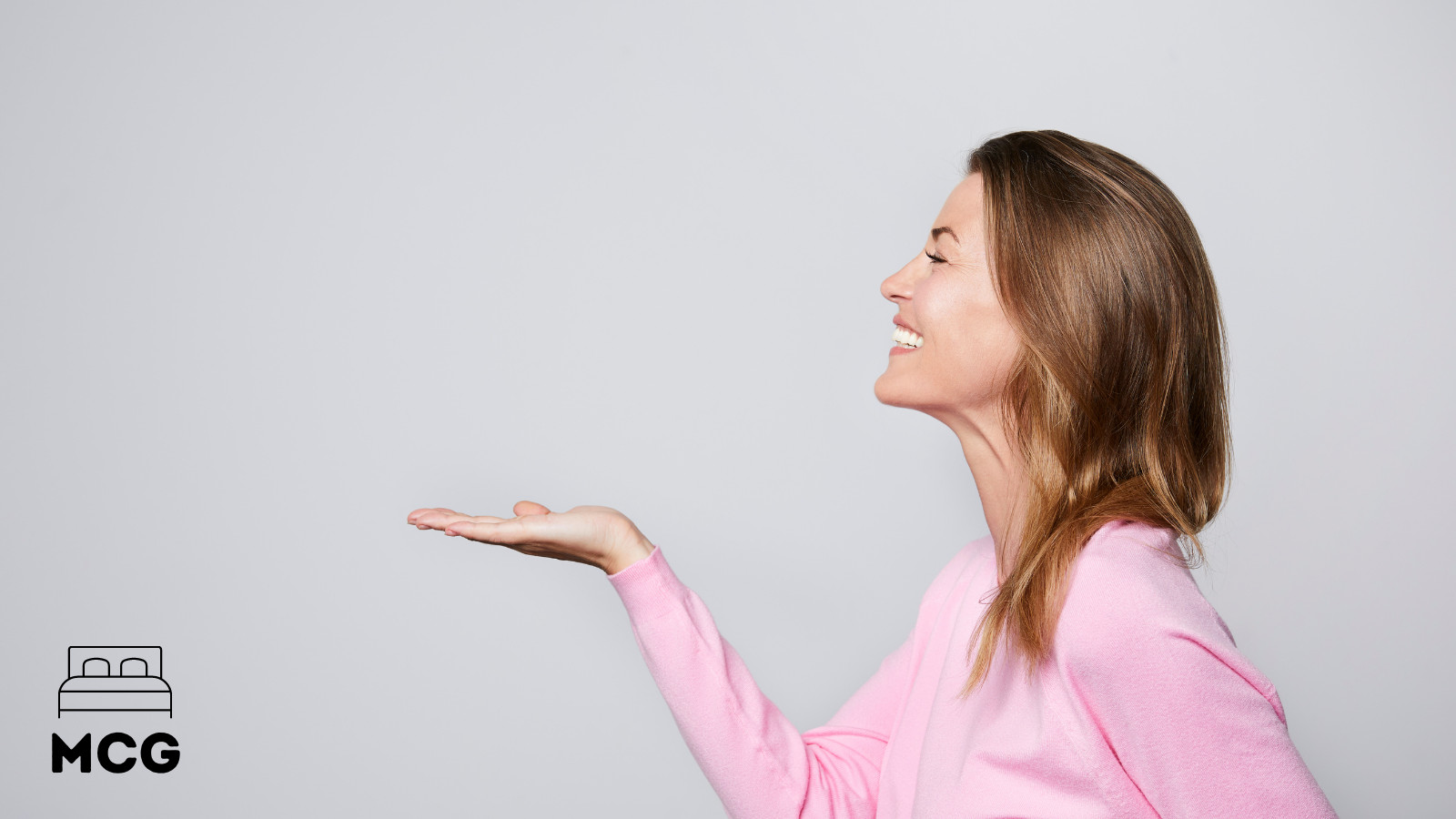 The chances are you'll have to replace them within 24 months. If you are planning on investing in a box spring – get something that performs well and is built to last. Cheaper models are a false economy.
---
RELATED
• What Is the Best Type of Mattress For Me?
---
WHAT IS A BOX SPRING FAQ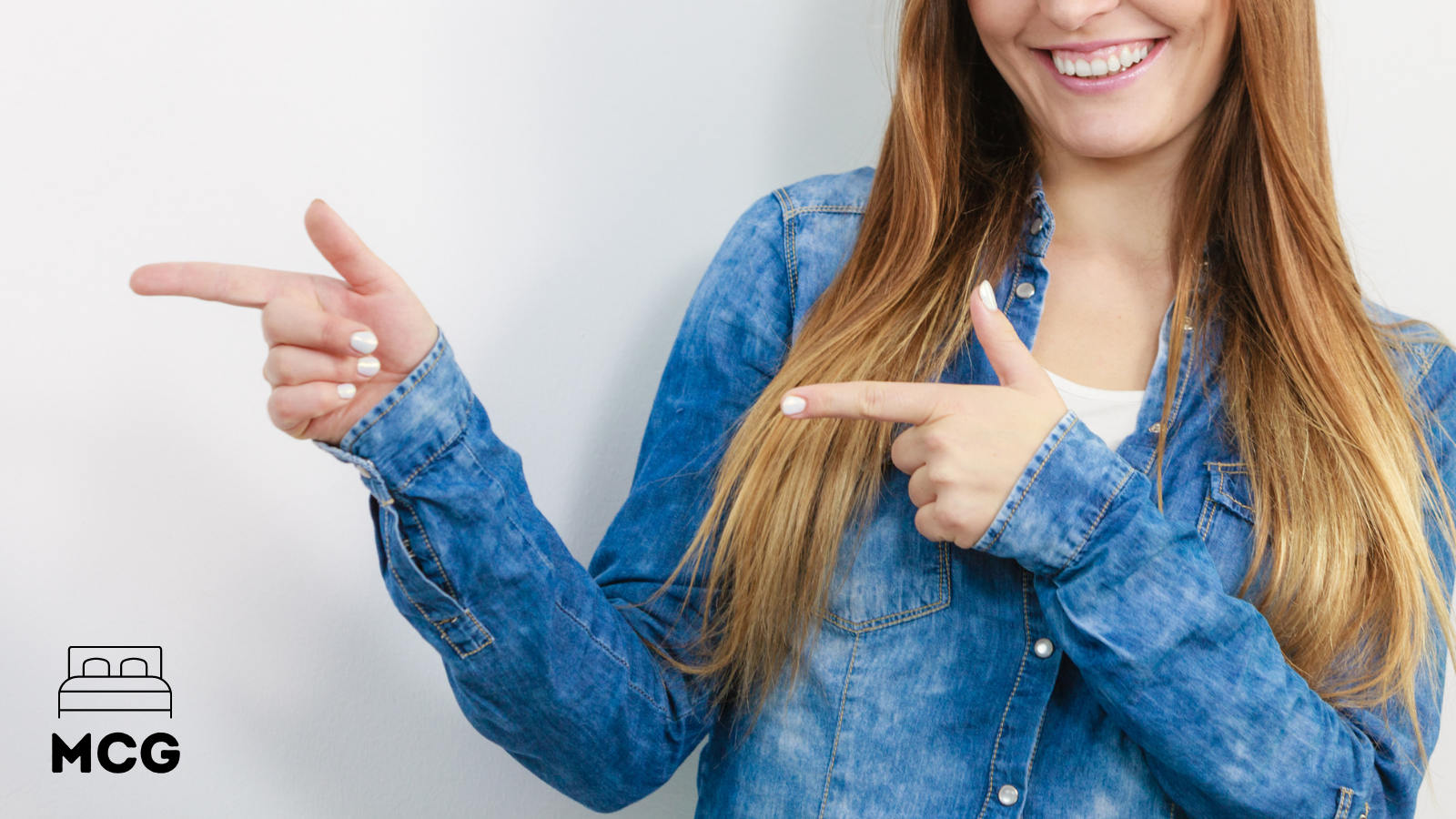 What Does a Box Spring Do?
A box spring is placed beneath a mattress to lift it off the ground, provide additional height, deliver additional support, and boost air circulation around and through a mattress. They also protect a mattress by absorbing impact and shielding it from direct contact with the floor.
What Type of Mattress Does Not Need a Box Spring?
In general, you should not use a box spring with a memory foam, gel foam, latex, or hybrid mattress. You should contact your mattress manufacturer to determine if your mattress is compatible with a box spring.
Do You Need a Box Spring if You Have a Slatted Bed Foundation or Platform?
In general, if you have a slatted bed foundation or platform you do not need a box spring. Bed foundations and platforms provide the height and support of a box spring. There is no need to use both.
---
ABOUT THE AUTHOR
JOSH HARDY – Senior Editor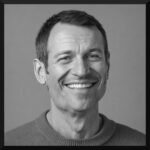 Josh is senior editor at Mattress Comfort Guide. He is an industry expert with over 30 years of experience in the bed and mattress industry. Josh is a native of Albuquerque and is a graduate of the University of New Mexico. He holds an M.S. in Project Management and a B.S. in Earth & Planetary Sciences.
He has worked in both the retail and manufacturing industries where he has held consultancy roles on mattress design and technologies. Josh has a particular interest in how different mattress types complement body size and sleeping position, and deliver optimal lumbar support. Josh is a keen sports fan and when he's away from the office he likes to play basketball and catch the New Mexico Lobos games with his two sons at the Pit.
---