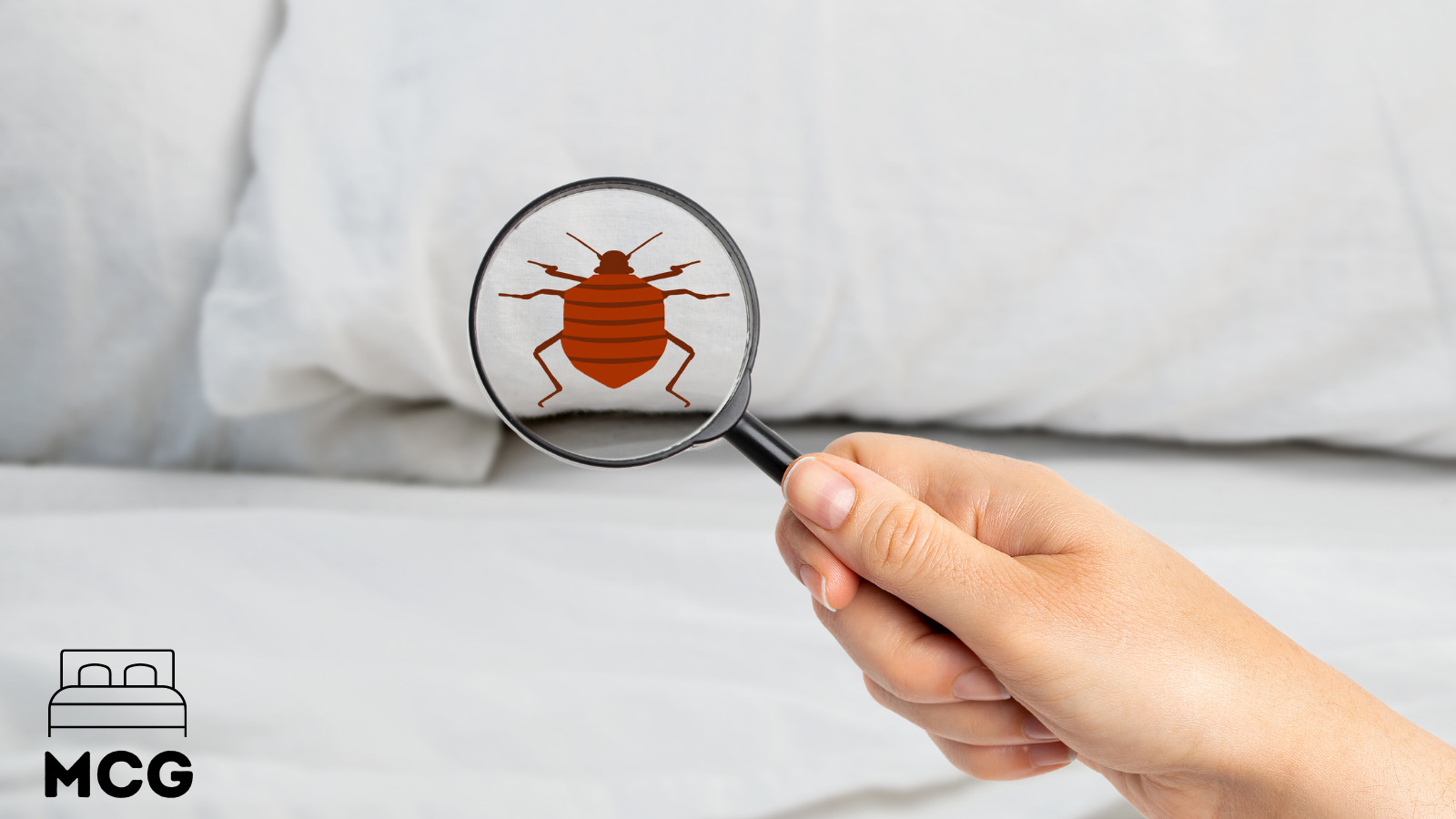 Do you have bed bugs in your mattress? They can be very annoying little creatures. They are excellent at hiding, only come out at night, and like to feed on human blood. But don't worry, we'll walk you through everything you need to know about how to get rid of bed bugs in mattresses.
---
HOW TO GET RID OF BED BUGS IN A MATTRESS
Have you got a problem with bed bugs in your mattress? Don't worry, there are several ways you can rid yourself of the tiny pests. Bed bugs are a real nuisance when they find their way into your bed – but there are some simple actions you can take to eliminate them.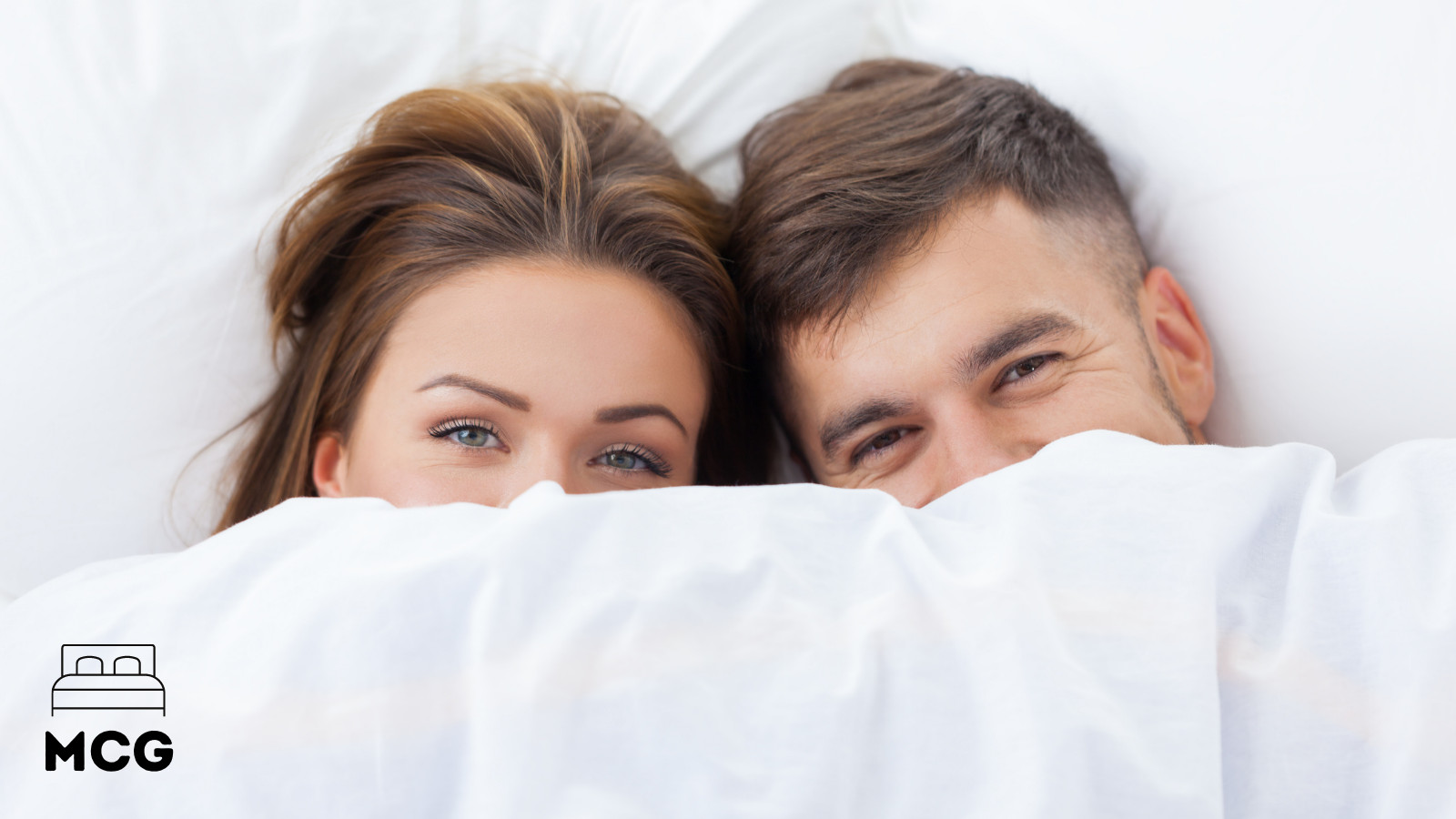 In this guide, we'll explain what bed bugs are, how they get into your mattress, how to find them, and how you can get rid of them. Bed bugs are stubborn little creatures that like to hide in small crevices.
They only come out after dark and like to suck on human blood. They can go months between feeds and this can make them difficult to find.
You can remove bed bugs from your mattress using a hoover, by cleaning your bedclothes in a hot laundry cycle, blasting with steam, and by using chemicals. Professionals even use trained dogs to locate their hiding place. Don't worry, we cover everything you need to know below.
---
Listen to This Article
---
JUMP TO CONTENT
• How Do They Get Into Your Mattress?
• How to Kill Bed Bed Bugs in a Mattress
• Chemical Treatments for Bed Bugs
---
WHAT IS A BED BUG?
A bed bug is a small brown insect that has a flat body and is about the size of an apple seed. They are wingless parasites and feed by sucking the blood of other animals, such as humans. The insect comes largely from one of two species – Cimex lectularius (most common) and Cimex hemipterus.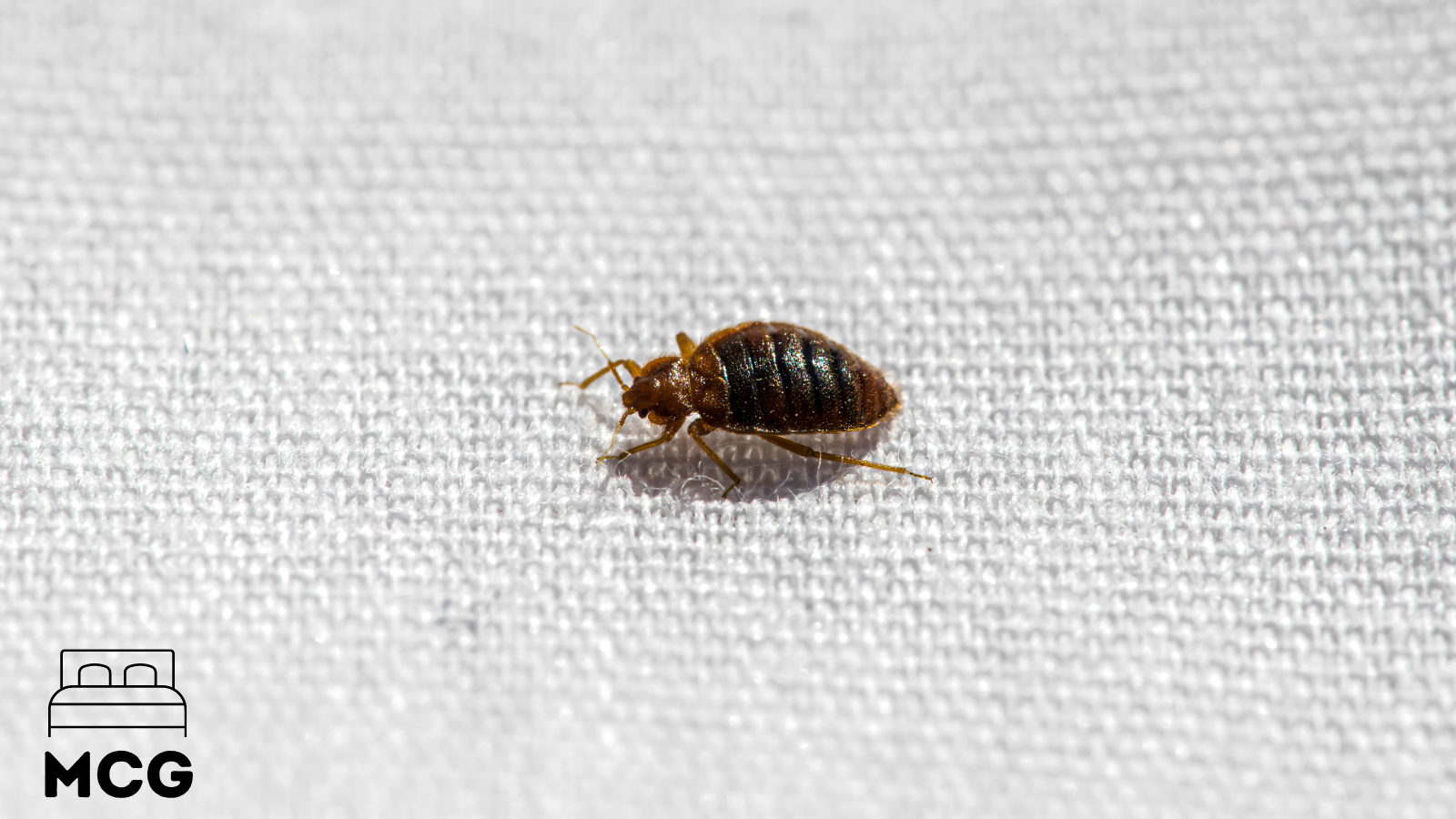 Bedbugs cannot fly – but they can quickly crawl across walls, floors, and ceilings. They like to hide in small crevices in your home such as spaces in furniture, headboards, and especially mattresses.
Bedbugs like to hide during the day and come out to feed during the night. They pierce human skin with tiny beaks and gorge on blood until they are full. Bedbugs are not known to spread disease but may cause a rash or an allergic reaction.
Mattresses present an ideal hiding place for bed bugs. It is full of lots of tight, dark hiding spaces and provides easy access to sleeping humans during the night.
---
HOW DO THEY GET INTO YOUR MATTRESS?
How do bed bugs get into your bed? There are many ways a bed bug can get into your home and begin nesting in your mattress. The two most common ways are via direct contact with bed bugs in a place that is already infected and by introducing furniture that contains bed bugs.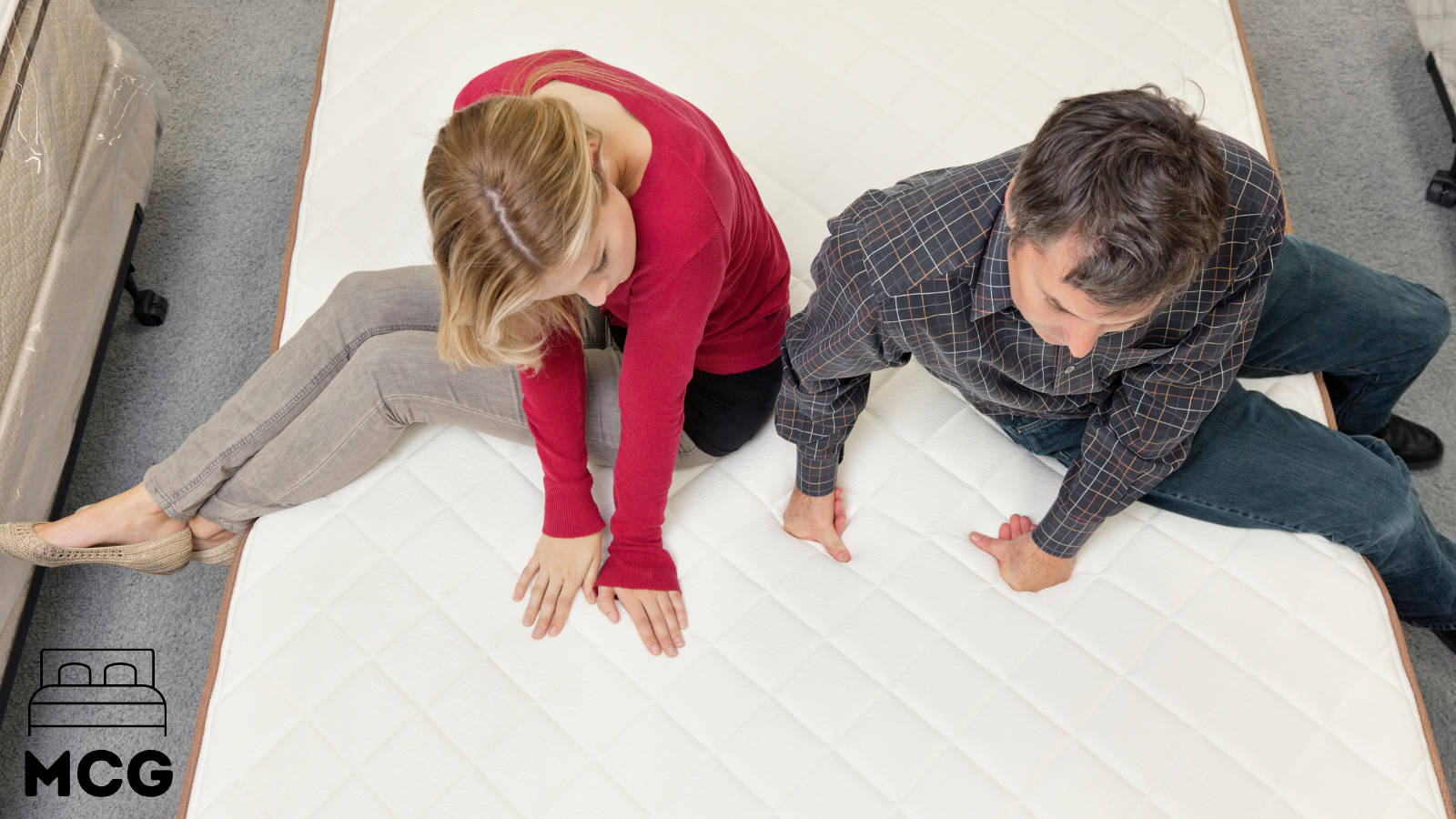 DIRECT CONTACT
If you come into direct contact with bed bugs in an infected area – you can unwittingly carry them back to your home in your clothes or luggage. For example, if you stay in a hotel that has a problem with bed bugs they can easily get into your clothes or suitcase when the lights are out.
Then, when you return home you may introduce the bugs to your bedroom where they can transfer to your mattress. It is important to note that a bed bug infestation is not a sign of a lack of cleanliness. Bed bugs are found in clean and unclean homes alike – they have no preference.
SECOND-HAND FURNITURE
Another common way bed bugs get into your mattress is by introducing second-hand furniture into your home. Bed bugs like to hide in small dark crevices during the day. And, they are commonly found in old furniture such as sofas, mattresses, armchairs, and even old electronic equipment.
---
READ NEXT
• Top 10 Most Comfortable Mattresses 2023
---
WHAT DO THEY LOOK LIKE?
What do bed bugs look like? Bed bugs are very small. They measure about 5 millimeters in length when they are fully grown – that's about the size of an apple seed. They have a reddish-brown color and a flat body.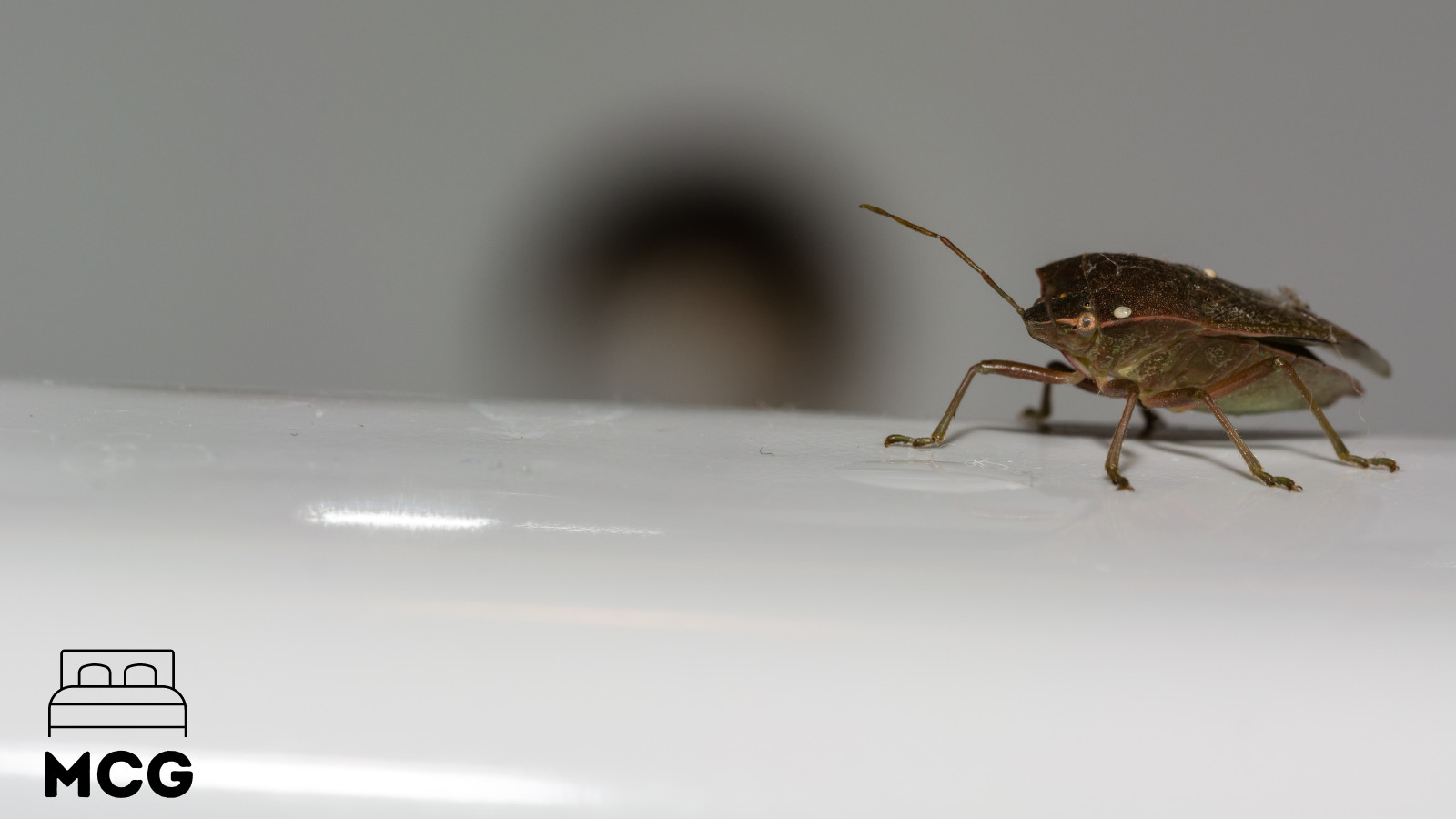 Bed bugs do not have any wings but they can scurry along very quickly on any surface – walls, floors, and even ceilings. From above they have an oval-shaped body and they swell up like a balloon after feeding.
They have a musty unpleasant odor that they secrete from glands on the underside of their body. Baby bed bugs are smaller and can be translucent in appearance or have a pale yellow color. Their eggs are tiny and have a pearl-white color.
---
HOW TO FIND BED BUGS
How do you find bed bugs? If you suspect you have bed bugs in your mattress – the first step will be to identify their presence. You need to make sure you have a bed bug infestation.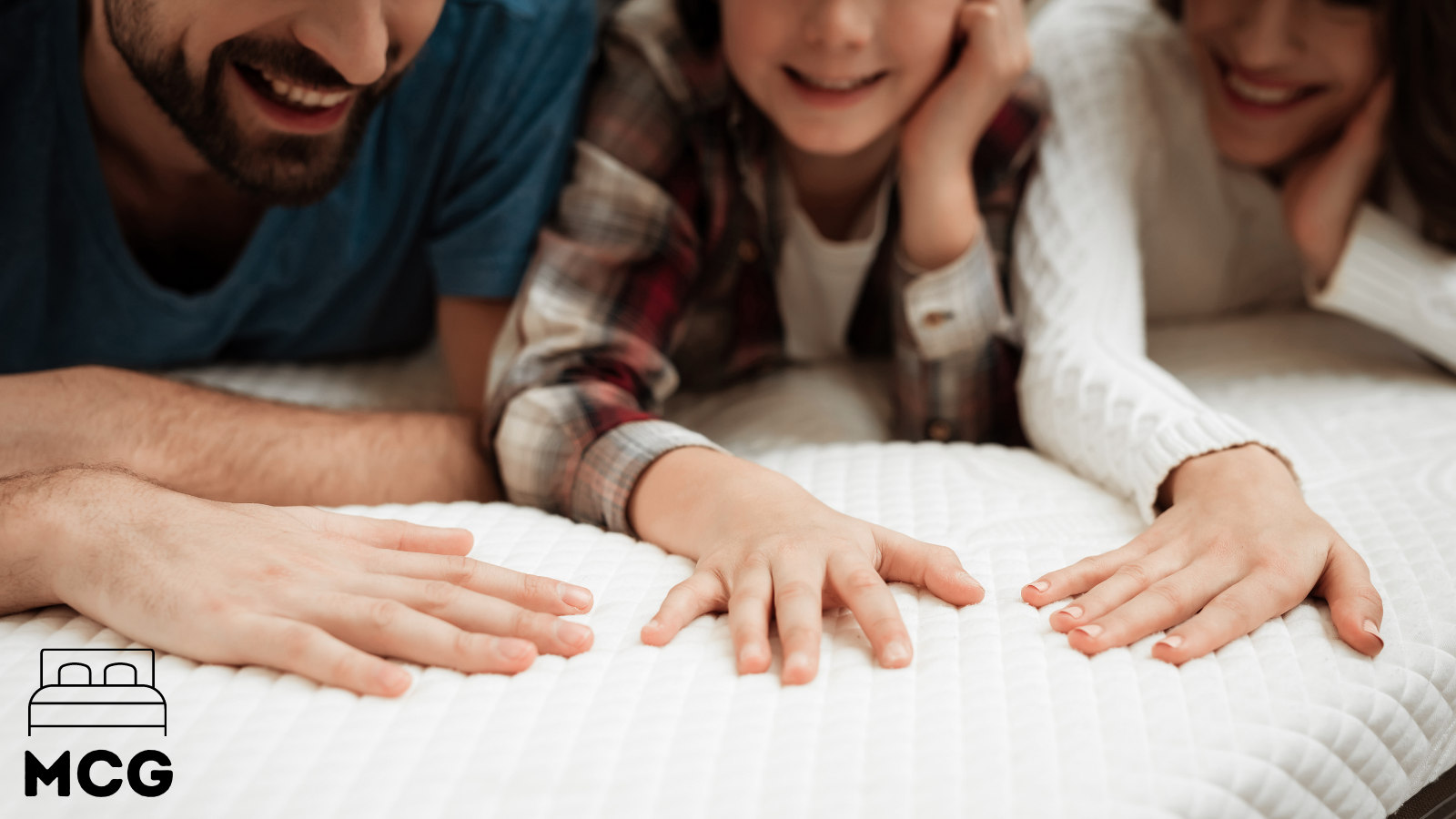 Finding bed bugs can be a challenge. They are tiny creatures, they like to hide in small crevices, and they only come out in the dark. Professionals use specially trained dogs to sniff out bed bug infestations in your home.
Assuming you don't have a professionally trained dog – you're going to have to do a close-up inspection of your mattress, bed frame, and headboard. Now that you know what bedbugs look like and where they like to hide, it's time to begin the hunt.
To conduct your search you're going to need a torch to shine light into dark crevices and a magnifying glass to help identify small telltale signs. Then it's just a matter of old-fashioned hide and seek.
You'll need to systematically work your way through the mattress, bed frame, and headboard and check all small crevices for the presence of bugs. There are some common signs that signal your mattress has a bed bug problem.
TELL TALE SIGNS
When discussing how to get rid of bed bugs in mattresses – you need to know the tell tale signs that show you have a bed bug problem.  Be on the lookout for the signs below.
• Shedded Skin – bedbugs shed their skin several times before they reach maturity
• Bed Bug Excrement – dark or rusty fecal spots about the size of a period
• Specs of Blood – on bed sheets and pillow cases, signs of bedbug feeding
• Unpleasant Odor – bed bugs emit an unpleasant musty scent from their pores
• Pale Yellow Eggs – bed bug eggs are small and pale yellow in color
WHERE TO LOOK
Now that you know what you're looking for and have the tools to need – here are some tips for where you should be looking. In general, you need to inspect all crevices that present a good hiding place for a bed bug. But pay particular attention to the areas below.
• Check for holes or punctures in the mattress
• Underneath mattress tags and labels
• Beneath seams in the mattress surface
• Between joints in the bed frame and headboards
• Cracks that have formed in the timber frame
• Inside pillows and duvets
---
WHAT'S THE BEST WAY TO KILL BED BUGS IN A MATTRESS?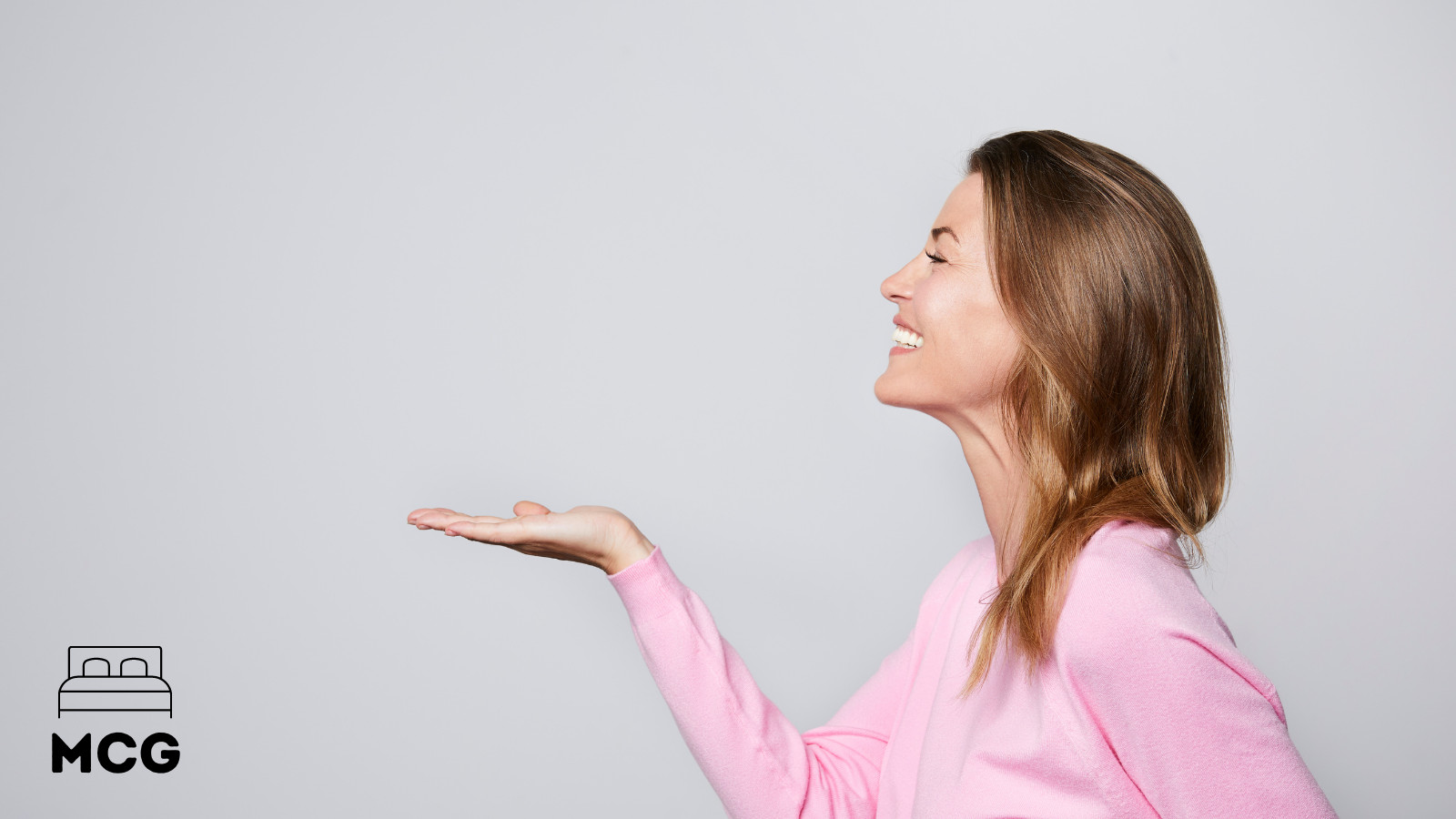 If you've found a bed bug infestation in your mattress – here's the best way to get rid of it. Bed bugs are resilient creatures. They can survive for up to 70 days without feeding. Once you have found them you need to contain them and kill them.
1: USE A VACUUM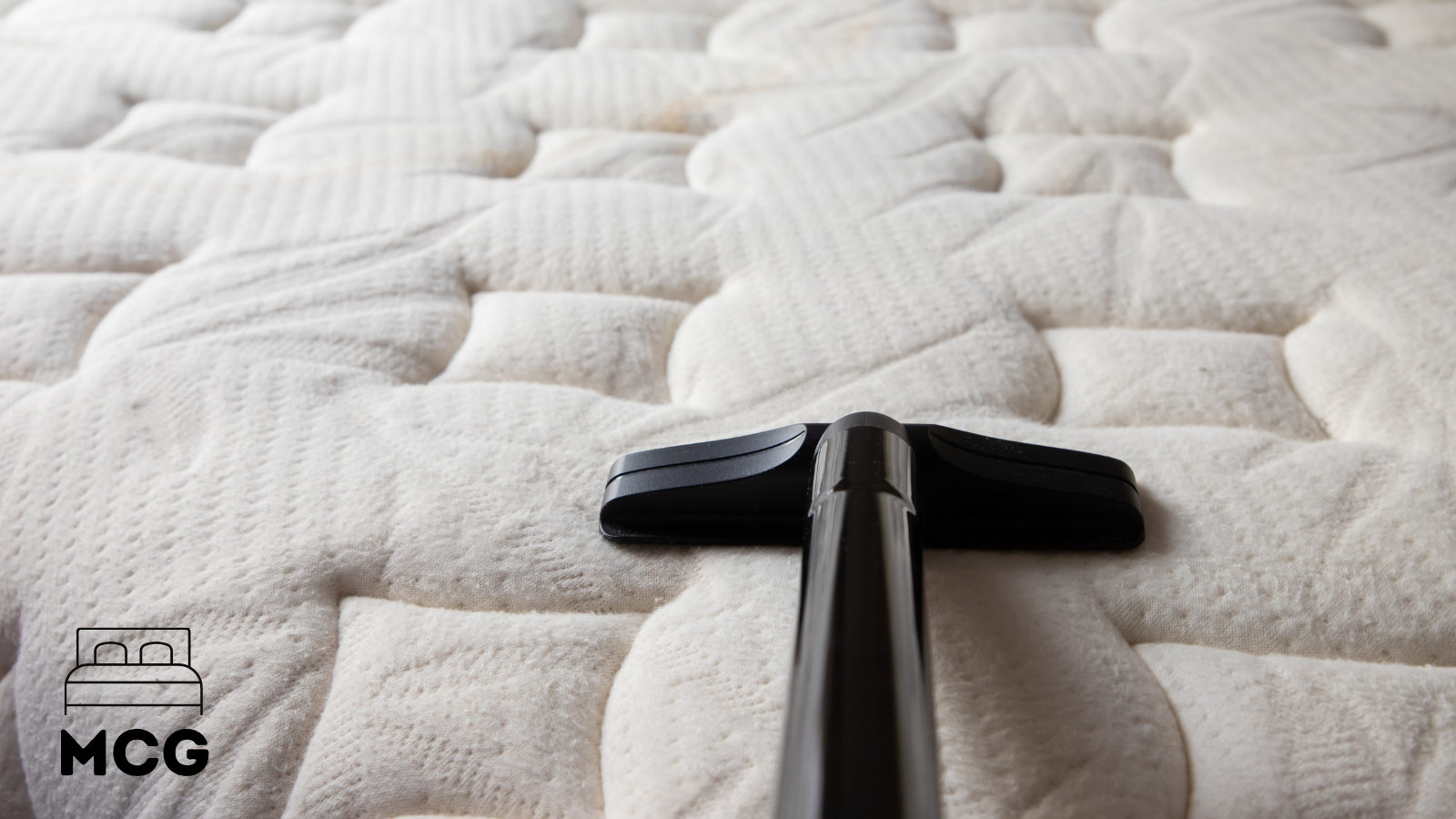 One of the best ways to contain a bedbug infestation is to use a vacuum. Once you've located the bed bugs grab your vacuum and suck them up. Then transfer the insects to a plastic bag. Once you have them all inside – seal the bag so they cannot escape. Then carefully dispose of the bag.
2: HOT WASH BEDCLOTHES
If you find bed bugs in your bedclothes or pillows bag them in a plastic bag as described above. You can then either dispose of the bed clothes or wash them so that you eliminate the bugs. This involves washing your sheets using the highest possible temperature setting.
Then, transfer them to a dryer and dry using the highest setting for at least 30 minutes. Bed bugs are temperature sensitive and cannot survive a temperature above 115°F (46.11°C).
3: USE A STEAMER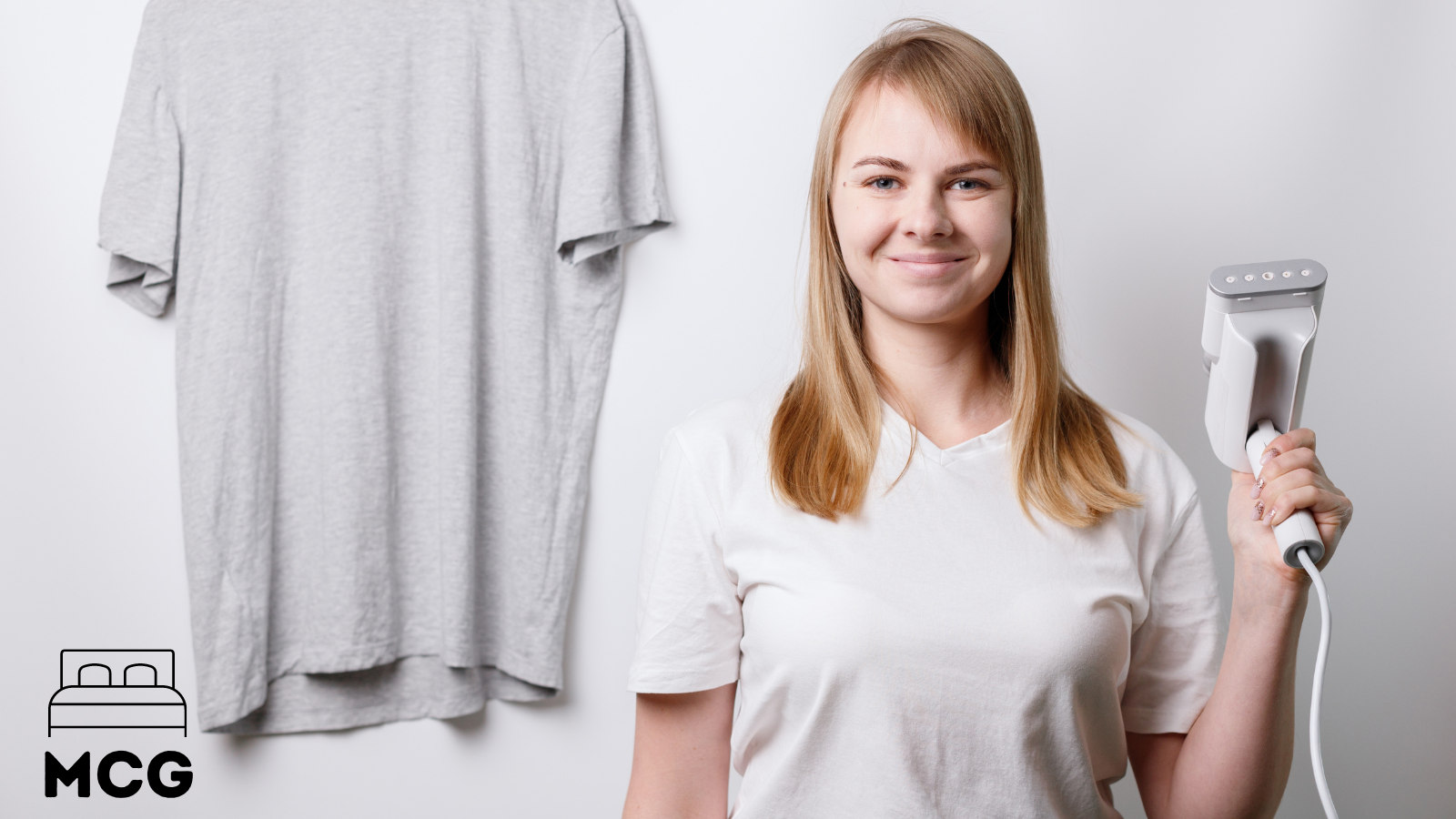 Now that your bed linen has been thoroughly cleaned and is bed bug-free – it's time to turn your attention back to the mattress, bed frame, and headboard. Using a vacuum is an effective way of removing visible bed bugs.
But you can go one step further and grab a steamer. Steam is a very effective method of killing off bed bugs. And it can be easily applied to the areas you cannot see and are difficult to reach.
The best approach is to carefully apply steam to any area you feel may be a suitable hiding place for a bed bug. This includes all small crevices and difficult-to-reach areas.  Once again, turn your attention to the locations covered above – where to look for bed bugs.
4: CHEMICAL TREATMENTS
If you've tried the methods above you've been unable to eliminate the bugs – you can try using a chemical treatment. A common chemical application for the eradication of bed bugs is to use an insecticide treatment.
Make sure you are using a chemical that has been approved for use by the EPA. And, if you plan on using a chemical treatment to kill bed bugs in your mattress we advise getting a professional in. Many of these chemicals are toxic to humans as well as bed bugs.  See below for some of the best chemical bed bug treatments.
5: USE A BED BUG-PROOF MATTRESS COVER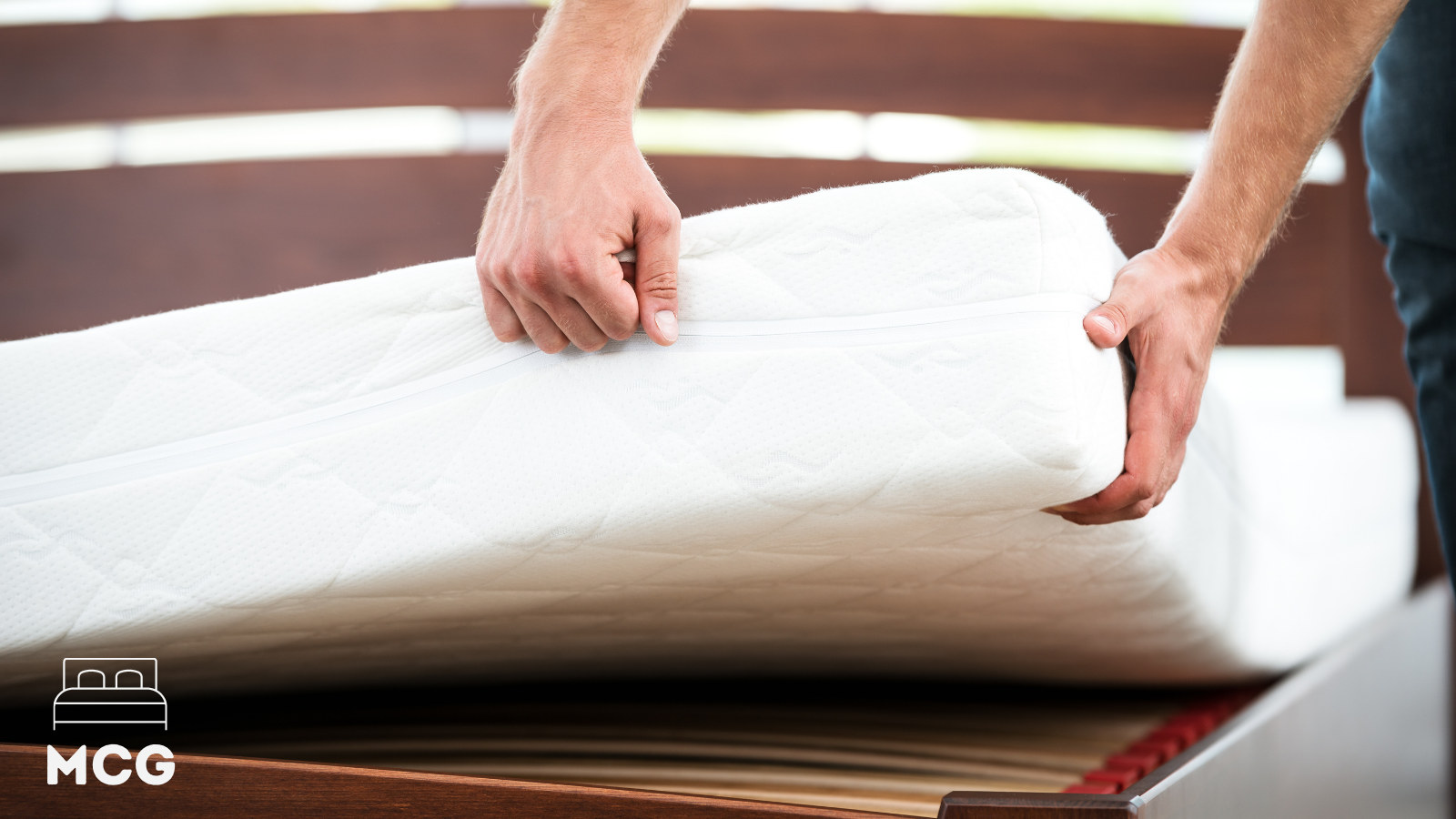 Now that you have killed your mattress bed bugs it's time to protect it so that it doesn't get infected in the future. The best way to do this is to use a bed bug-proof mattress cover. All you have to do is get one that fits your mattress size, place your mattress inside, and securely close the cover zippers.
This creates an effective barrier to bed bugs. The cover has been specially designed to be impenetrable to insects and will help prevent any future problems with nasty bed bugs getting into your mattress.
---
READ NEXT
• How To Remove Blood Stain From a Mattress
• How Often Should You Change Your Mattress?
• How to Get a Urine Stain Out of a Mattress
---
BEST CHEMICAL TREATMENTS FOR BED BUGS
There are a range of pesticides available for eliminating bed bugs.  Always make sure the treatment you choose has been approved and is safe to use before proceeding.  Below are the most popular options.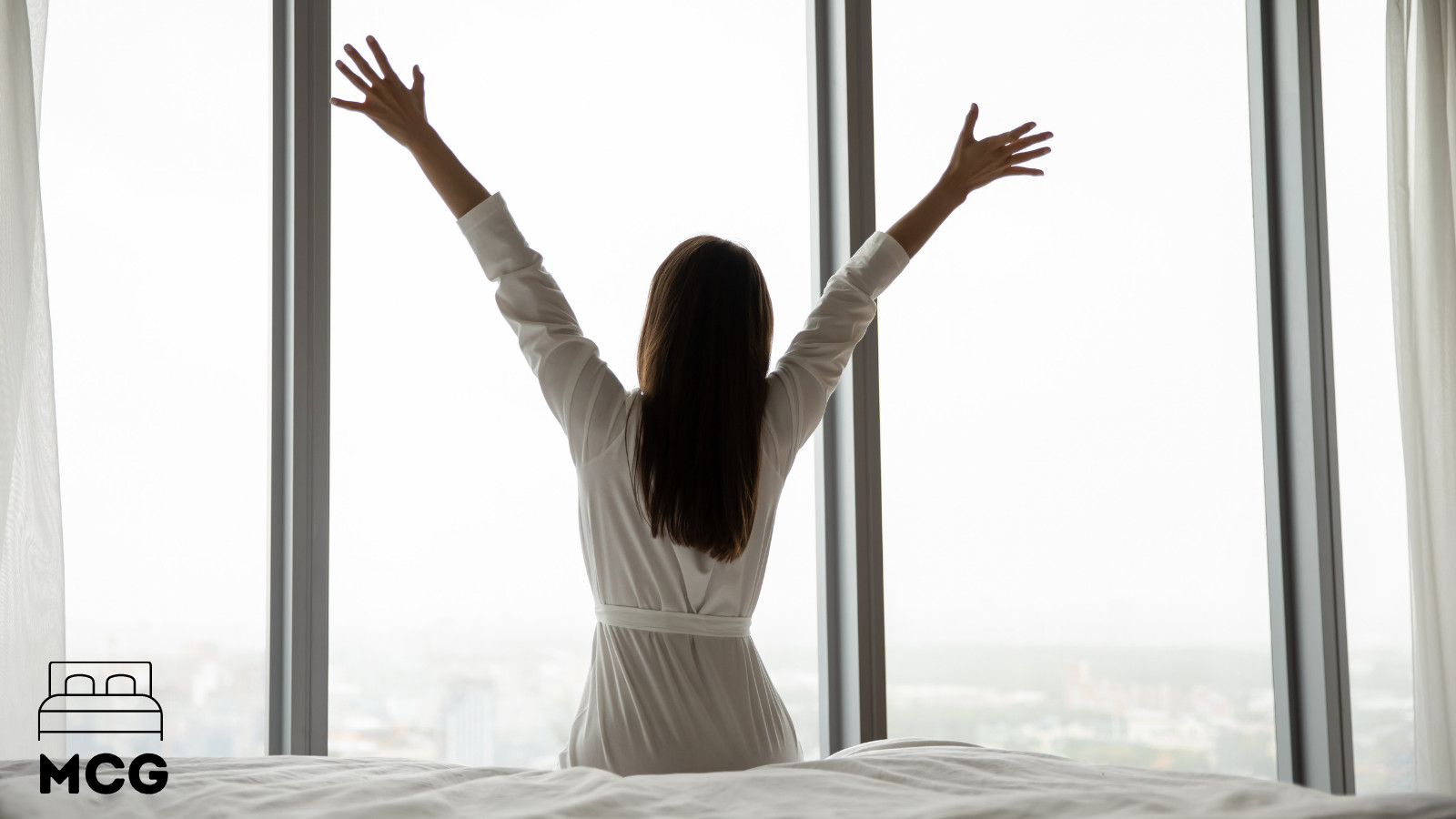 PYRETHRINS & PYRETHROIDS
Pyrethrins and pyrethroids are the two pesticides most commonly used to treat a bed bug problem. While they are largely effective, some bedbugs have developed a resistance to them.
They are often used to remove mosquitoes, flies, moths, ants, and fleas. They work by damaging the nervous system of an insect resulting in paralysis and eventually death.
DESICCANTS
Desiccants are chemicals that damage the outer shell of a bed bug. Once the outer coating is damaged the bug dehydrates and dies. Desiccants are a great choice for eliminating a bed bug infestation as the insect cannot become resistant to them. However, they take time to fully eliminate an infestation.
BUG BOMBS / FOGGERS
Another commonly used chemical treatment when addressing 'how to get rid of bed bugs in mattresses' is a bug bomb. They are easy to use and get a hold of but sometimes they fail to get into mattress crevices. Many are toxic to humans – so practice caution if using a bug bomb and carefully follow the prescribed instructions.
NEONICOTINOIDS
Neonicotinoids are great for bed bugs that have built up a resistance to other pesticides. It is a version of nicotine and works by damaging the nervous system of the bed bug.  If you've tried the other methods on this how to get rid of bed bugs in mattresses guide – and they haven't work – then neonicotinoids are worth a shot.
---
MATTRESS DISPOSAL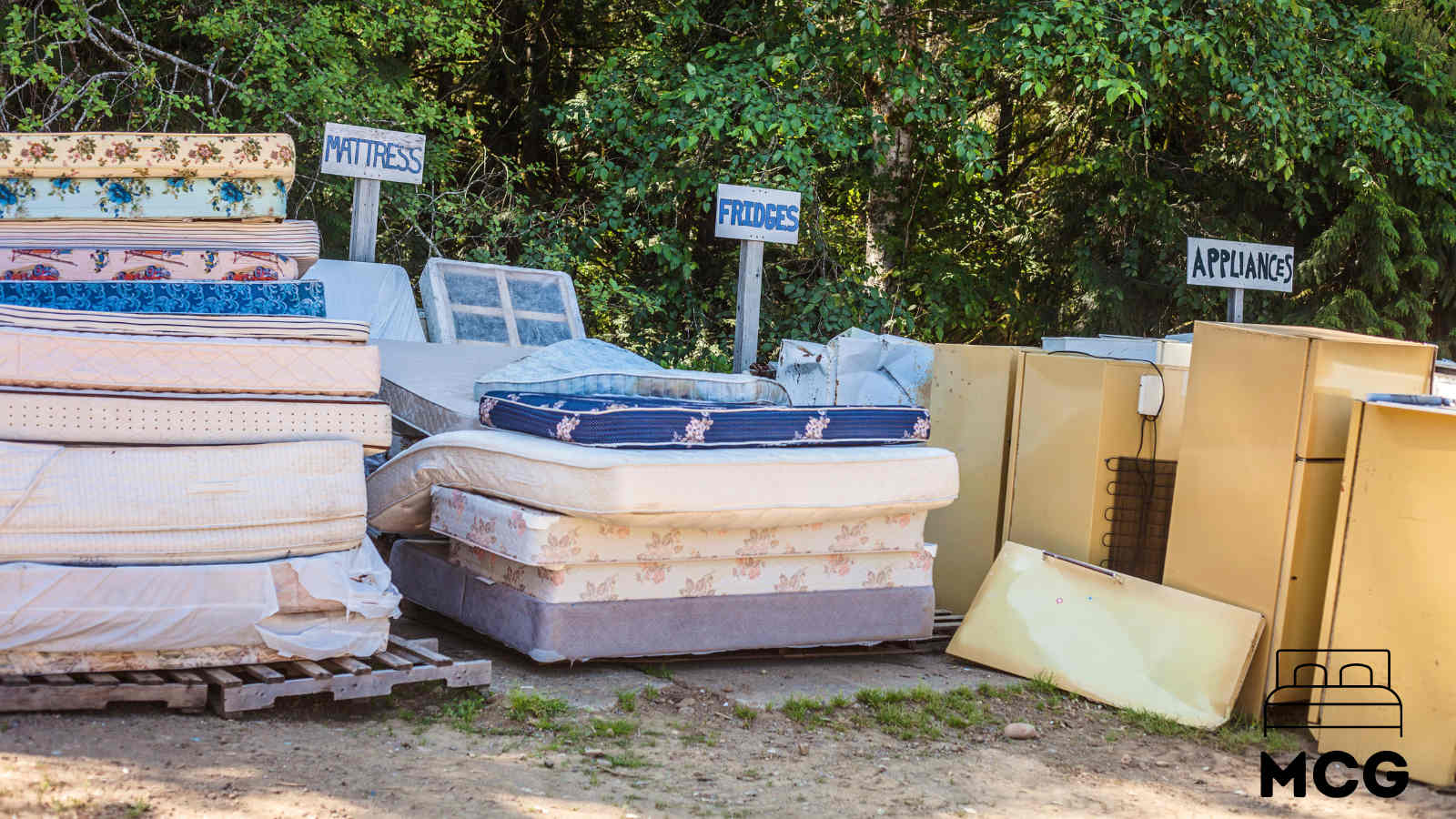 If you have an issue with bed bugs you may decide you just want to dispose of your mattress.  But what are your options?  To get rid of an unwanted mattress you have three options.  You can donate, recycle, or throw away.  For more information check out – How To Dispose Mattresses.
---
FREQUENTLY ASKED QUESTIONS – HOW TO GET RID OF BED BUGS IN MATTRESSES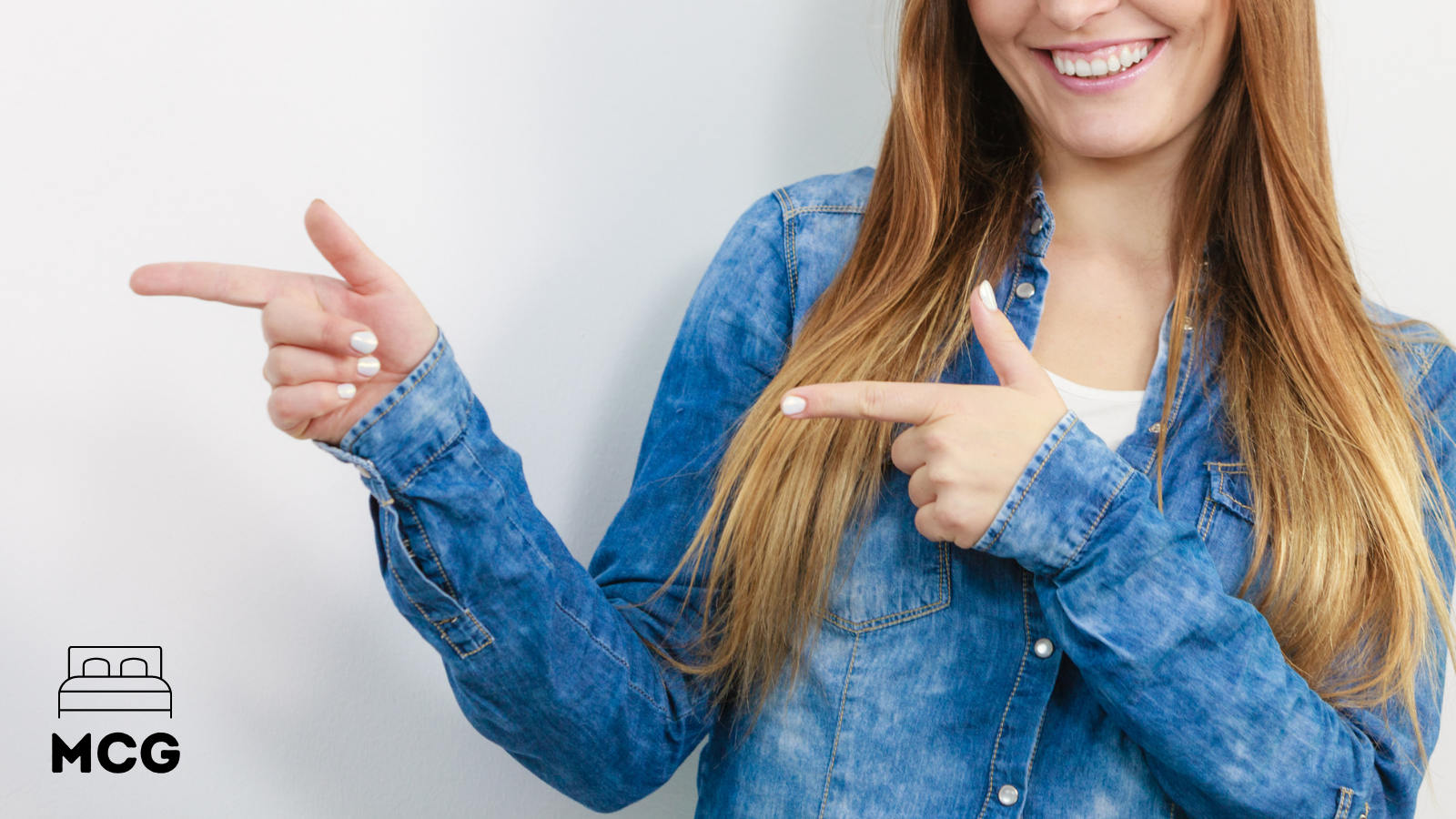 Let's take a look at the questions we most frequently get asked when discussing how to get rid of bed bugs in mattresses.
HOW DO BED BUGS GET INTO YOUR HOME?
Bed bugs get into your home by making direct contact with them in an infected area. The most common route is by staying in accommodation that has bed bugs. They get into your luggage and clothes and you then carry them home when you return.
WHERE DO BED BUGS LIVE?
Bed bugs live in small dark crevices that present good hiding places. They like to be close to a mammal, (such as a human), so they can come out and feed on blood once the lights go out – this makes a mattress a very attractive location. They can be difficult to find because of their small size and ability to hide. Professionals use specially trained dogs to locate them.
WHAT KILLS BED BUGS INSTANTLY?
You can kill a bed bug instantly by using high heat or a chemical pesticide. A steamer is an effective way of killing bed bugs. A short blast of steam will do the trick. Or, you can use a chemical pesticide such as pyrethrin or pyrethroid.
CAN YOU GET RID OF BED BUGS YOURSELF?
Yes, you can get rid of bed bugs yourself. There's no need to call in a professional. Just follow the simple steps we cover in this guide and you'll soon be bed-bug free. All you need is some patience and determination.
---
READ NEXT
• How To Make Your Bed Quiet – click here
• Clean Your Mattress With Baking Soda – click here
• The Best Hybrid Mattresses Reviewed – click here
• Why Do We Sleep Walk – click here
• Pros & Cons of a Hybrid Mattress – click here
• Best Latex Mattresses – click here
---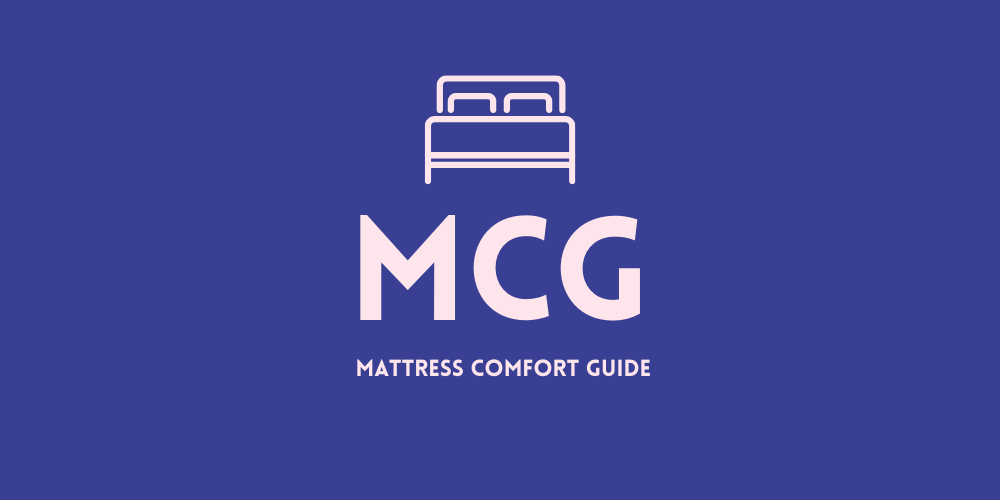 AUTHOR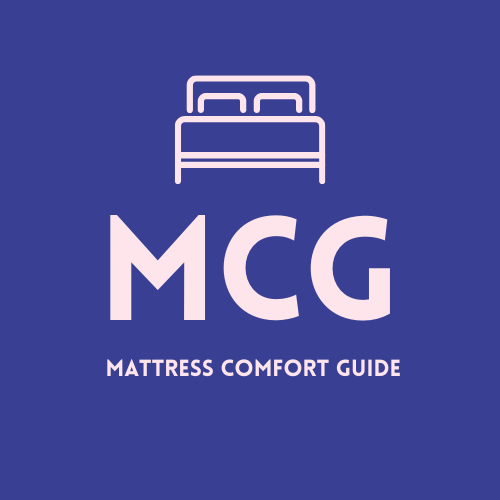 Mattress Consultant
Bill is a DIY expert and our resident mattress maintenance and cleaning guru. He's incredibly capable with his hands and seems to be able to build, repair, or clean just about anything. He has a long history of remodeling and renovation work and has given a facelift to many homes in the New Mexico area over the years.
Bill has over 20 years of experience in the construction industry with a particular focus on woodworking. When he's not writing for MCG he's busy working on his last house renovation project. Bill is a native of El Paso Texas and is a keen follower of his local Locomotive FC soccer team.