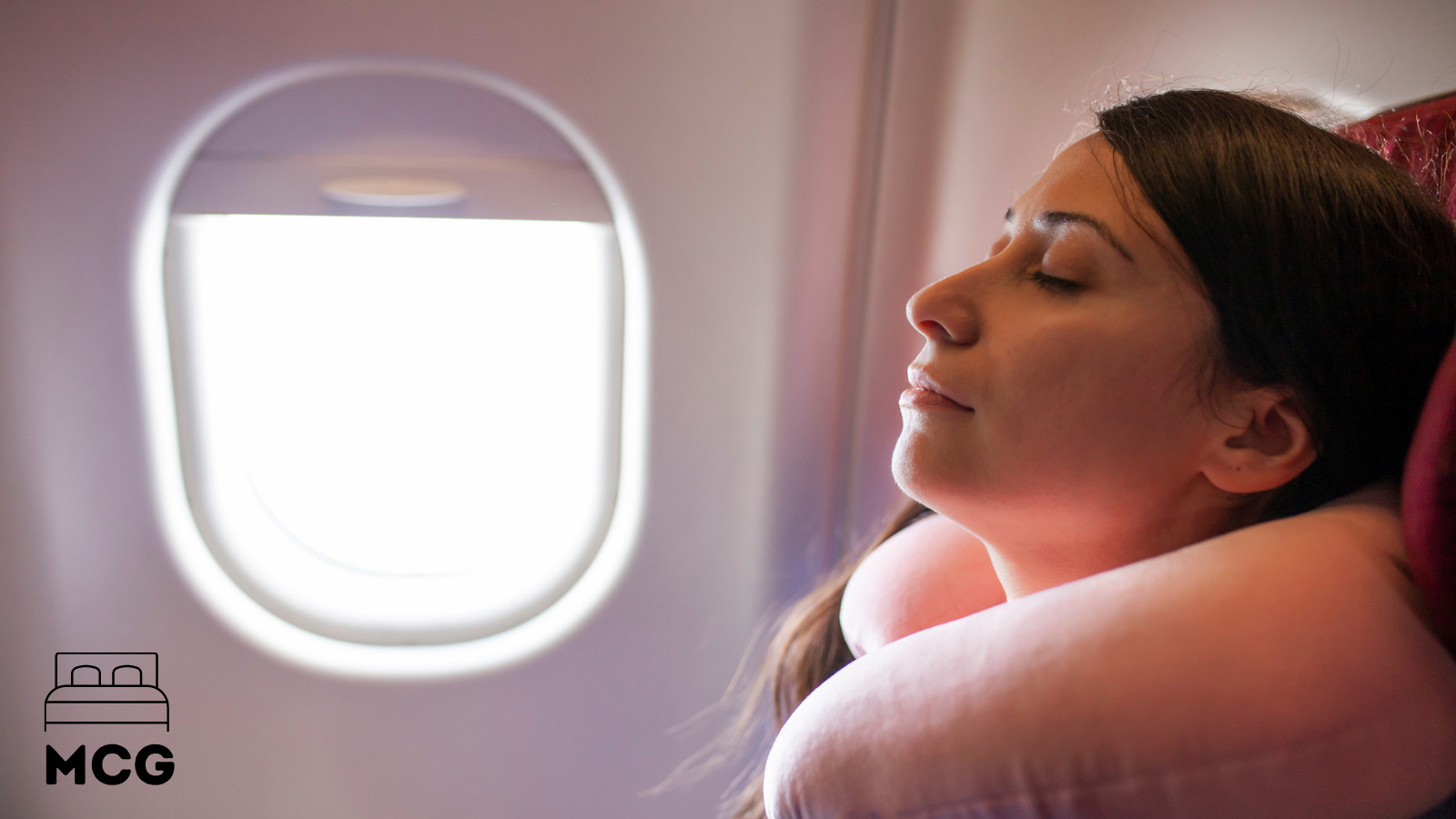 Are you planning a trip and hoping to get some sleep on your flight? We have the top tips right here on how to sleep on the plane. Traveling by plane can be a stressful experience.  Here's some excellent advice on how to relax and catch some sleep on your next trip.
---
TIPS FOR FALLING ASLEEP ON A PLANE
Air travel can be a stressful experience. Checking in, passing through airport security, and then packing into a small seat for a long-haul flight can be a tiresome ordeal.
Getting some sleep on your flight will help you recover and recharge your battery for the day ahead. Check out our tips below for the best way to sleep on a plane.
CHOOSE YOUR SEAT CAREFULLY
When you're booking your flight make sure you choose your seat wisely. Careful seat selection is one of the best tips for sleeping on a plane. And, we recommend reserving a window seat.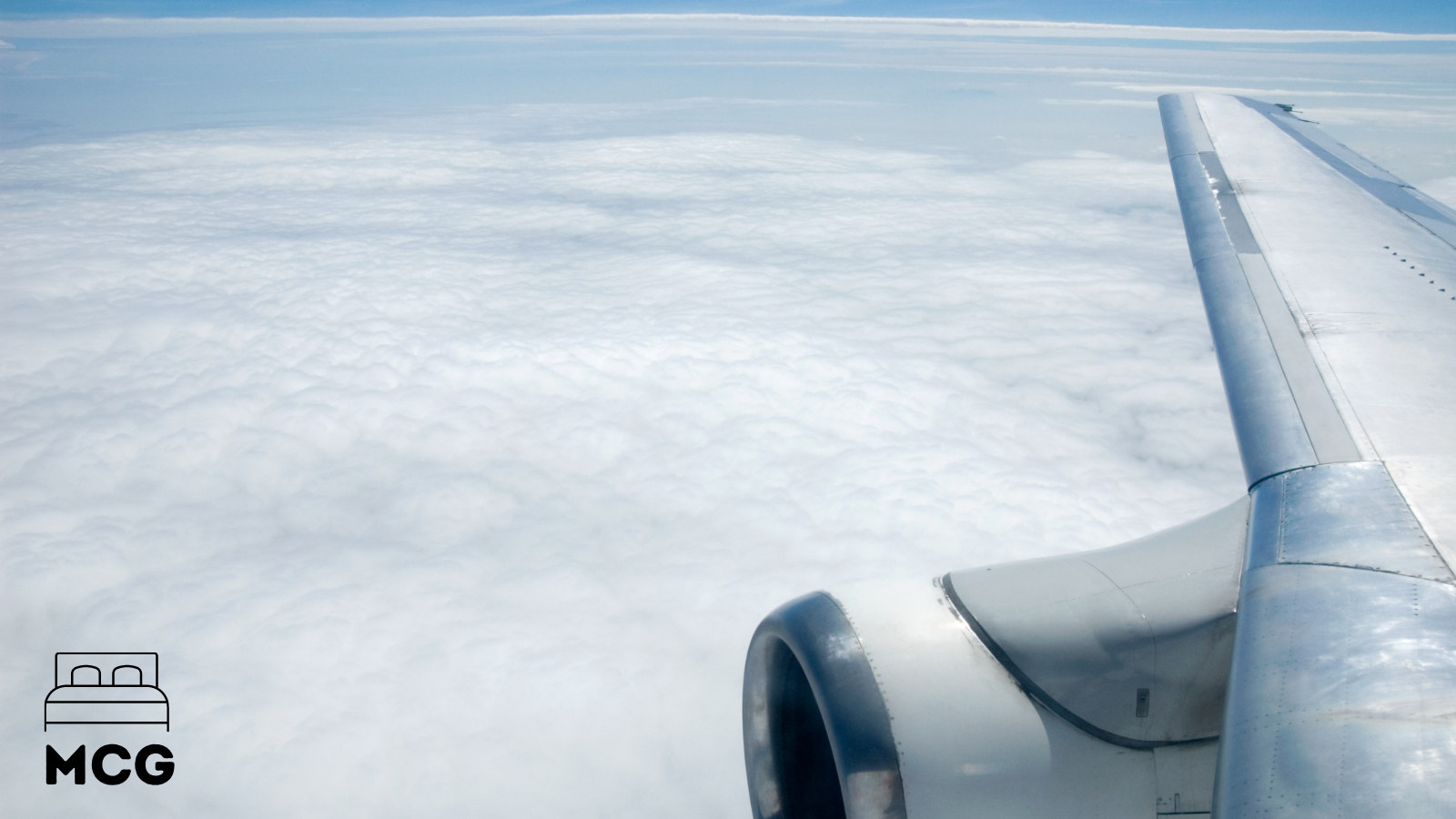 This way you'll have something to rest against as you doze off and you won't have fellow passengers climbing across you every time they want to use the restroom.
It's also a good idea to avoid the bulkhead seats as they are often reserved for families with young children. And, stay away from the emergency exit rows – although you will have extra legroom you can't recline the seat or adjust the hand rest.
SHUT DOWN ALL YOUR DEVICES
Power down all your electronic devices. This way you can completely switch off from notifications and blue screens. By switching off your device you are less likely to reach for it and check for notifications. This means you can avoid blue screen time for the entire flight.
A study from Harvard University has shown that spending time looking at phone screens suppresses melatonin – the hormone responsible for making you feel sleepy.
ASK NOT TO BE DISTURBED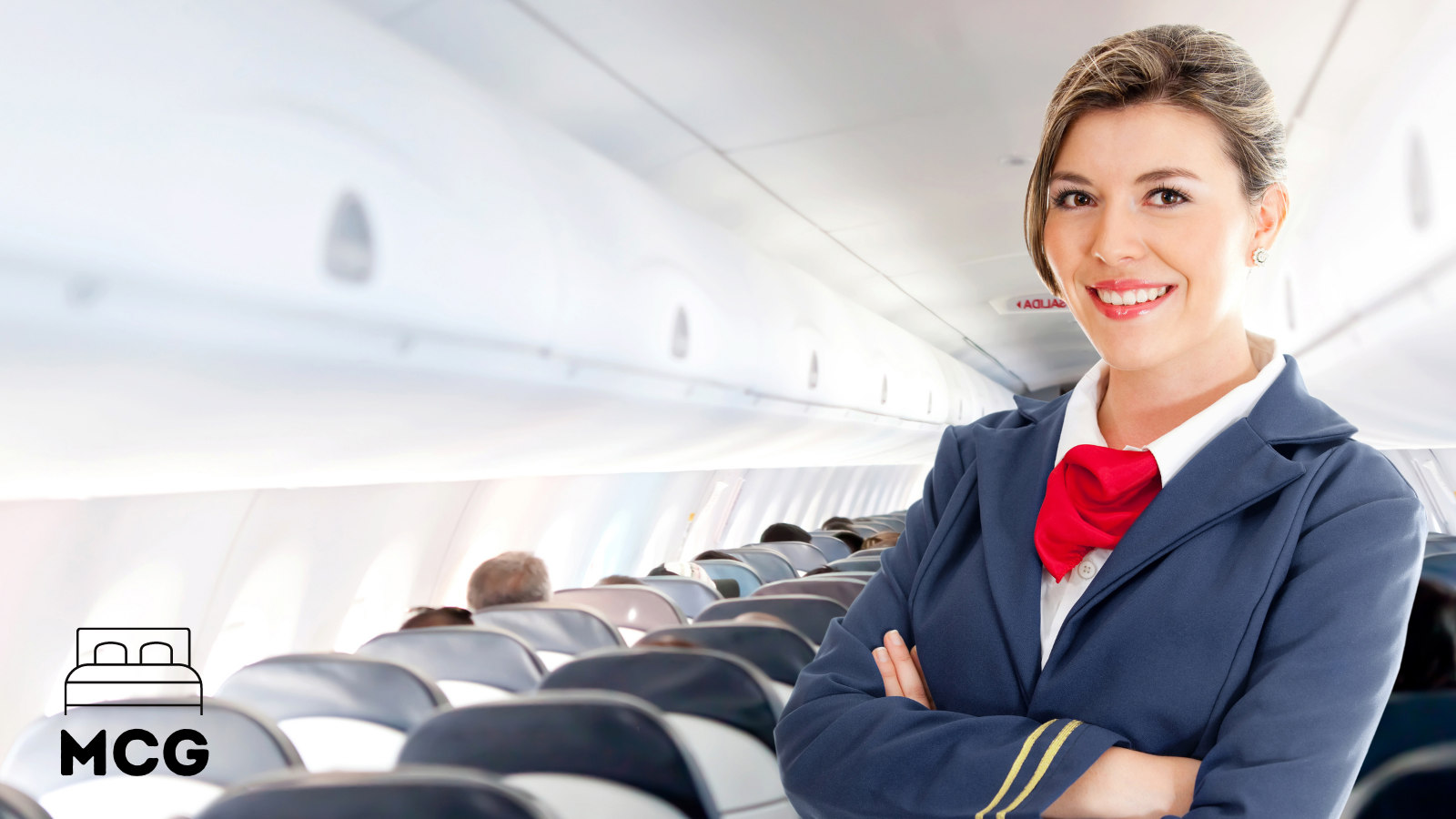 Let your flight attendant know that you don't want to be disturbed. This means when the food and drink cart comes around they will know not to wake you. By taking a moment to inform the crew that you want to sleep on the flight you can avoid any unwanted wake-up calls.
WEAR COMFORTABLE CLOTHES
Make sure you wear comfortable clothes. If you are planning on sleeping you need to be able to relax and get comfortable. We recommend wearing layers. This way if you are too warm you can remove some clothing.
Also, if it is a long-haul flight you should consider bringing your regular pajamas. Wearing your normal sleepwear will keep you in your regular sleep routine. You can even carry them on and change into them during the flight.
WEAR AN EYE MASK
Don't forget to pack an eye mask. They take up so little room and are incredibly effective at helping you sleep on an airplane. Eye masks block out light from the cabin, flashing lights from other people's screens, and even daylight flooding in the window.
Eye masks are cheap, so make sure you pick one that feels comfortable to wear. They are a great way to help the body relax and encourage sleep. Don't travel without one.
FASTEN YOUR SEAT BELT
Once you get yourself into a comfortable position and are ready to nod off – make sure you fasten your seat belt. There may be times during the flight when passengers will be required to buckle up.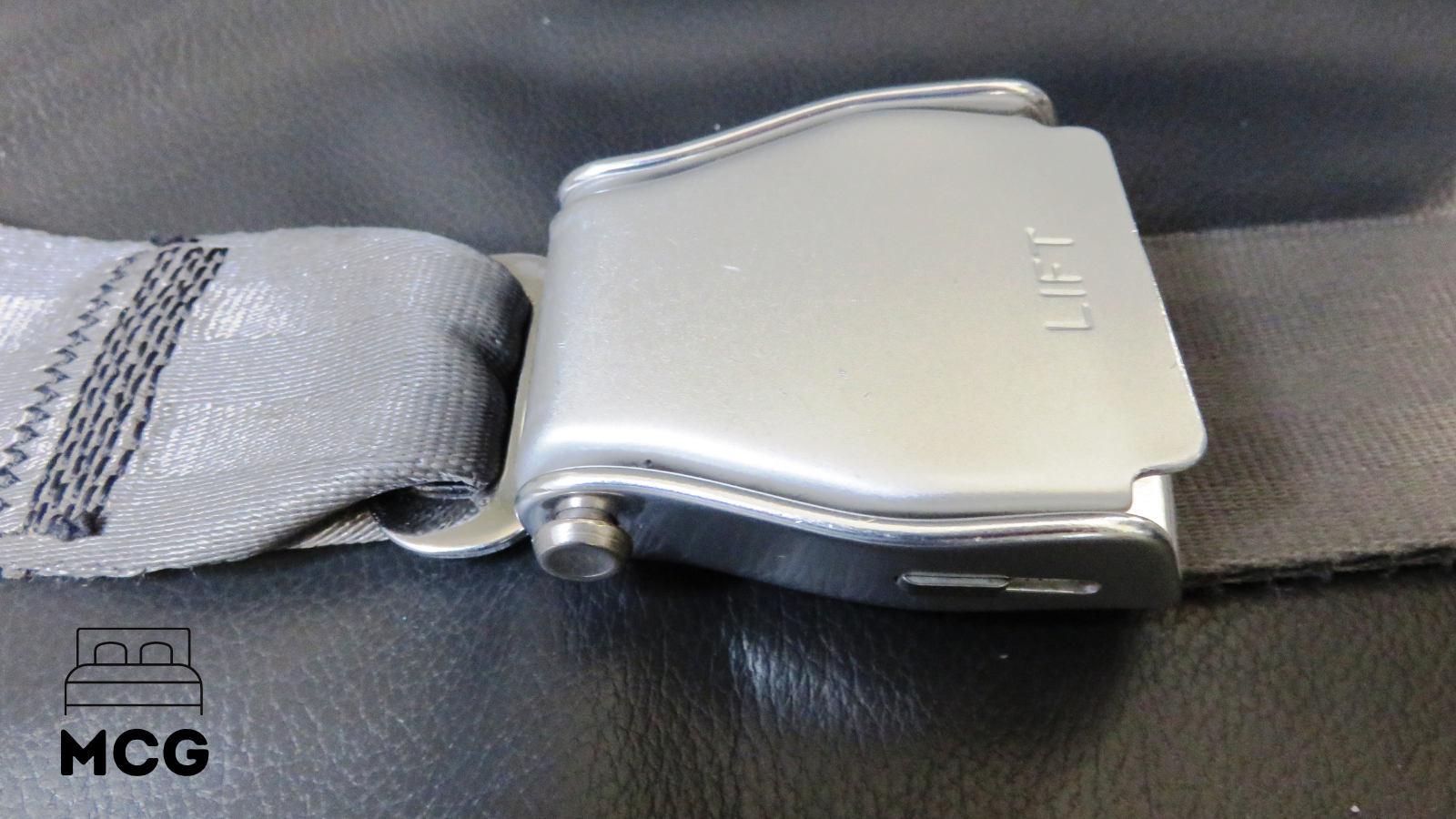 And, if you've forgotten to do so, you'll be woken up by a flight attendant. So, make sure you fasten your belt and that it is clearly visible to flight attendants as they walk by.
KICK-OFF YOUR SHOES
Removing your shows can be a controversial subject on an airplane. But if you can relieve your feet of your footwear you'll feel much more comfortable. And, this will help you drift off – a great tip for how to sleep comfortably on a plane.
We recommend wearing a pair of shoes that are easy to kick on and off. This way you don't have to struggle with show laces every time you want to put them back on again. And to avoid upsetting the passengers next to you – make sure your feet and socks are clean.
WEAR BED SOCKS
Try wearing some lightweight bed socks. Or, better again – the socks that are handed out by the flight attendants. These socks will keep your feet warm and help you feel comfortable.
Flight socks have a gentle elastic quality that compresses your feet and lower legs. This helps boost circulation and reduce swelling of the feet.
CHOOSE A FLIGHT THAT MATCHES YOUR SLEEP CYCLE
If you can, book a flight that matches your sleep cycle. Fall asleep will come much easier if you keep it in line with the time of day you normally fall asleep.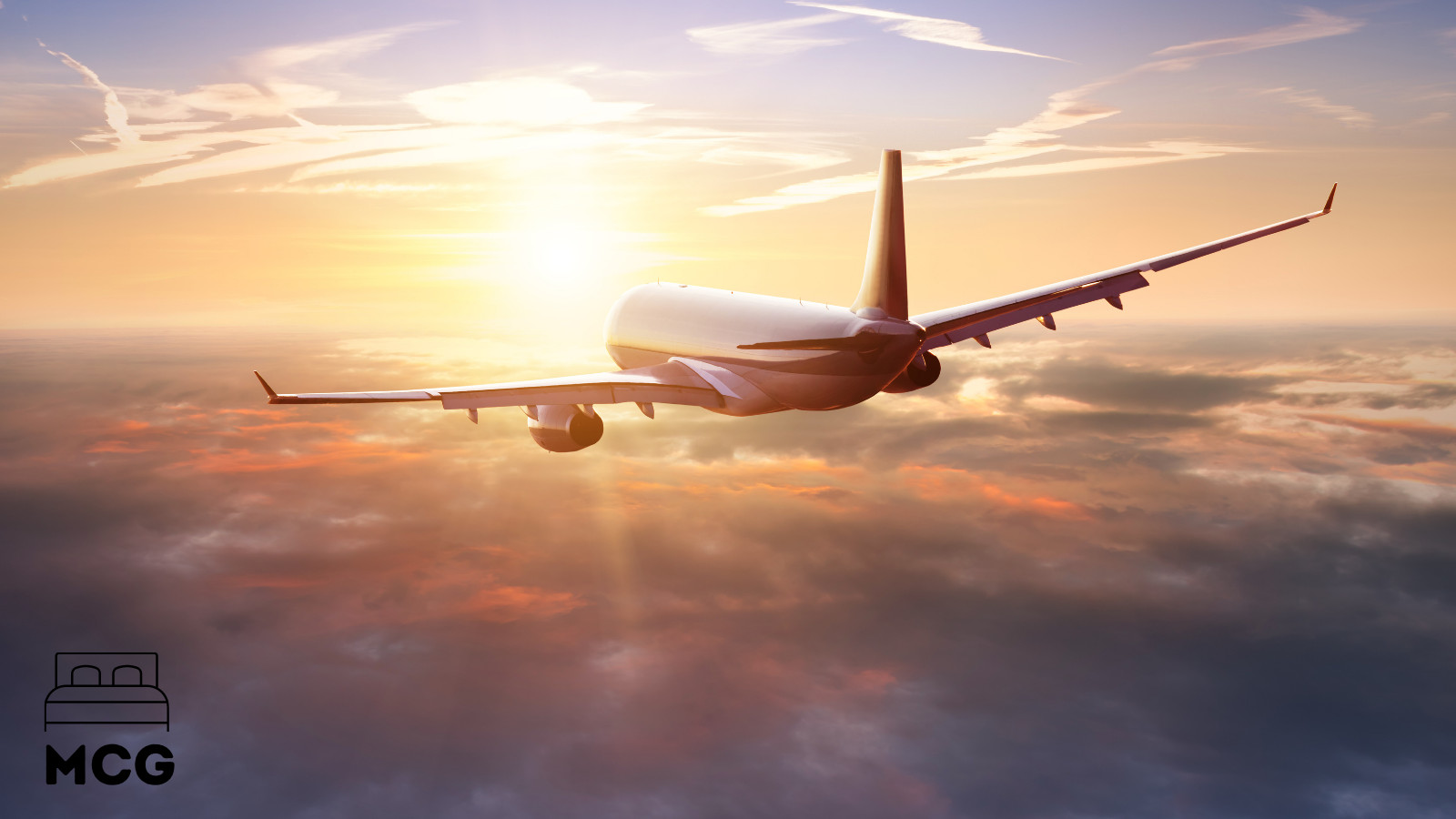 For example, if you are on a long-haul flight and you normally sleep from 11 pm until 7 am – try booking a flight that spans these hours. Your body clock will kick in and you'll begin to feel drowsy during these hours. This is one of the best tips for sleeping on a plan.
CARRY A GOOD FACE MASK
Covid has had a dramatic impact on the world we live in. It has altered how we live and we have all had to adapt our daily routines. Restrictions come and go as new variants raise their ugly heads.
Our advice is to be prepared and always carry an approved face make when you take a flight. If you need to, you can put it on. If not, just leave it in your pocket. And if you don't want to be woken up while you sleep – make sure you choose a comfortable mask and keep it on your face while sleeping.
CHOOSE A DIRECT FLIGHT
Go for a direct flight. If you have the option of a direct flight or having to make a transfer – book the direct flight. This way you can sit back and sleep until you reach your destination.
Changing flights and making a connection means you have to stay alert and move through a second airport. Your brain will be on high alert and it's going to be difficult to drift off.
REQUEST A BLANKET & PILLOW
Planes do not carry enough pillows and blankets to cover all passengers on board. Our advice is to ask for some. And ask early.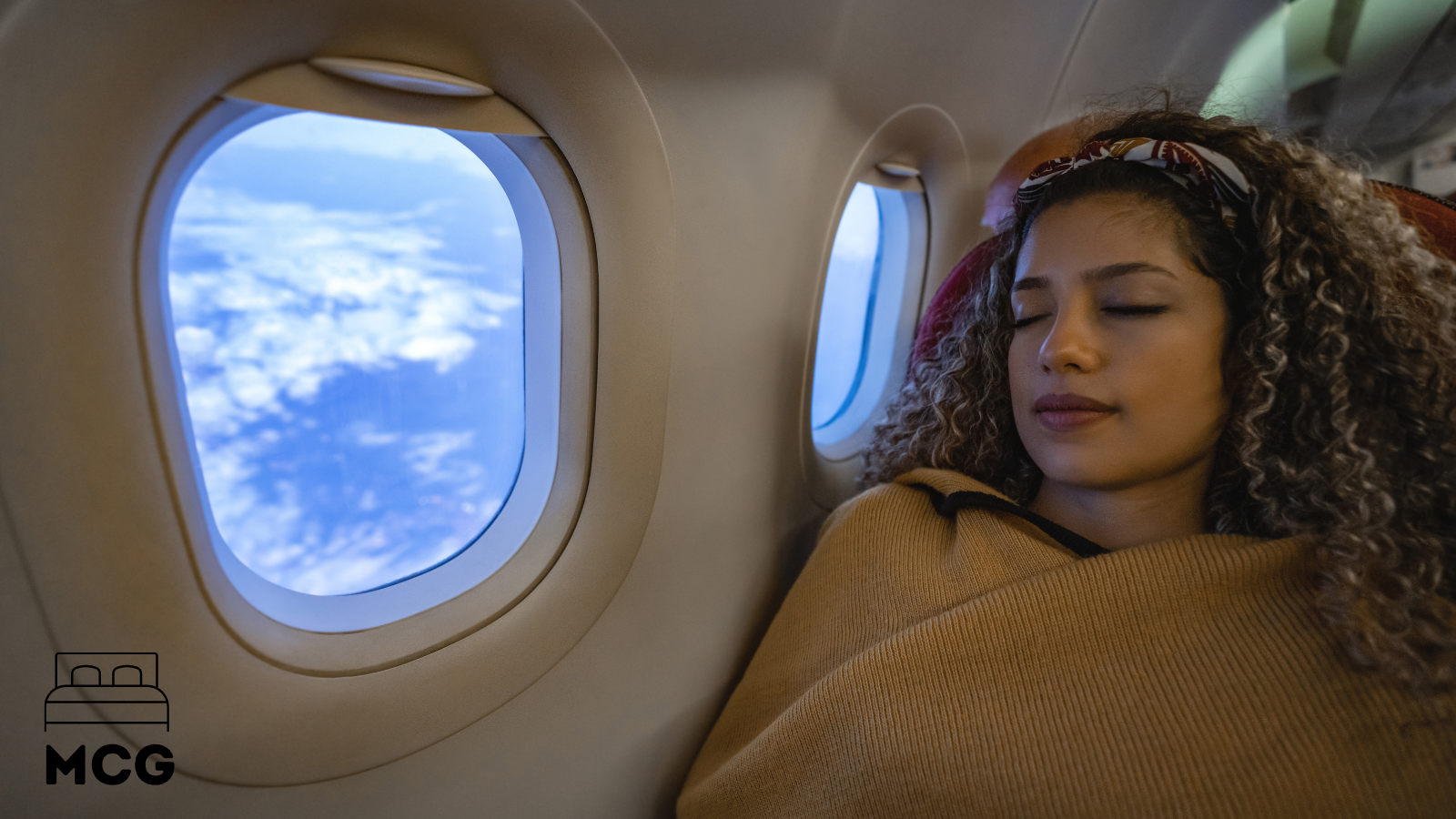 If there's no pillow and blanket on your seat when you board ask a flight attendant right away for one. Then you can curl up in comfort and relax into your sleep routine.
SLEEPING ON A PLANE PILLOW
Have you ever tried sleeping without a pillow? It's not very comfortable. That's why we advise sleeping on a plane pillow.
Once you've secured one from the flight attendants you can rest your head against it or use it as lumbar support. Either way, they are a great extra layer of comfort on your flight.
---
READ NEXT
• HOW OFTEN SHOULD YOU CHANGE YOUR MATTRESS – click here
• WHY DO WE SLEEP WALK? – click here
• BED SIZE COMPARISON CHART – click here
• HOW TO MAKE YOUR BED QUIET – click here
• GET RID OF BED BUGS IN A MATTRESS – click here
---
SKIP THE INFLIGHT MOVIES
Avoid the in-flight movies. They're just not worth it.  Even if they have that blockbuster feature you've been looking forward to but never had a chance to see. Forget about the on-screen entertainment and prioritize your sleep routine.
Screen time will expose you to blue light. And scientists have shown that this disturbs our hormones and makes it more difficult to fall asleep. Our advice is to ditch the screen and follow our tips to fall asleep on a plane.
USE A NECK PILLOW
Neck pillows are another option. Although these are rarely handed out on flights you can bring your own. Most are inflatable – so when they're not in use you can let the air out and roll them up.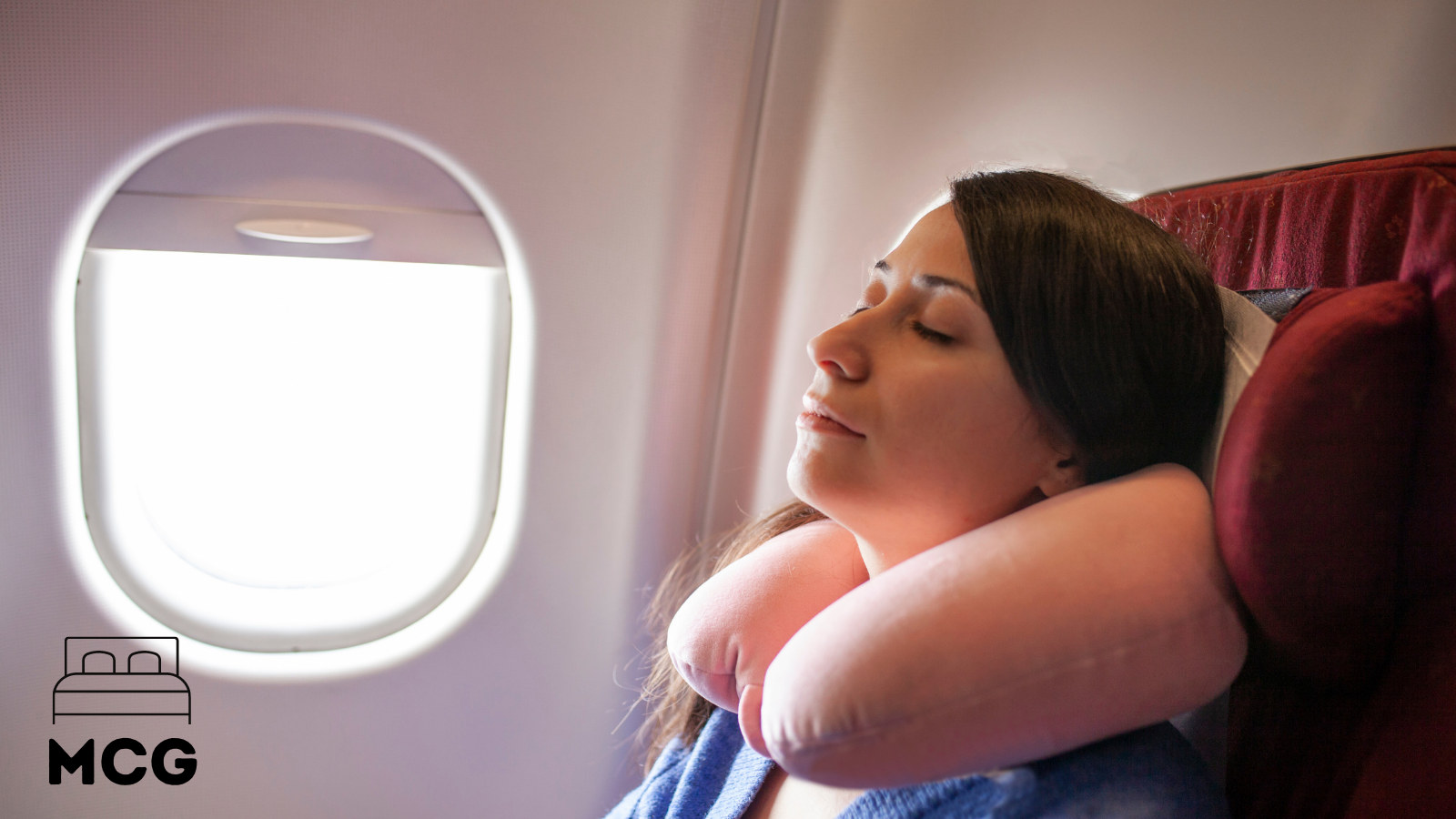 Neck pillows are designed to support your head when you drift off. One of the biggest problems with falling asleep in a seated position is that your head tends to bob around. A neck pillow can ease this by providing a cushioned buffer all the way around the neck.
USE NOISE-CANCELING HEADPHONES
Traveling on a plane is noisy. An average passenger jet engine emits 85 decibels of noise. That's equivalent to trying to fall asleep beside a vacuum cleaner.
To cut out the noise you can wear earplugs. Or better again, a pair of noise-canceling headphones. These headphones are specially designed to reduce background noise and are very effective at reducing the engine noise experienced while flying.
LISTEN TO PINK NOISE
And, if you decide to wear a pair of headphones you can try listening to some 'pink noise'. These are noises that help you relax and ultimately fall asleep. Examples of pink noise that help people drift of include – rainfall, whale sounds, and rustling leaves.
UNCROSS LEGS & USE A FOOTREST
Uncrossing your legs helps your body relax. If you cross your legs you apply pressure unevenly across one side of your body. If you want to fall asleep on a plane make sure you uncross your legs to fully relax.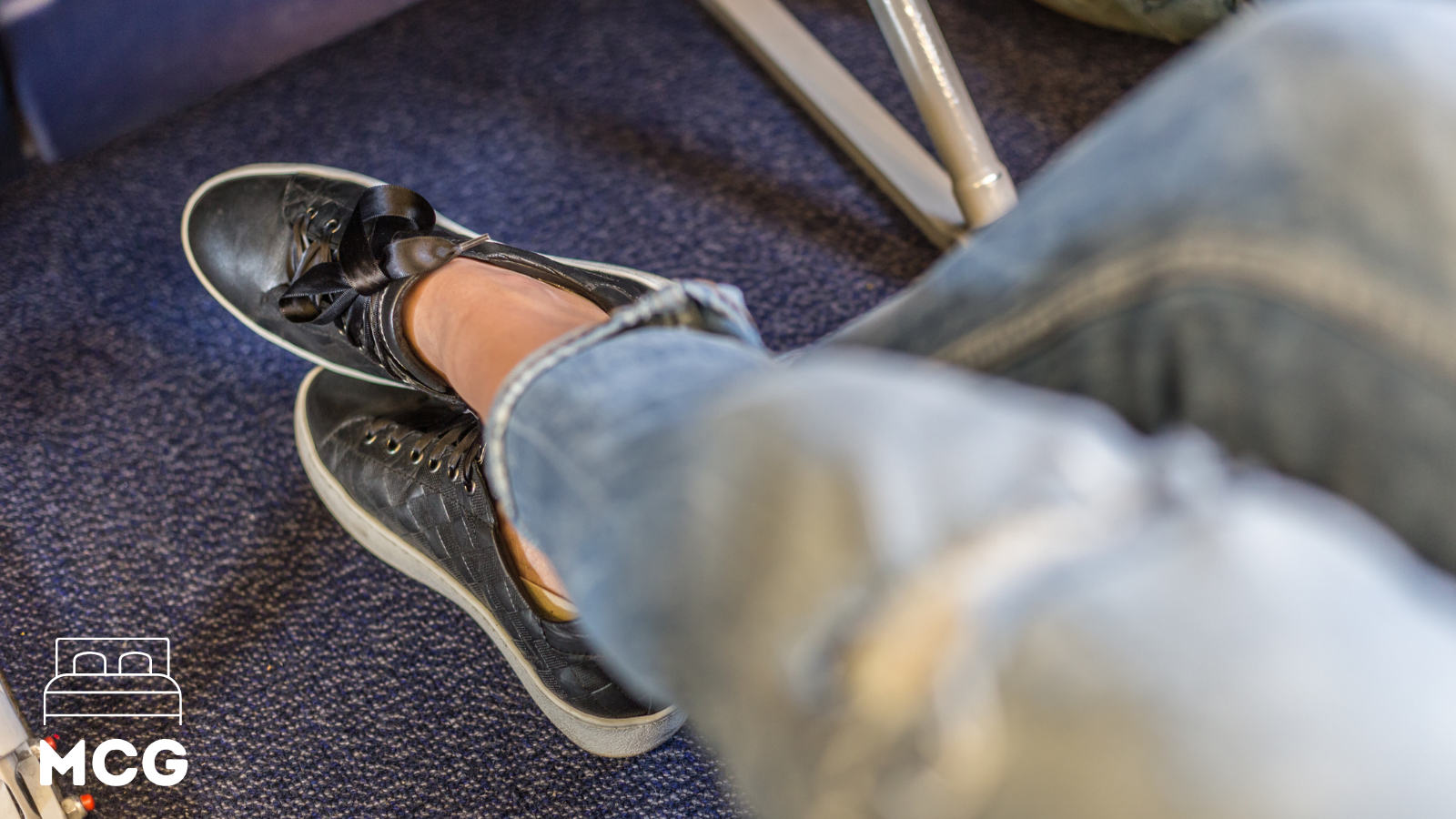 And, try using the footrest if there is one available. Placing your feet on a footrest will support your legs and help relieve pressure across your lower back and legs. Periodic stretching help relieve stiffness and encourage blood flow.
SUPPORT YOUR BACK
Sleeping in an upright position is difficult at the best of times. If you are on a long-haul flight you need to make sure your back is well supported. A poorly supported back will lead to pain and make it difficult to sleep.
Our advice is to use a pillow for the lower back if you need some additional lumbar support. Another good tip for how to sleep on the plane is to use the armrests. By placing your arms on the rests you will reduce the strain on your back – a great tip for how to sleep on the plane.
CAREFULLY RECLINE YOUR SEAT
If you are trying to sleep on a plane you will want to recline your seat. Allowing the backrest to tilt backward adds a little comfort and brings you closer to a natural lying position.
However, you need to think about the people sitting behind you. Courtesy goes a long way when it comes to reclining your seat. Before you press the button and push backward – just check in with whoever is sitting behind you in case they have a food tray or a coffee resting in place.
AIM FOR OPTIMAL TEMPERATURE
The optimal temperature for falling asleep is 60 to 67 degrees Fahrenheit. If you can hit this sweet spot you boost your chances of sleeping on a plane.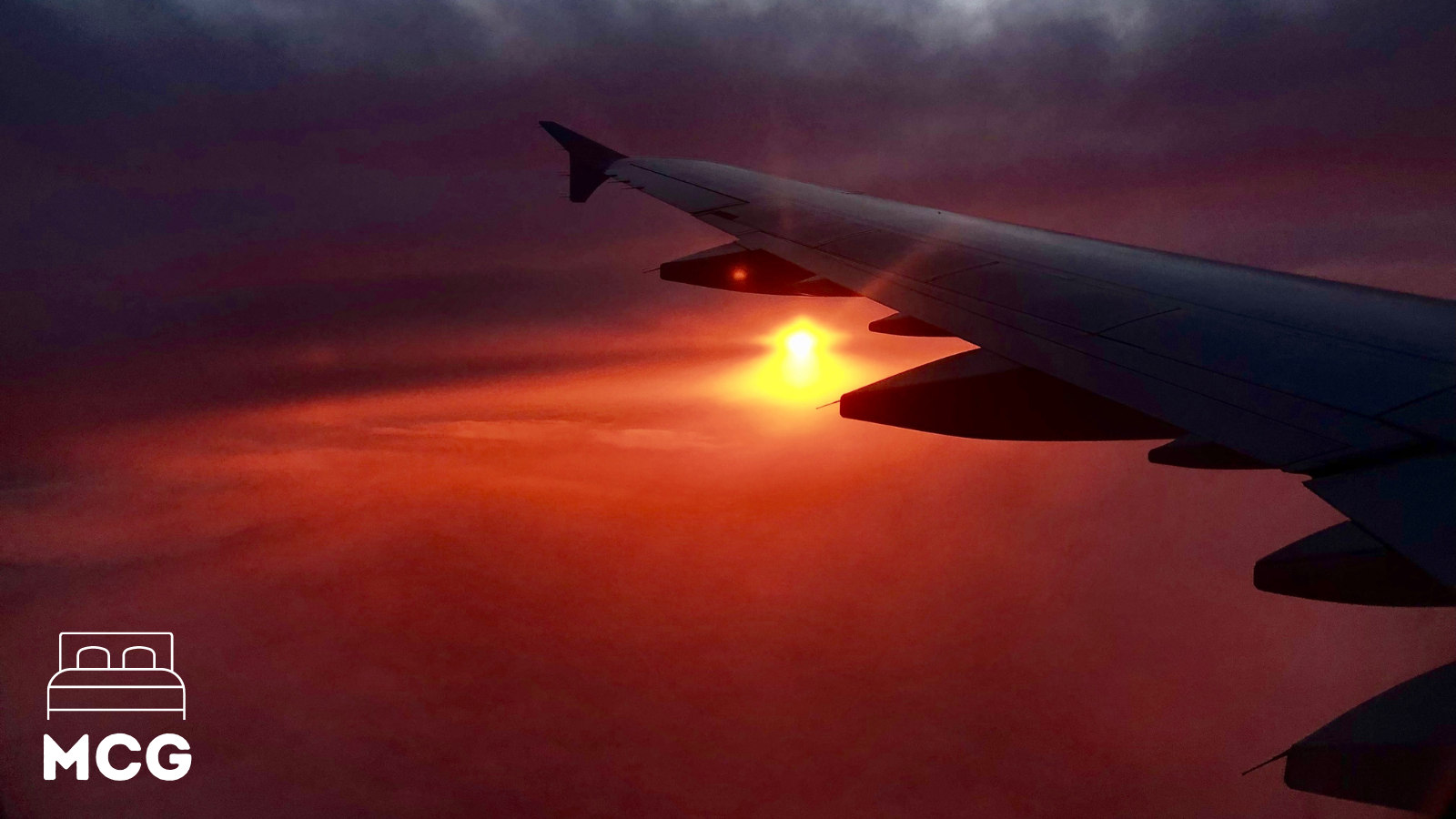 While you have no control over the temperature in the passenger cabin – you can control your body temperature. Wear multiple layers of lightweight clothing. This way you can remove or add a layer as needed.
MINIMIZE CARRY-ON ITEMS
Only carry with you the items you absolutely need on the flight. Carrying on unnecessary items means you'll have to haul around a heavy bag. Or worse still, an additional second bag. Space in the overhead compartment may be limited so you end up having to stow an additional bag in your foot space.
Our advice for sleeping on a plane is to carry on only your essential items. And place the items you will need during the flight close at hand – so you won't have to stand up and access the overhead storage area.
---
RELATED
• Is There Caffeine in Black Tea?
---
AVOID CAFFEINE
This is an obvious one but worth mentioning all the same. Coffee is a stimulant and remains in the body for up to 14 hours. If you want to fall asleep on that flight you should avoid drinking any type of caffeinated drink.
This includes coffee, tea, and sodas that contain caffeine. The effects of caffeine on the human circadian clock are well documented. It affects our natural hormone balance and keeps us awake. If you want some advice for how to sleep on the plane – stick to water and natural juice.
STAY PROPERLY HYDRATED
This leads us nicely to our next tip. Be careful to stay properly hydrated. The best advice is to drink eight ounces of water for every hour you're on the plane.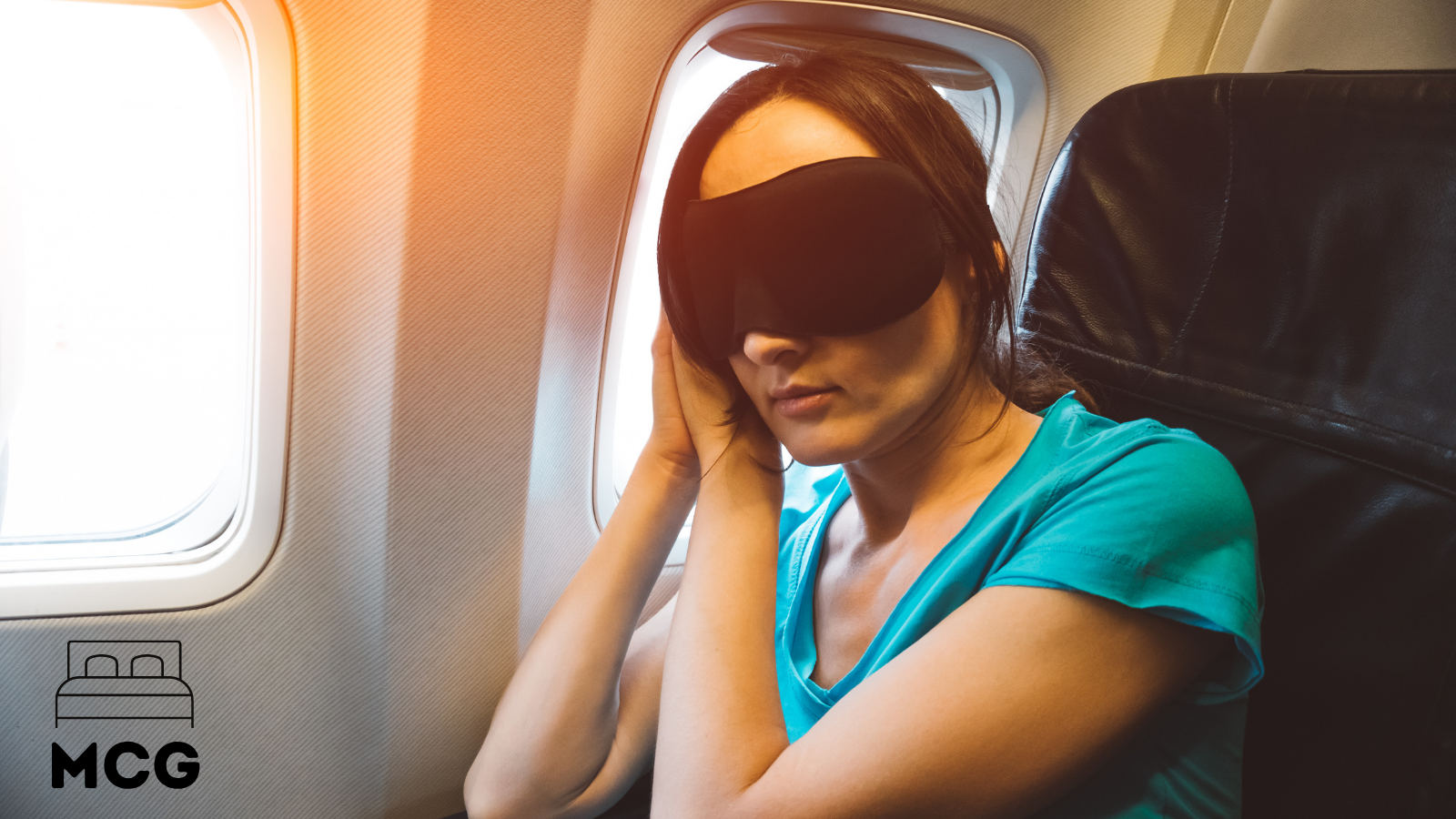 If you allow yourself to become dehydrated it will be difficult to fall into a deep and restful sleep. The best tip is to sip some water anytime you get an opportunity.
MEDITATION & MINDFULNESS
Have you tried using meditation or mindfulness to fall asleep? Many people find these techniques helpful for drifting off to sleep. Catching a flight can be a very stressful experience. And meditation and mindfulness are two techniques that you can use to calm the mind.
If you haven't tried either before you can introduce them into your sleep routine before your next flight – then unleash them like a pro to get some shut-eye next time you fly.
TRY AROMATHERAPY
Have you tried aromatherapy? Many people find the scent of lavender helps them relax and fall asleep. Aromatherapy is the use of sweet-smelling essential oils and plant extracts to stimulate psychological or physical responses – such as relaxation and sleep.
There is a wide range of aromatic oils out there but the scent of choice, for sleeping on a plane, is lavender. You can try dabbing a little lavender essential oil on the side of your hand and allowing its calming effect to help you drift off.
FOOD & SLEEP
Choice of snacks is an often overlooked tip for how to sleep on the plane. Many people find that eating certain foods helps their bodies prepare for sleep. The snacks and drinks of choice are camomile tea, bananas, cherries, and almonds.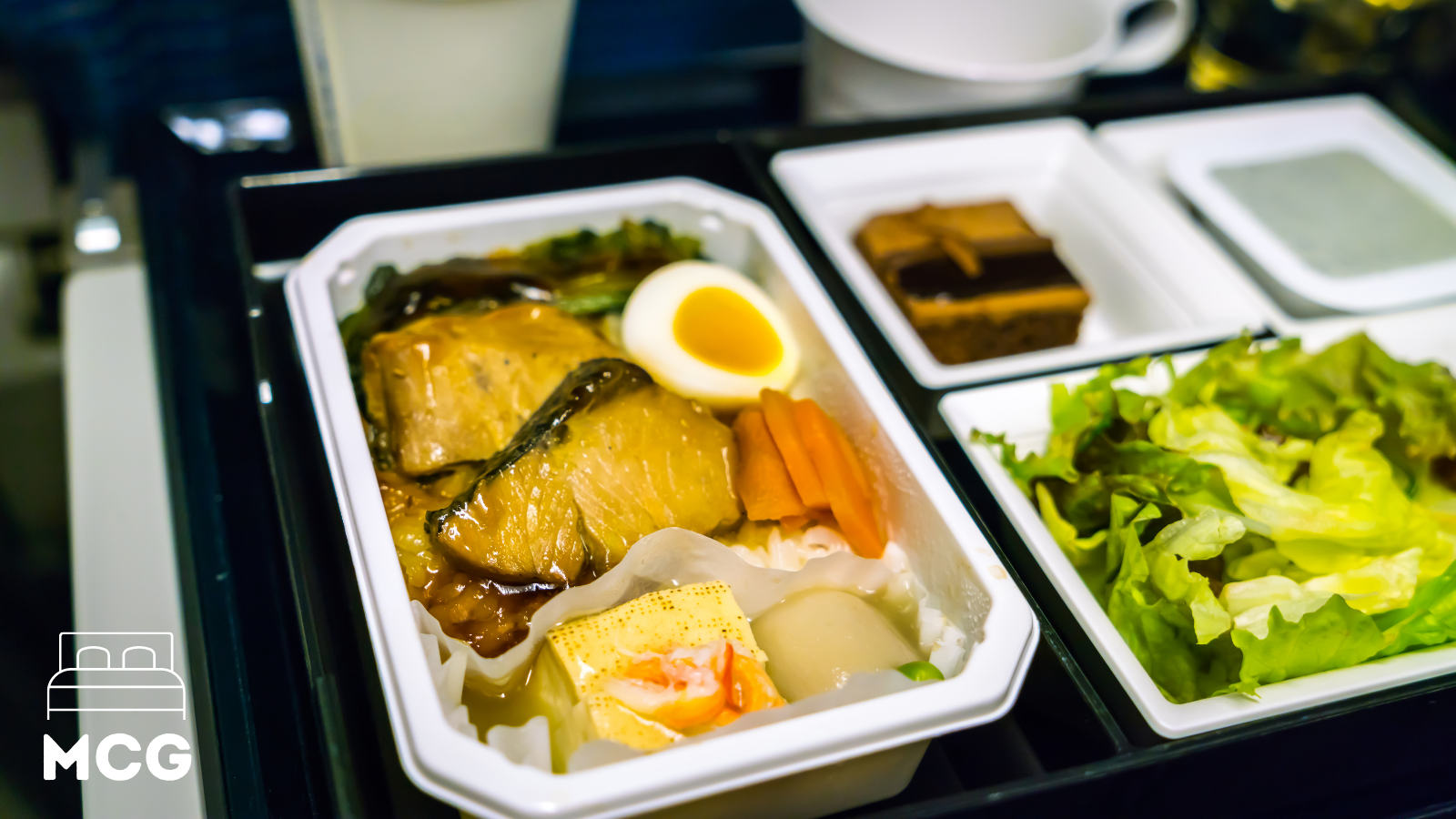 While there's not a lot of evidence out there to show which snacks work best – there has been a study in the International Journal of Tryptophan Research to show that the magnesium and potassium in bananas can help you drift off.
SET AN ALARM
If you set an alarm you don't have to worry about waking up. And let's face it, waking up is the worst part about falling asleep on a plane. You'll be stiff, drowsy, and in no mood to line up to make your way off the plane.
If you set an alarm you can allow yourself time to gather yourself before the flight lands and you have to face the stress of another airport. You can stretch, get your shoes back on, and even order a coffee if you allow yourself enough time.  It's another great little tip for how to sleep on the plane.
---
READ NEXT
• TOP 10 MOST COMFORTABLE MATTRESS – click here
• BEST MEMORY FOAM MATTRESSES – click here
• WHAT IS A HYBRID MATTRESS? – click here
• HYBRID MATTRESS PROS & CONS – click here
• WHAT IS A LATEX MATTRESS? – click here
• WHAT IS A MEMORY FOAM MATTRESS? – click here
---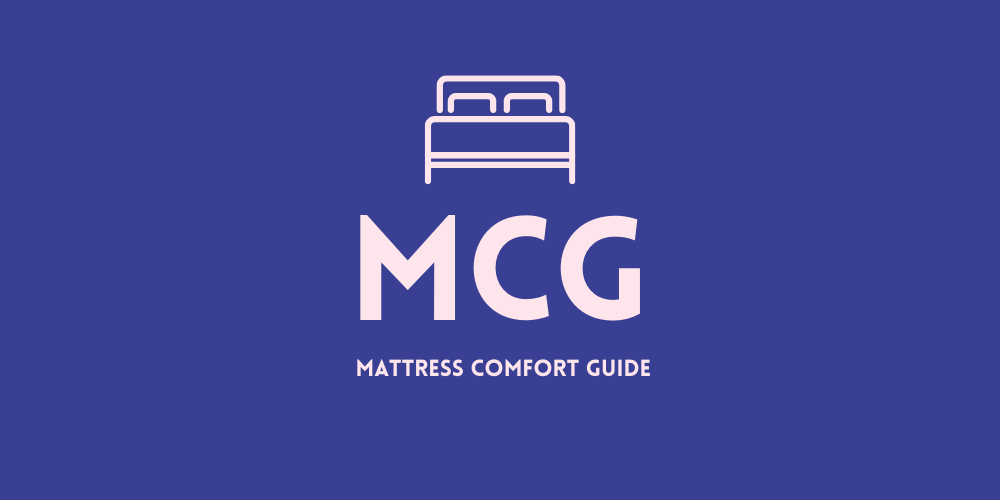 AUTHOR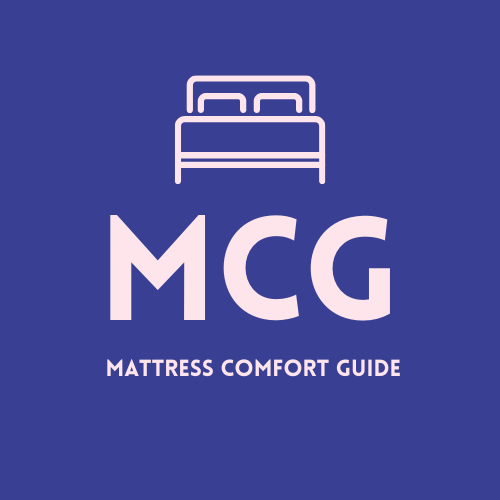 MCG Contributor
Jessica joined the MCG team in 2021 and is our in-house sleep expert. She is a fountain of knowledge on sleep cycles, sleep hygiene, and sleep-related disorders. Jessica is a graduate of the College of Arts and Sciences at the University of New Mexico and holds a B.S in Sociology.
When she's not educating us on sleep-related matters she is continuing her studies at the University of Arizona. Outside of work and study, Jessica likes to explore the great outdoors. Her favorite places to visit include the White Sands National Park, Chaco Culture National Historical Park, and the Carlsbad Caverns National Park.