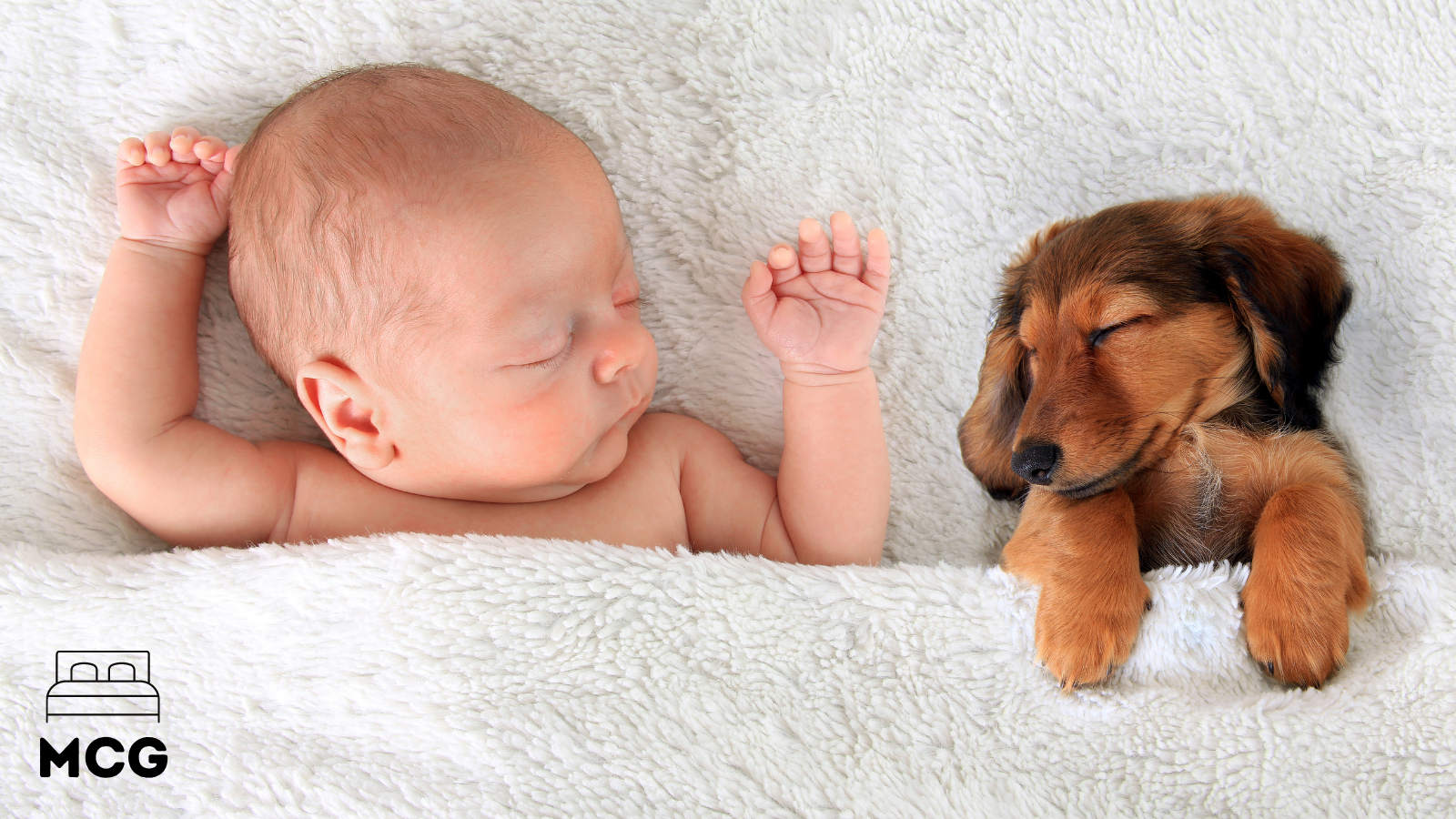 Do you have a noisy bed? Here's how to make your bed quiet again. First, identify if the noise is coming from the mattress or your bed frame. If it is coming from the mattress you have your work cut out. If it is coming from the bed frame you can easily make your bed quiet again. Here's how, see below.
---
HOW TO MAKE A BED QUIET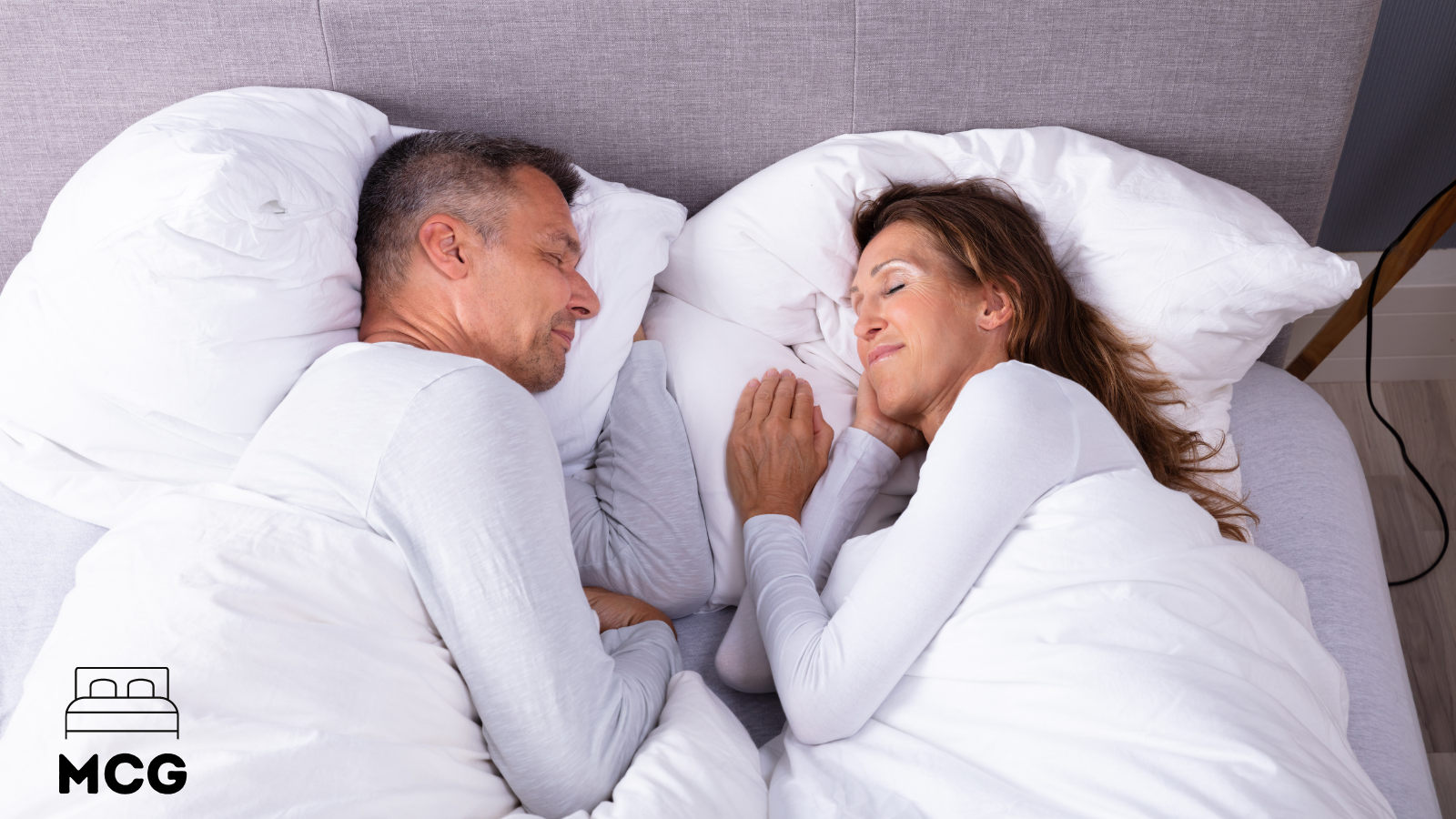 If you have a bed that's making squeaking, creaking, and making unwanted noise – don't worry.  There are some quick easy fixes you can apply to make your bed quiet again.
First, you need to identify the source of the problem.  What exactly is making the noise.  Then you can follow the tips below to resolve the issue.  You'll have a quiet bed again in no time.
---
IDENTIFY THE SOURCE OF THE NOISE
When looking for how to make your bed quiet – the first thing you need to do is identify the source of the noise. You need to establish if the mattress or the bed frame is causing the problem. The best way to do this is to lift the mattress off the bed frame and place it on the floor.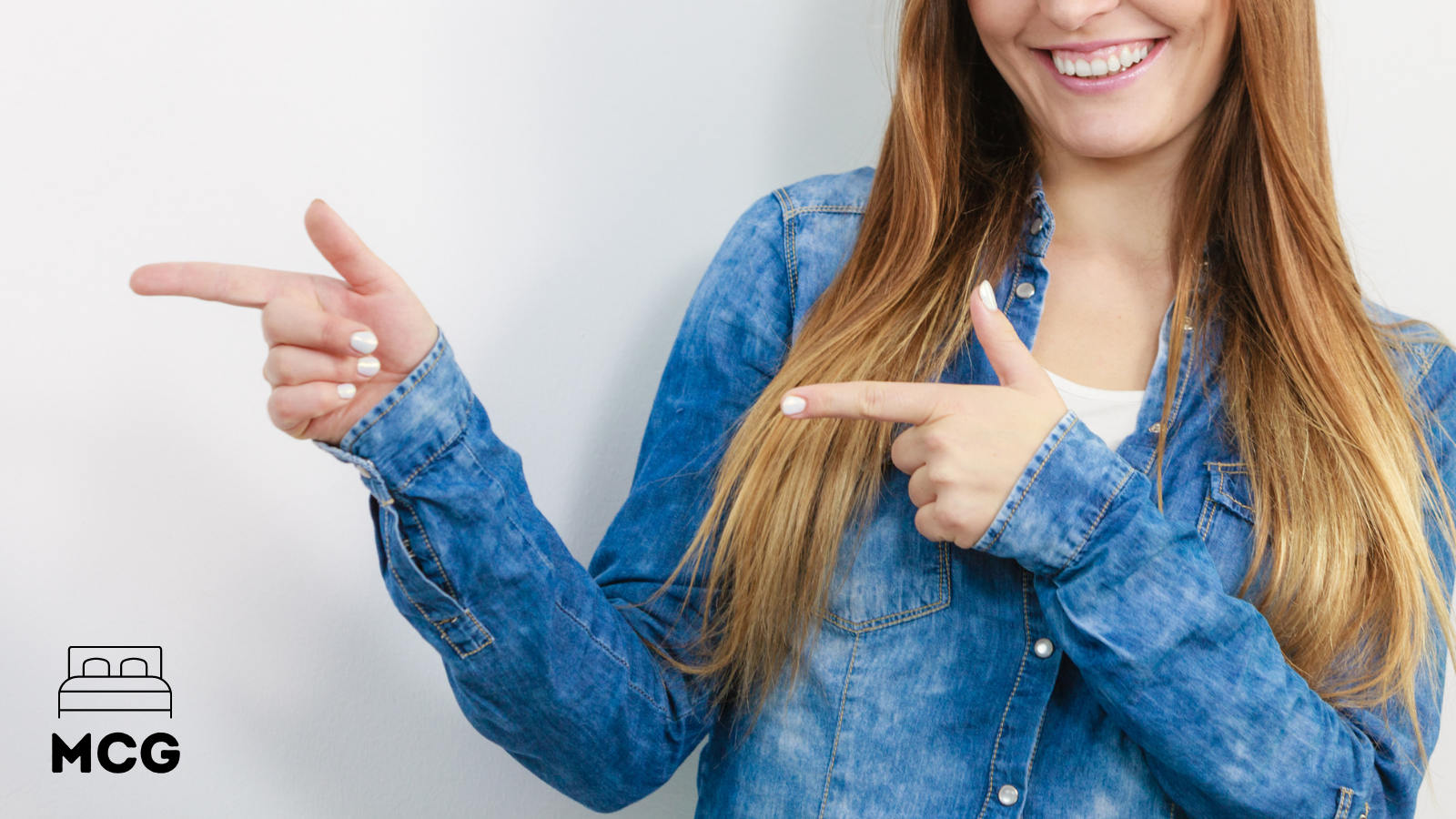 IS IT THE MATTRESS?
Then lay down on the mattress and begin to move about. Twist and turn, make some sudden movements, bounce up and down if you have to. Is the mattress making a noise? If it is, then you know it's the mattress that is causing the problem. If not, you know the noise is coming from the bed frame.
IS IT THE BED FRAME?
The good news is, the vast majority of bed noise originates from the bed frame. And, it's easy to fix. In our experience bed noises are usually caused by some degree of movement between the bed and loose joints that hold it together. Let's take a look at what you need to do to make a bed quiet.
---
HOW TO MAKE A MATTRESS QUIET
If the noise from your bed is coming from your mattress, it is going to be more difficult to resolve. First up, memory foam and all-foam mattresses do not squeak. So if you have a foam mattress you can rest assured the noise is not coming from the mattress.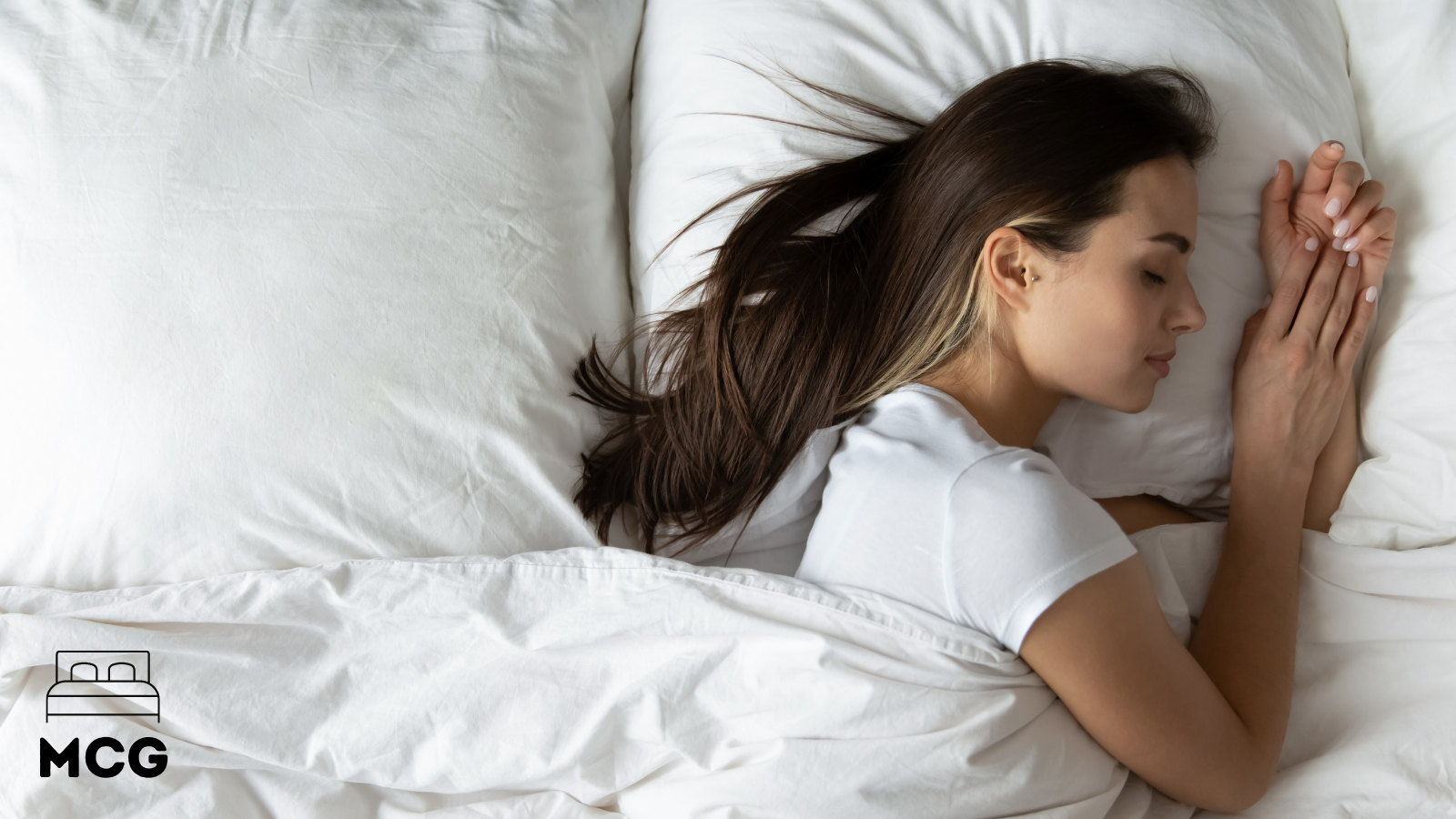 However, innerspring and hybrid mattresses can become noisy over the years. Both these types of mattress house spring coils in the core of the mattress. These metal springs can deteriorate and become stiff over time.
Good quality spring mattresses use individually pocketed spring coils. The springs are placed inside textile pockets to protect them and prevent them from rubbing together as they move. These pockets can wear down over time allowing the spring coils to brush up against each other.
The best way to fix a noisy mattress is to contact the manufacturer. Check the warranty cover on the mattress. If you are still covered by warranty you may be able to get a replacement mattress. Otherwise, your best option is to replace the noisy mattress with a new one.
---
READ NEXT
• HOW OFTEN SHOULD YOU CHANGE YOUR MATTRESS?
• TOP 10 MOST COMFORTABLE MATTRESSES
• HOW TO CLEAN A MATTRESS BAKING SODA
---
HOW TO MAKE A BED FRAME QUIET
If the noise is coming from the bed frame, you're in luck. There are some simple tricks you can try that should eliminate the problem. See below for some simple tips on how to make your bed quiet again.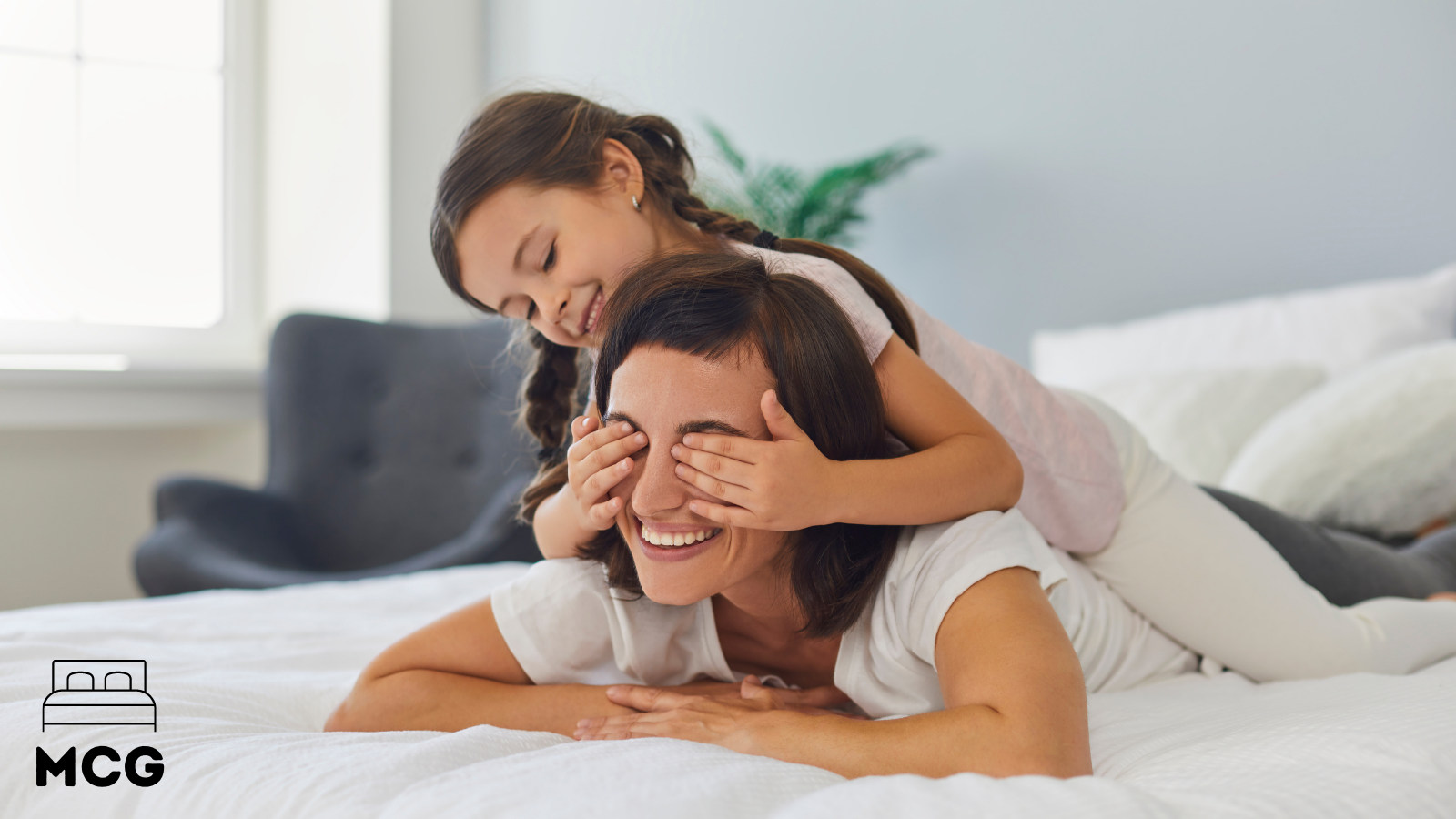 TIGHTEN THE BED FRAME JOINTS
The most common source of noise from a bed is the bed frame joints. These joints are made up of steel nuts and bolts and hold the bed together. When you first buy a bed these joints are tight and secure. But, they tend to loosen over time.
You'll need to do a little investigating to locate your joint nuts and bolts. Then all you have to do is get your home tool kit out and begin tightening all the joints. Nine times out of ten this is the best fix for how to make your bed quiet.
ADD SOME LUBRICATION
If you've tightened your frame joints and the frame is still making noise you need to try adding some lubrication. Lubricating the joints will facilitate a little fluid movement and eliminate the irritating noise. Any kind of lubricating maintenance spray will do the trick.
One of the most popular ones you can try is WD40 – but be careful. To avoid staining apply the lubricating spray to the metal parts and try not to spray your bedroom walls and floor.
ADD SOME CUSHIONING
If you are still having problems and haven't eliminated the noise you may have an issue with friction between the mattress and bed frame. This happens when movement between the floor of the mattress and the top of the bed frame causes a creaking noise.
But don't worry. This one is an easy fix as well. All you have to do is place a layer of thin materials between the bed frame and mattress. Old (clean) t-shirts, shirts, and kitchen towels work well. This barrier removes the friction and eliminates the bed noise.
ADD FURNITURE PADS
Another great little trick for 'how to make a bed quiet' – is to place furniture pads on the feet of the bed frame. Adding furniture pads eliminates bed noise and will help protect your bedroom floor from unwanted scratches.
You can use furniture pads, small felt cutouts, furniture coasters, or regular shop-bought floor protectors. The addition of a furniture pad to the bottom of your bed frame legs adds an extra layer of padding and reduces friction between the bed and the surface of the floor.
---
RELATED
---
HEADBOARD & FOOTBOARD
Are you using a headboard or a footboard? These boards are often overlooked as the source of your noise problem. And, headboards, in particular, are often the culprit. If the joints connecting the board to the bed become loose – the board will begin to move independently from the bed frame.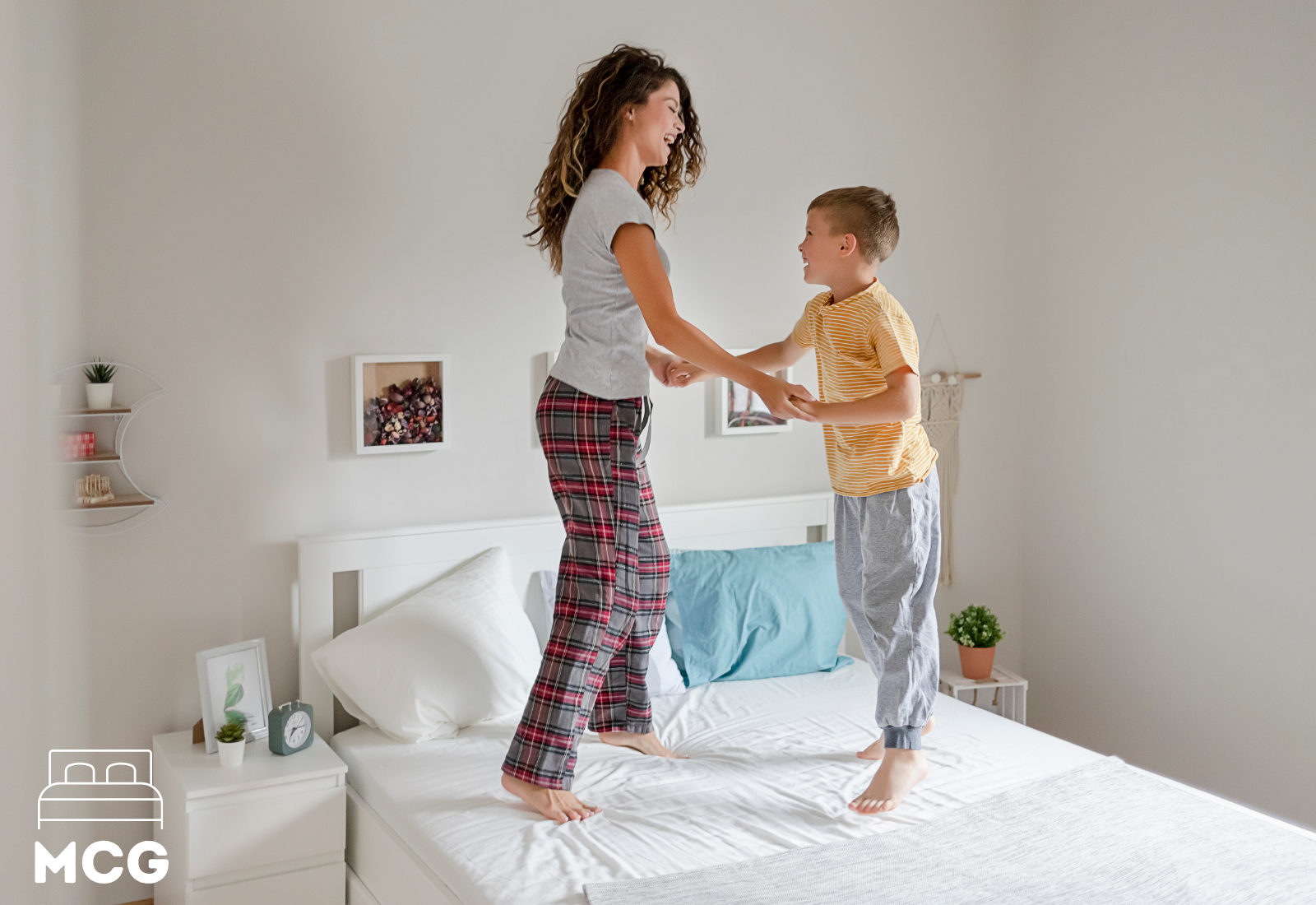 When this happens it can begin to cause a lot of unwanted noise. The best way to fix a noisy headboard or footboard is to tighten them using a screwdriver or socket set. Then add some lubrication such as WD40.
Even better is to remove the headboard from the bed completely and instead screw it directly to the wall. You can even add some foam padding between the board and the bed frame to prevent any banging or vibration.
MAKE SURE THE BED IS SITTING EVENLY
Is your bed sitting evenly on your bedroom floor? Are all the bedframe feet resting firmly on the ground? If a bed is off-kilter and not sitting evenly on the floor it can cause a rocking sound when you move in it.
The best way to check if it is sitting evenly is to get down on your hands and knees and take a look at the feet of the bed frame. Make use each one is resting on the floor as expected. You can even rest a spirit level across the surface of the bed to make sure it is perfectly flat.
ADD CASTER CUPS TO WHEELS
Are there wheels on the feet of your bed? Some beds come on wheels so they can be easily moved from one location to another. If your bed sits on caster wheels then they may be causing unwanted noise in your bed. Our advice is to add some caster cups to the wheels.
They are specially designed cups that sit between the wheels and the bedroom floor. Rubber cups work best and they serve the dual purpose of protecting your floor surface and helping make your bed less noisy.
ADD BEESWAX TO WOOD JOINTS
Some beds don't have metal joints. Instead of using steel nuts and bolts, these beds rely on wood joints that are neatly cut and fit perfectly together.
If your bed has all-wood joints you can try adding beeswax to lubricate the contact areas. Beeswax works great for eliminating unwanted creaks and squeaks in wooden bedframes. You'll have a quiet and noise-free bed in no time.
---
READ NEXT
• WHAT IS A MEMORY FOAM MATTRESS?
• BEST MEMORY FOAM MATTRESSES 2023
• MEMORY FOAM MATTRESS PROS & CONS
• GET RID OF BED BUGS IN A MATTRESS
---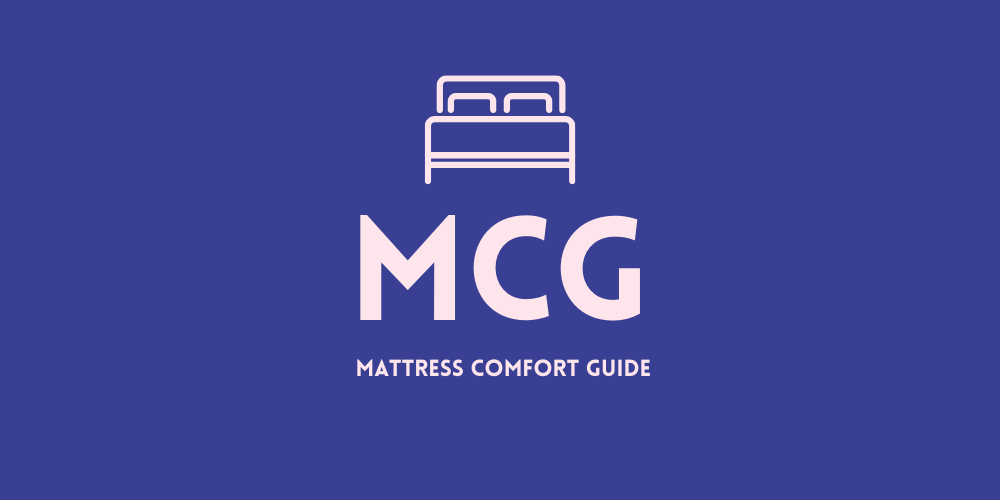 AUTHOR
Mattress Consultant
Bill is a DIY expert and our resident mattress maintenance and cleaning guru. He's incredibly capable with his hands and seems to be able to build, repair, or clean just about anything. He has a long history of remodeling and renovation work and has given a facelift to many homes in the New Mexico area over the years.
Bill has over 20 years of experience in the construction industry with a particular focus on woodworking. When he's not writing for MCG he's busy working on his last house renovation project. Bill is a native of El Paso Texas and is a keen follower of his local Locomotive FC soccer team.