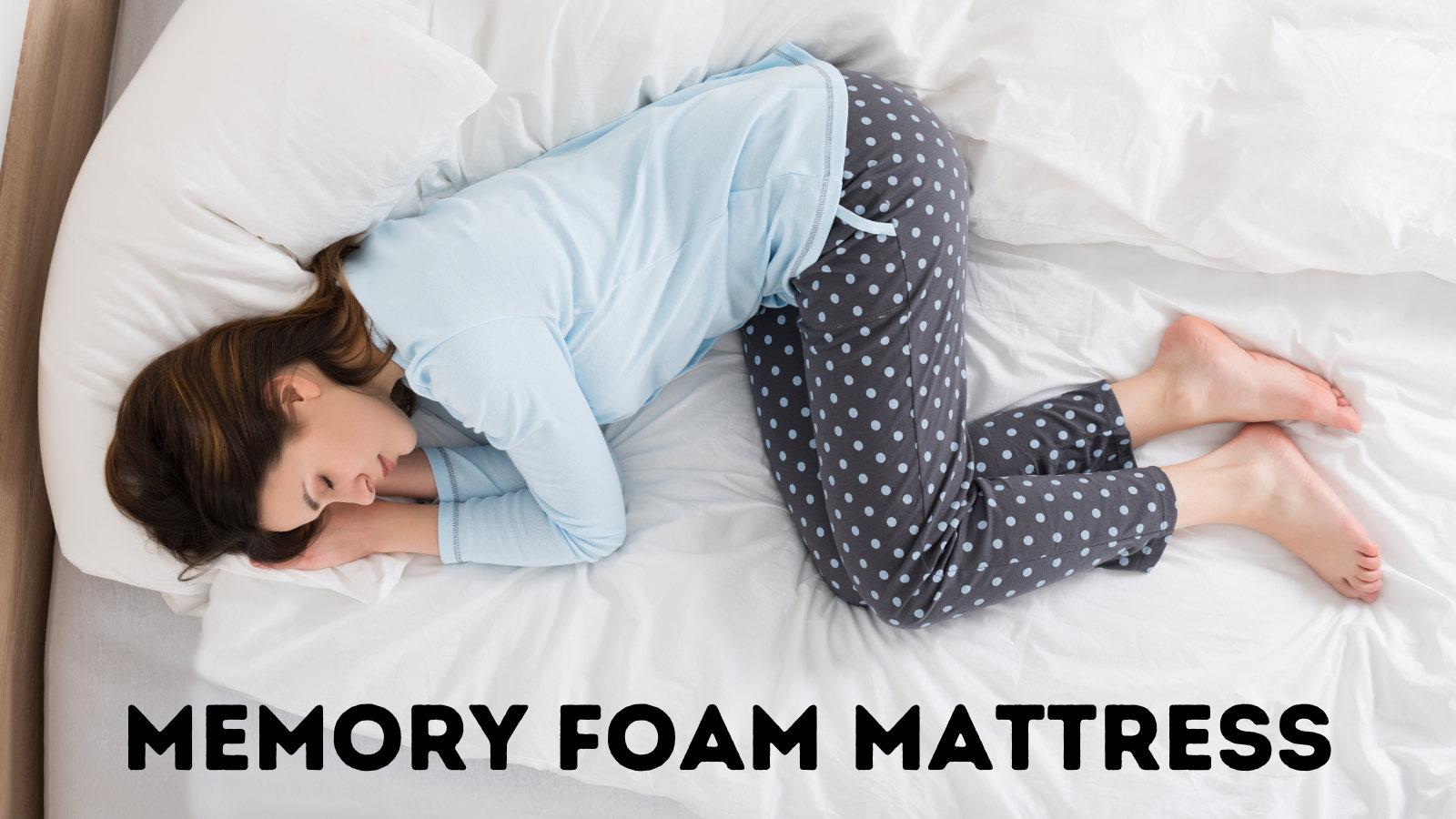 A memory foam mattress is a type of mattress that uses a specially designed material that cradles your body weight and gently contours around your body. They are excellent mattresses for delivering pressure relief and soft comfortable cushioning.
---
WHAT IS A MEMORY FOAM MATTRESS MADE OF?
Memory foam mattresses are made from a special type of pressure-relieving foam called a polymer. This polymer has physical properties that make it ideal for use as a mattress material.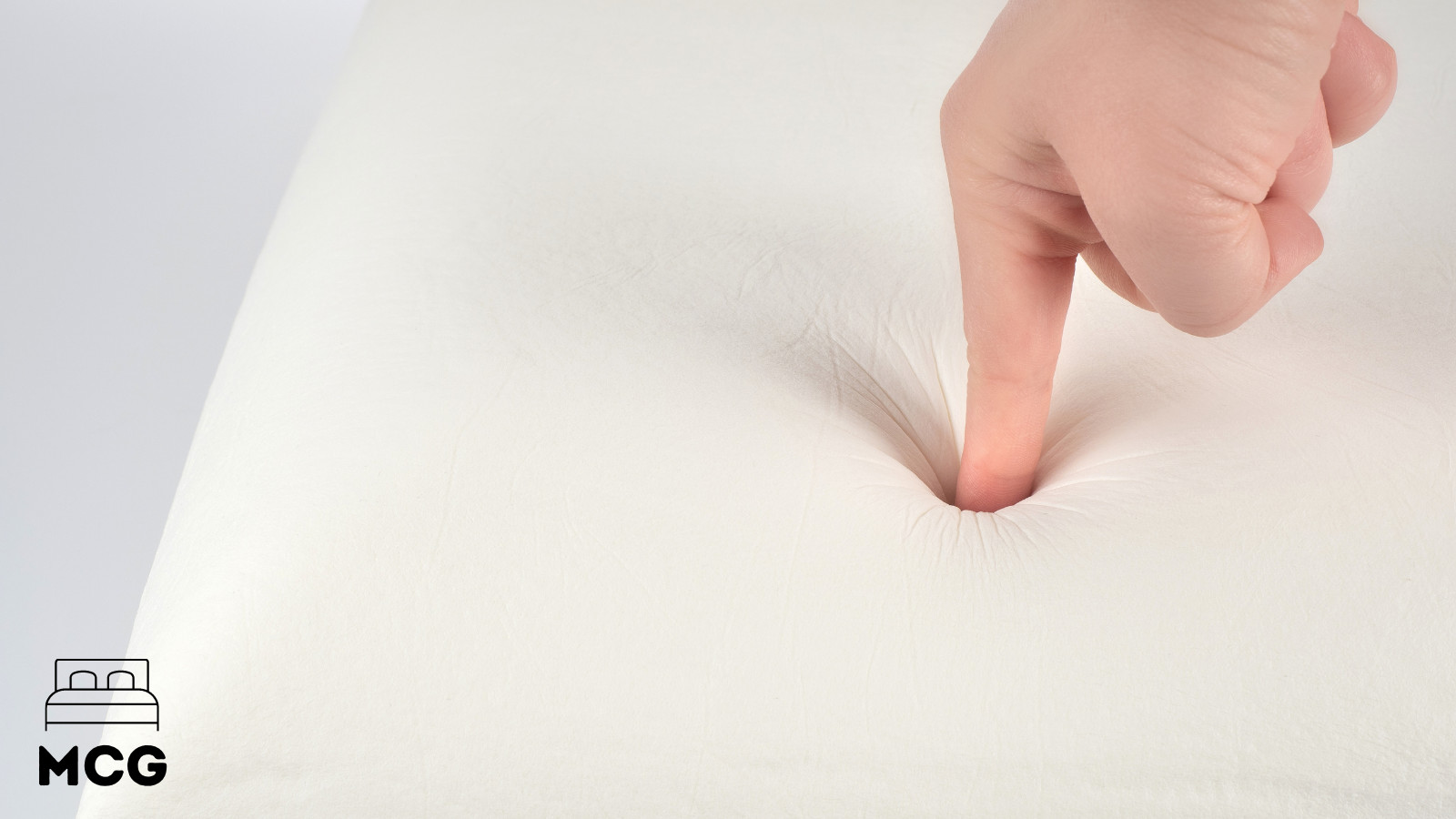 It slowly changes shape as pressure is applied and then returns to its original shape once the pressure is removed. The recipe used to manufacture memory foam mattresses can be altered to achieve different levels of firmness.
---
WHAT IS MEMORY FOAM?
Memory foam is an incredibly popular type of material used to make mattresses. But, what exactly is memory foam? How is it made? And, how does it work?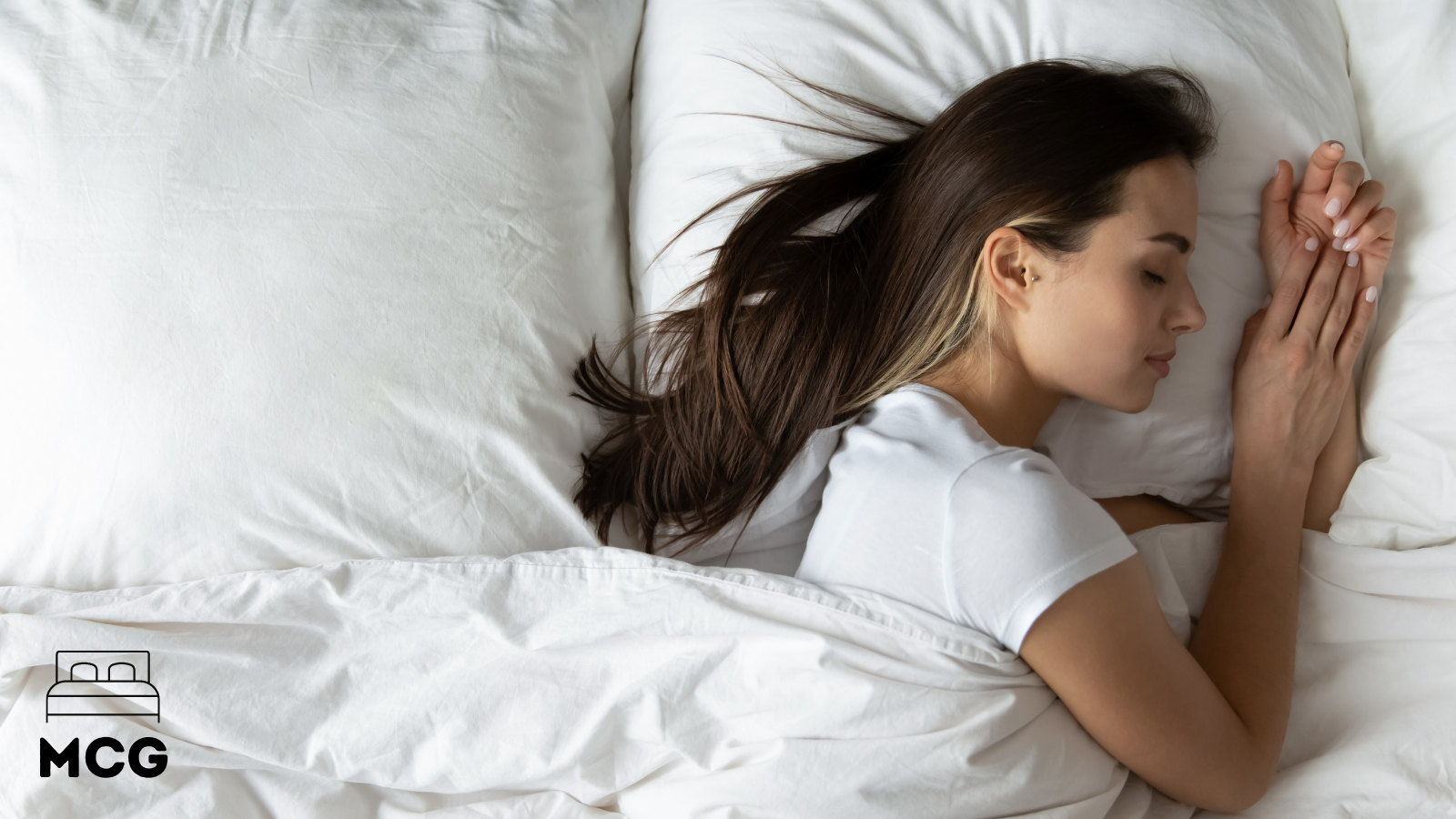 Memory foam is made from polyurethane. Polyurethane is a type of polymer and is an incredibly common substance found in a wide range of items. It is also used to make sofas, car seats, insulation, and protective pads in safety helmets.
NASA TECHNOLOGY
Memory foam was first designed in the 1960s by NASA. It was used in space rockets to protect and cushion astronauts as they were subjected to the rigors of rocket launch.
However, it was many years later that its pressure-relieving and soft cradling qualities were adapted for use by the mattress industry. Memory foam didn't make an appearance as a mattress material until the 1990s. Since then it has become a firm favorite around the globe.
---
READ NEXT
• BEST THICKNESS FOR A MEMORY FOAM MATTRESS
• TOP 10 MOST COMFORTABLE MATTRESSES
---
HOW DO THEY WORK?
Memory foam is known for its slow soft response that cradles your body weight. The foam adapts the shape of your body relieving pressure and creating a very comfortable sleeping surface. But how does it work?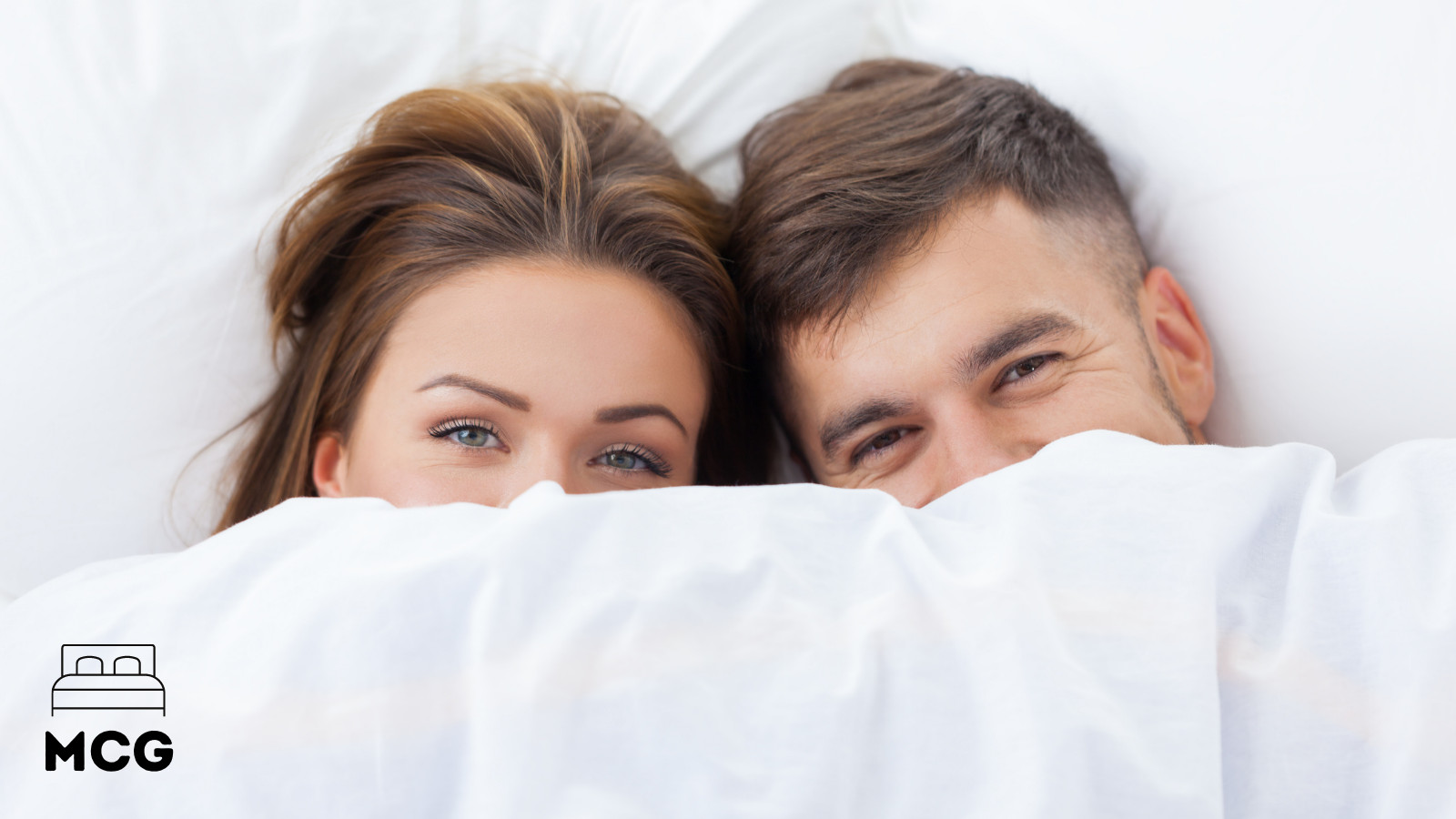 The type that is used to make mattresses is known as viscoelastic polyurethane foam. It is a low resistance foam that changes shape and slowly bends when pressure is applied. This characteristic makes it ideal for mattresses.
The two characteristics of memory foam are its viscosity and its elasticity. Viscosity describes how the foam slowly changes shape when exposed to pressure. And, elasticity describes how it can stretch and then return to its original shape.
Memory foams allow your body to gently sink into the surface as the foam changes shape in response to your body weight. This creates a super comfortable sleeping experience.  The feel can be adjusted by varying the memory foam mattress thickness.
The memory foam relieves pressure from the hip and shoulder areas and helps align the spine. Then, when you get out of bed it slowly returns to its original shape.
---
TYPES OF MEMORY FOAM
There are three different types of memory foam used in the mattress industry. They are traditional, open cell, and gel memory foam.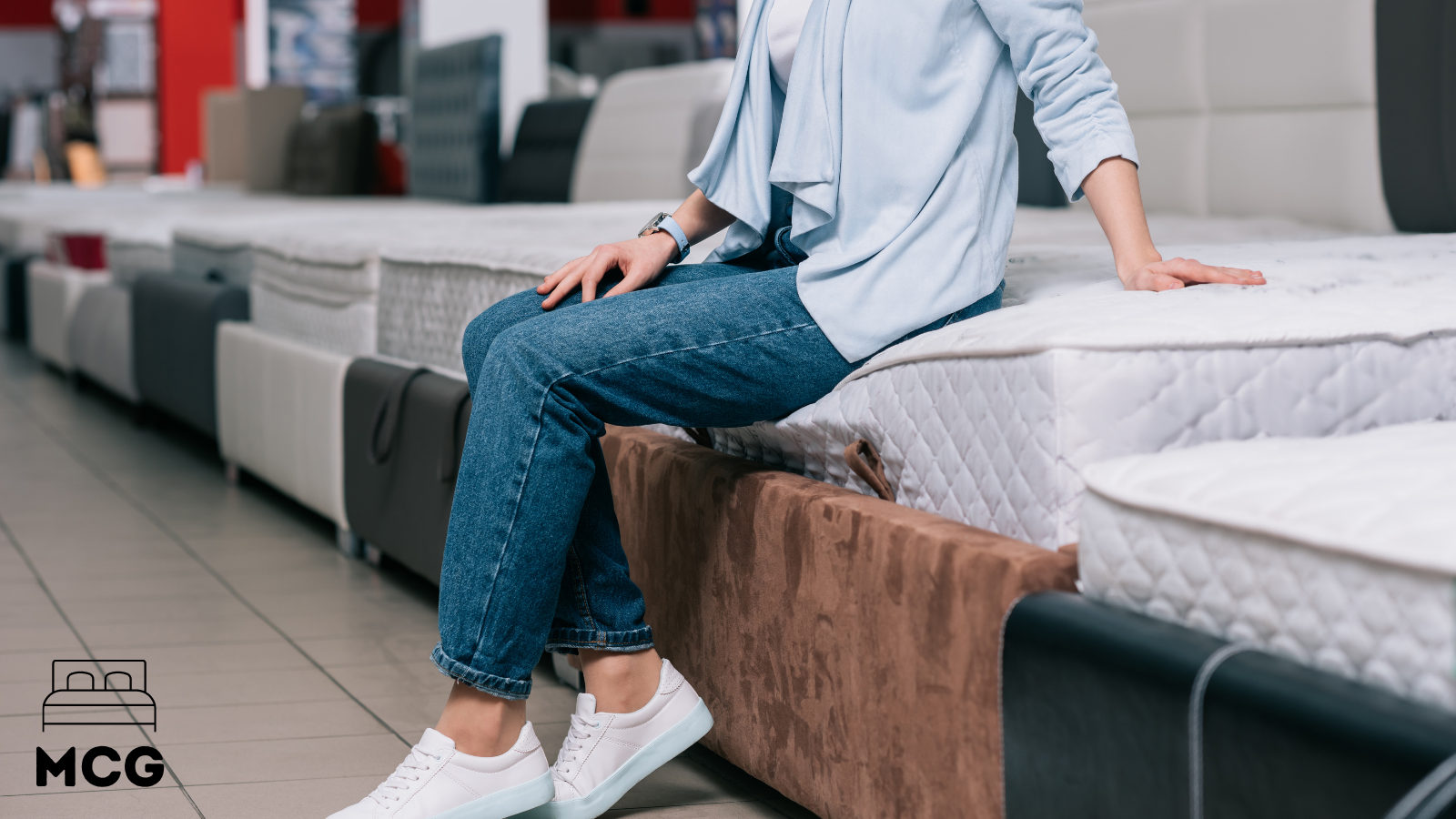 TRADITIONAL MEMORY FOAM
Traditional memory foam is the original type of memory foam. It is sometimes referred to as classic memory foam. This was the first type of foam to enter the market back in the 1990s.
It demonstrates all the soft cushioning and cradling properties you would expect from memory foam. However, it tends to retain heat. This means it can 'sleep hot' for some people.
By retaining your body height while you sleep – some people begin to feel too warm during the night. Traditional memory foam doesn't have a great cooling effect. This is where the next two types of foam come in.
OPEN CELL MEMORY FOAM
Open cell memory foam was created to address the lack of cooling effect of traditional foam. This type of foam has been specially created to allow ventilation in the foam that helps draw heat away from the body.
This ventilation feature means heat is dispersed away from the body as you sleep. This should keep you cool and promote a comfortable night's sleep. The foam is made with small pockets known as 'open cells'. It is these open cells that promote ventilation and cooling effect.
When open cell memory foam mattresses first hit the market they were known for being on the soft side. The small pockets in the foam mean that these mattresses sometimes lacked support. However, this issue has been ironed out with new technologies and production methods.
GEL MEMORY FOAM
The third type of memory foam mattress is made using gel memory foam. This type of mattress is made by adding gel beads to traditional memory foam. These beads act in a similar manner to the open cell pockets.
However, instead of using empty pockets to facilitate airflow and heat dissipation – they use conductive gel beads. The gel beads conduct heat. This allows them to absorb heat from your body and move it away from the surface so it does not accumulate.
While these three types account for the vast majority of memory foam mattresses, other variations exist. Two of the more popular alternative memory foam models are copper and eco-friendly.
COPPER INFUSED MEMORY FOAM
Another material that has been added to memory foam mattresses to aid the cooling effect is copper. Manufacturers have begun adding the element to the foam polymer because of its excellent conductive properties.
Copper is a highly conductive metal. This means it absorbs heat easily and rapidly. Copper-infused memory foam mattresses are becoming increasingly popular thanks to their effective cooling effect.
ECO-FRIENDLY MEMORY FOAM
The use of eco-friendly materials has never been more important. With one eye on the environment and minimizing our global footprint, manufacturers have begun producing more eco-friendly memory foam mattresses.
These mattresses are made using greener production techniques and prioritize the use of plant-based materials. Environmentally friendly substances such as soy and corn oil are used as substitutes in the manufacturing process.
---
HOW ARE THEY MADE?
How are memory foam mattresses made? All memory foam mattresses are made using some type of memory foam. While some use one single type of foam, others use a blend of different types. For example, it is not uncommon to find traditional memory foam and gel-infused memory foam layers in a single mattress.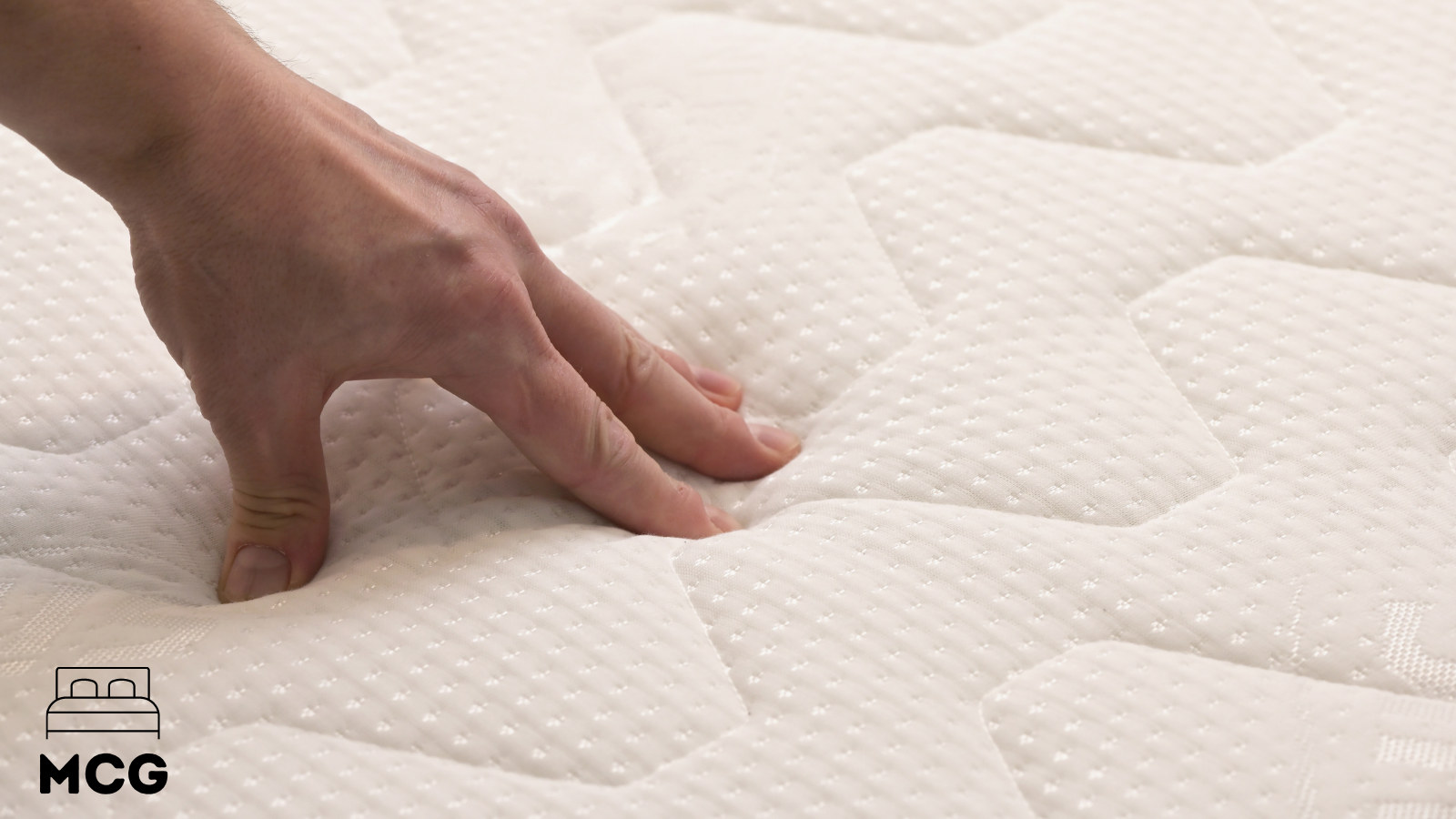 MEMORY FOAM MATTRESS CONSTRUCTION
While the precise design and make-up of memory foam mattresses varies from one manufacturer to the next, there is a favored construction model that most fall into. This model uses three layers – a comfort layer, transition layer, and core.
COMFORT LAYER
This is the very top layer of the mattress. The comfort layer is in direct contact with your body and is designed for soft cushioning, cradling support, and gentle pressure relief.
The comfort layer is also the section of the mattress most responsible for cooling. Because it rests directly below the body it will play the biggest role in cooling you while you sleep.
If you buy a gel-infused or open cell memory foam mattress you will find these cooling technologies on the comfort layer. It can also be designed to different firmness levels depending on the desired feel required.
TRANSITION LAYER
The transition layer is the middle layer of your mattress. It can be made up of one or more foam layers. In general, the foam used here is firmer than the comfort layer.
The transition layer adds support to the mattress. It acts as a buffer between the top comfort layer and the base core layer and it helps draw warmth away from the comfort layer above.
CORE
The bottom layer of a memory foam mattress is called the core. This layer forms the base of the mattress and is the largest layer in terms of size and volume.
It provides strong support and stabilization for the two layers above. It acts as the base of the mattress and this is the section that will rest on the frame of your bed.
---
READ NEXT
---
FEATURES OF A MEMORY FOAM MATTRESS
Now that we know what a memory foam mattress is and how they are made, let's take a look at the key features that make them so popular. Below are the key characteristics that make them stand out from the crowd.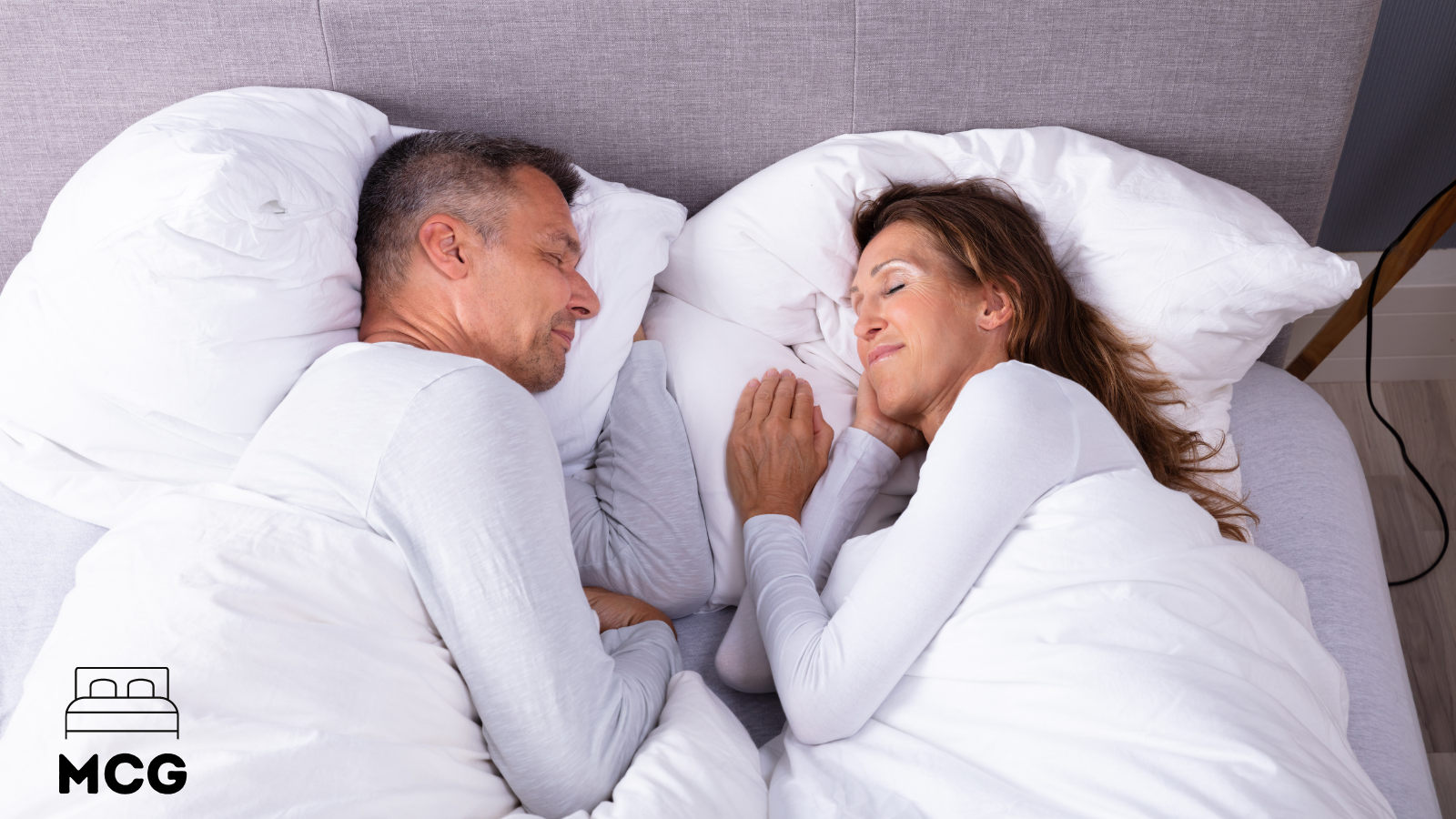 BODY CONTOURING
Memory foam's body contouring ability makes it one of the most popular choices of mattress on the market. Memory foam has the ability to change shape and contour around your body delivering incredible cushioning comfort.
The viscoelastic properties of memory foam allow it to compress as pressure is applied. This means your body sinks into the material rather than rests on top of it. It's an excellent way of delivering a comfortable night's sleep.
COMFORTING PRESSURE RELIEF
Another key feature of memory foam is its ability to provide pressure relief to areas of your body that most need them. This means that pressure points such as the hips and shoulders are relieved of the bodyweight pressing down on them.
The soft cradling of a memory foam mattress disperses the weight over a larger area. It does this by compressing at pressure points as the foam material bends and cushions stress points. It then returns to its original shape when the weight is removed.
SPINAL ALIGNMENT
Memory foam mattresses are a great choice for spinal alignment. The soft cushioning support helps many people with spine alignment allowing them to find a more comfortable sleeping position.
The soft cushioning support can help the spine find its natural position. However, mattress firmness and individual body weight will play a role here. Heavier people may find a more firm mattress works better for them.
REDUCED MOTION TRANSFER
Motion transfer refers to the ability of movement to travel across the surface of the mattress. For example, if one person moves on one side of the bed and the motion travels – this movement will be clearly felt on the other side of the bed.
Memory foam mattresses are excellent at isolating motion transfer. This means motion is largely contained to the area it originated in. This feature makes them a great choice for couples who don't want to feel each other's movements.
COOLING ABILITY
Mattresses with good cooling ability draw heat away from your body while you sleep. This means heat doesn't get trapped around your body while you sleep. Cooling ability is an important factor if you are a hot sleeper.
When memory foams first hit the market they struggled with cooling ability. These traditional memory foam mattresses got a name for poor cooling effect. However, new technologies such as open-cell and gel-infused mattresses, (discussed above), have eradicated this problem.
LESS NOISE
If you are a fan of quiet mattresses then memory foam will be a good fit. The all-foam construction means they are great at keeping noise to a minimum. The foam polymer can be compressed and twisted while creating little or no noise.
This is in contrast to an innerspring mattress that can be quite noisy. Steel springs can become very noisy as they get old and degrade.
HYPOALLERGENIC
The vast majority of memory foam mattresses tend to be hypoallergenic. This means they are a great choice if you suffer from allergies.
The dense construction of the foam polymer means they are pretty much impenetrable to dust mites, mold, and other irritants. If you are looking for a clean allergy-free sleep, then a memory foam mattress could be the perfect fit for you.
---
WHAT ARE THE BENEFITS OF A MEMORY FOAM MATTRESS?
What are the benefits of a memory foam mattress? How do they stack up against other mattress types? And, are they a good choice for you? Let's take a look at the key benefits of a memory foam mattress.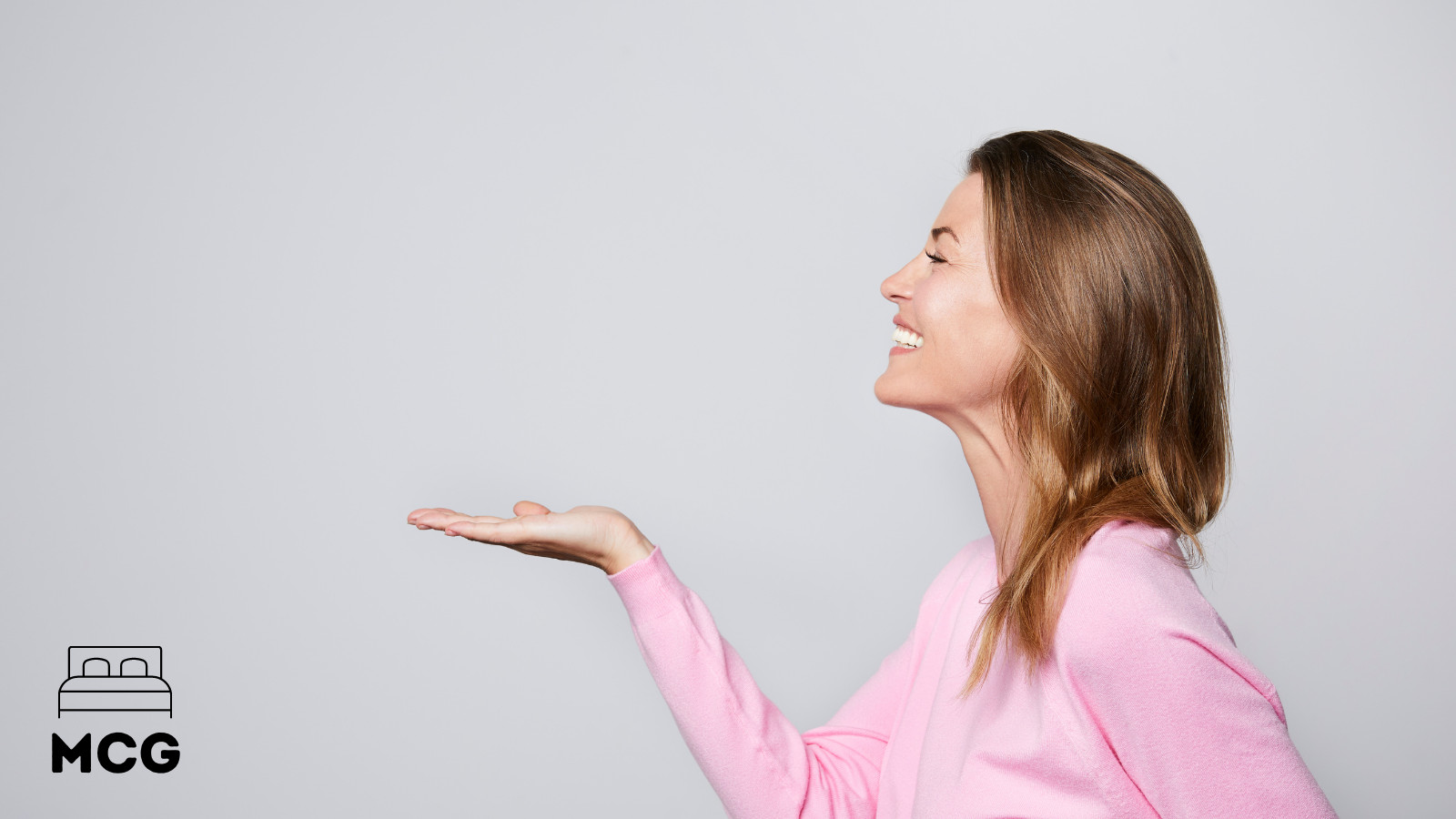 SOFT CUSHIONING COMFORT
The stand-out benefit of a memory foam mattress is its soft cushioning support. The viscoelastic properties of the memory foam polymer deliver a unique soft cushioning and pressure relieving experience.
Memory foam mattresses are an excellent choice if you want a mattress that will cradle your weight and sculpt around the contours of your body. These mattresses allow you to gently sink into the mattress as it slowly compresses beneath your body weight.
PAIN RELIEF
The soft cradling support of memory foam means they are a great choice for delivering pain relief. If you suffer pain while sleeping the pressure-relieving properties of memory foam may be just what you are looking for.
The gentle cradling support of a memory foam mattress delivers outstanding pressure relief. They relieve the weight on pressure points such as the hips and shoulders while you sleep. This can play an important role in relieving pain and help you find a comfortable sleeping position.
SUITABLE FOR ALL SLEEPING POSITIONS
Memory foam mattresses work well for all sleeping positions. Whether you are a back sleeper, side sleeper, or a combination of both – there is a suitable memory foam mattress out there for you.
Memory foam mattresses are available in a wide range of firmness levels. This means you can easily pick one up that complements your preferred sleeping position and body weight.
As a guide, people of above-average body weight will require a mattress of above-average firmness. And lightweight people will need a softer one. Average weight and size individuals will fare best with an average firmness mattress.
DURABILITY
Memory foam mattresses are durable. And, if you invest in a high-quality model you can expect it to last you for many years. The best memory foam mattresses can last up to 10 years.
When talking about memory foam durability you need to take a look at the foam density. The higher the density the better quality of the mattress, and the more years you can expect it to last. Low-density mattresses fall into the 3.5 lbs/cubic foot category, medium-density into the 3.5 lbs/cubic ft category, and high-density into the 5 lbs/cubic ft bracket.
For more information on the benefits of a memory foam mattress, see our full guide – Pros and Cons of a Memory Foam Mattress.
---
WHAT IS THE DIFFERENCE BETWEEN A MEMORY FOAM MATTRESS AND A REGULAR MATTRESS?
Memory foam mattresses are made using a special type of pressure-responsive polymer foam. Most traditional mattresses use a spring core. The spring core is then topped with a comfort layer.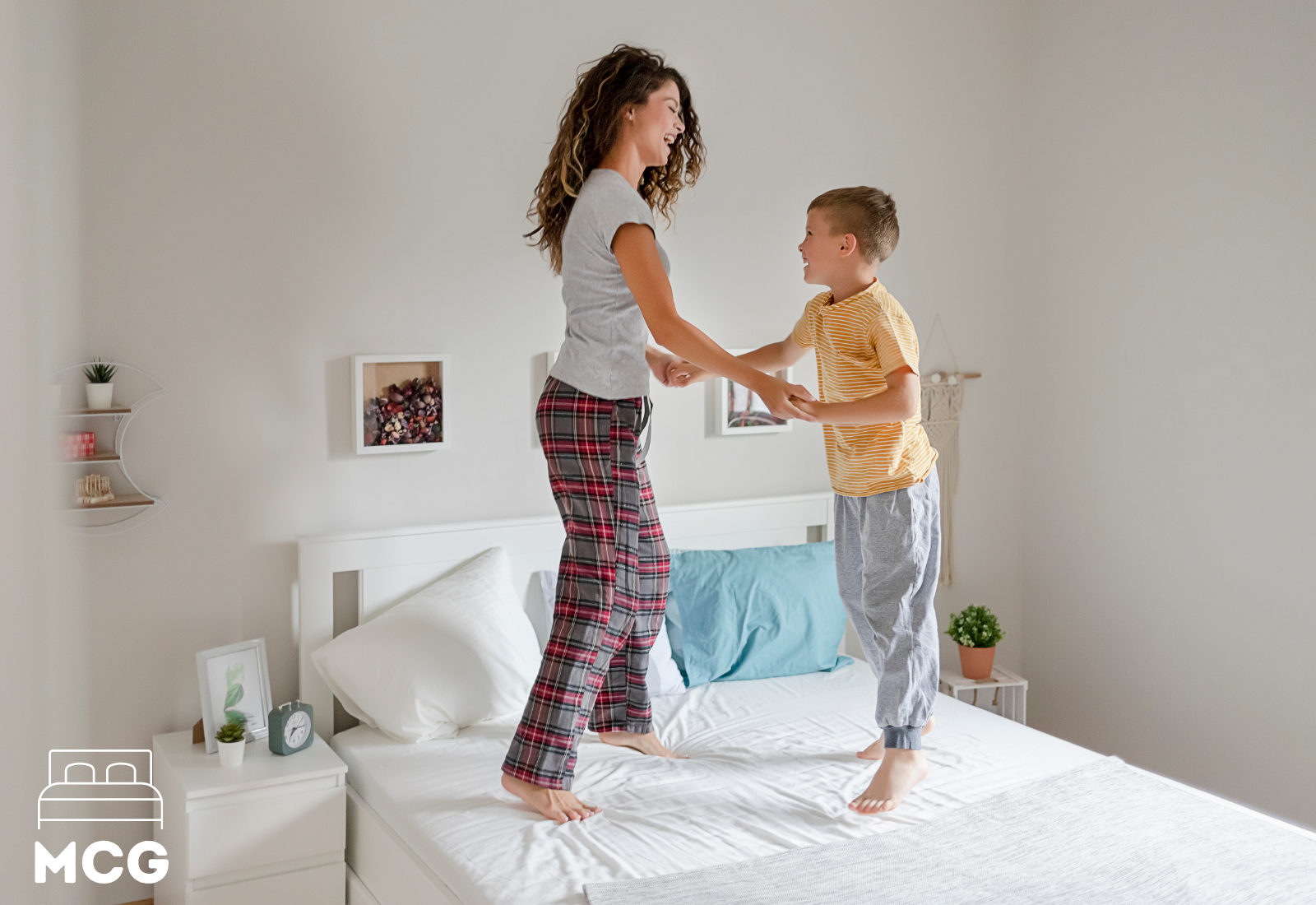 Traditional spring mattresses are referred to as innerspring mattresses. The core of these mattresses is made up of pocketed steel springs. The springs are often pocketed in material to prevent them from contacting each other.
A memory foam mattress does not contain springs. It is an all-foam mattress. However, there is another type of mattress called a hybrid. Hybrid mattresses use more than one type of mattress technology in a single design.
For example, you can get a hybrid mattress that has an innerspring core and a memory foam comfort layer. These mattresses blend different technologies together rather than relying on a single mattress type – for some interesting results.
---
RELATED
How to Clean a Memory Foam Mattress
---
WHAT ARE THE PROBLEMS WITH MEMORY FOAM MATTRESSES?
What problems do memory foam mattresses have? Are there certain problematic features you should be aware of before investing in a memory foam mattress? Let's take a look.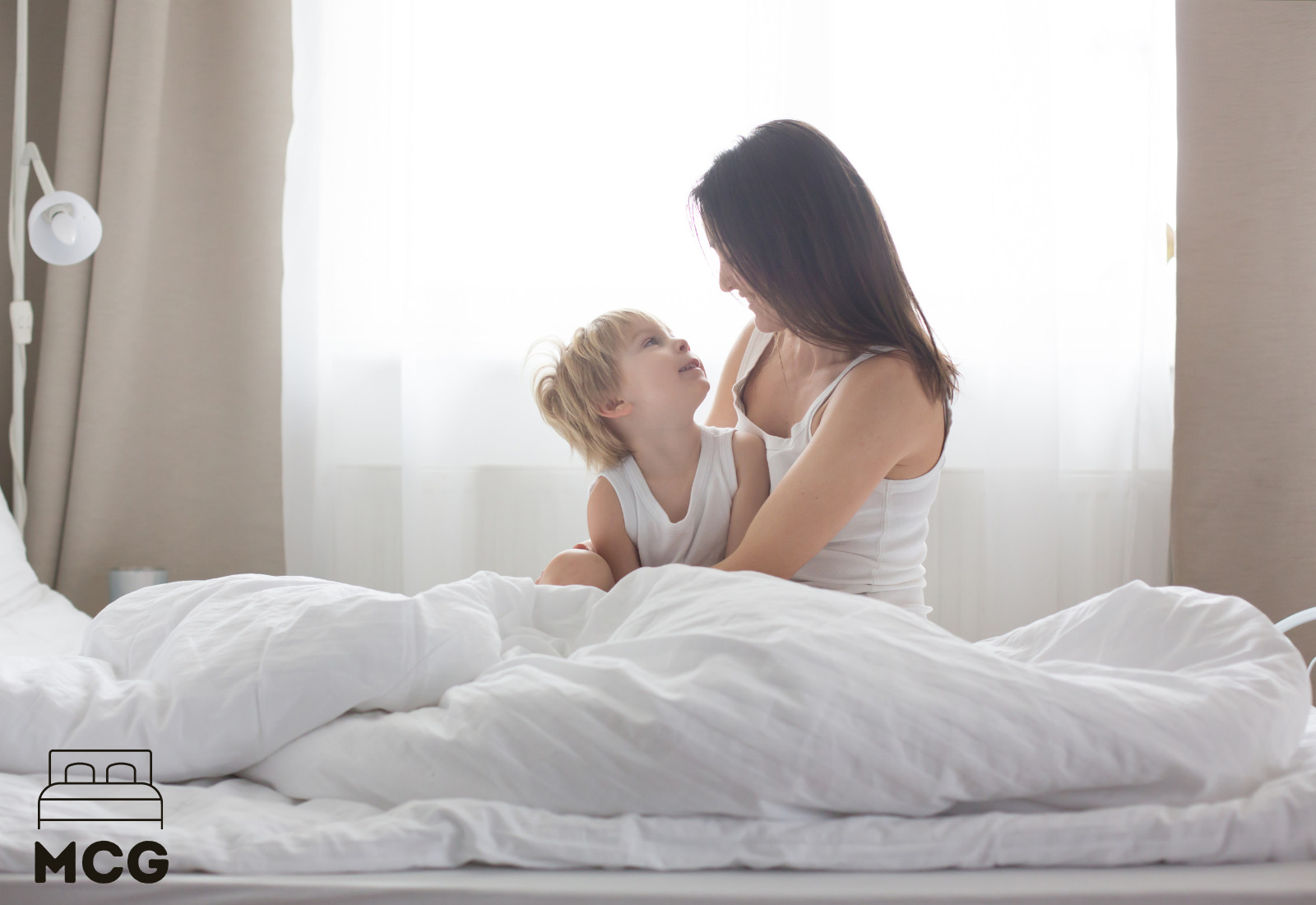 HEAT RETENTION
Heat retention can be a problem with old and lower-quality memory foam mattresses. Memory foam tends to insulate the body as you sink into the mattress. This results in an accumulation of heat as you sleep.
However, this issue has been resolved with new technologies. Modern memory foam mattresses use cooling agents to help draw heat away from the body. Open cell, gel-infused, and copper-infused mattresses have a good cooling effect.
PRICE
Good quality memory foam mattresses can come with a significant price tag. If you want a mattress that will last many years and provide excellent comfort you will have to be ready to pay a considerable sum of money.
Our advice is to shop around. There's a lot of competition out there on the market so if you spend some time comparing retailers you will find something in your price range. However, keep an eye on quality and avoid cheap low-end products.
THEY ARE NOT WATERPROOF
Memory foam mattresses are not waterproof. You will need to be careful when handling liquids in the vicinity of the bed. The mattress absorbs liquid and can be damaged by water, tea, and coffee spills. Liquids can degrade the foam polymer.
OFF-GASSING
Memory foam mattresses can emit an unpleasant odor when they are first unpacked. This is due to the chemicals that are used in the production of the foam. The phenomenon is known as off-gassing.
It is especially true for mattresses that are shipped as a 'mattress-in-a-box'. These mattresses are wrapped and sealed in plastic protective covers. But don't worry. The unpleasant odor will pass after 24-48 hours.
HEAVY
Memory foam mattresses can be heavy. Especially the high-quality, durable models. You may need some help lifting it onto your bed frame and getting it into position. So, our advice is to factor this in if you are switching to a new model.
Also, bear in mind the weight of the mattress if you are planning a move. Getting it back off your bed frame and into the back of a truck is a job for two pairs of hands.
---
READ NEXT
PROS & CONS OF A HYBRID MATTRESS – click here
PROS & CONS OF A LATEX MATTRESS – click here
---
FREQUENTLY ASKED QUESTIONS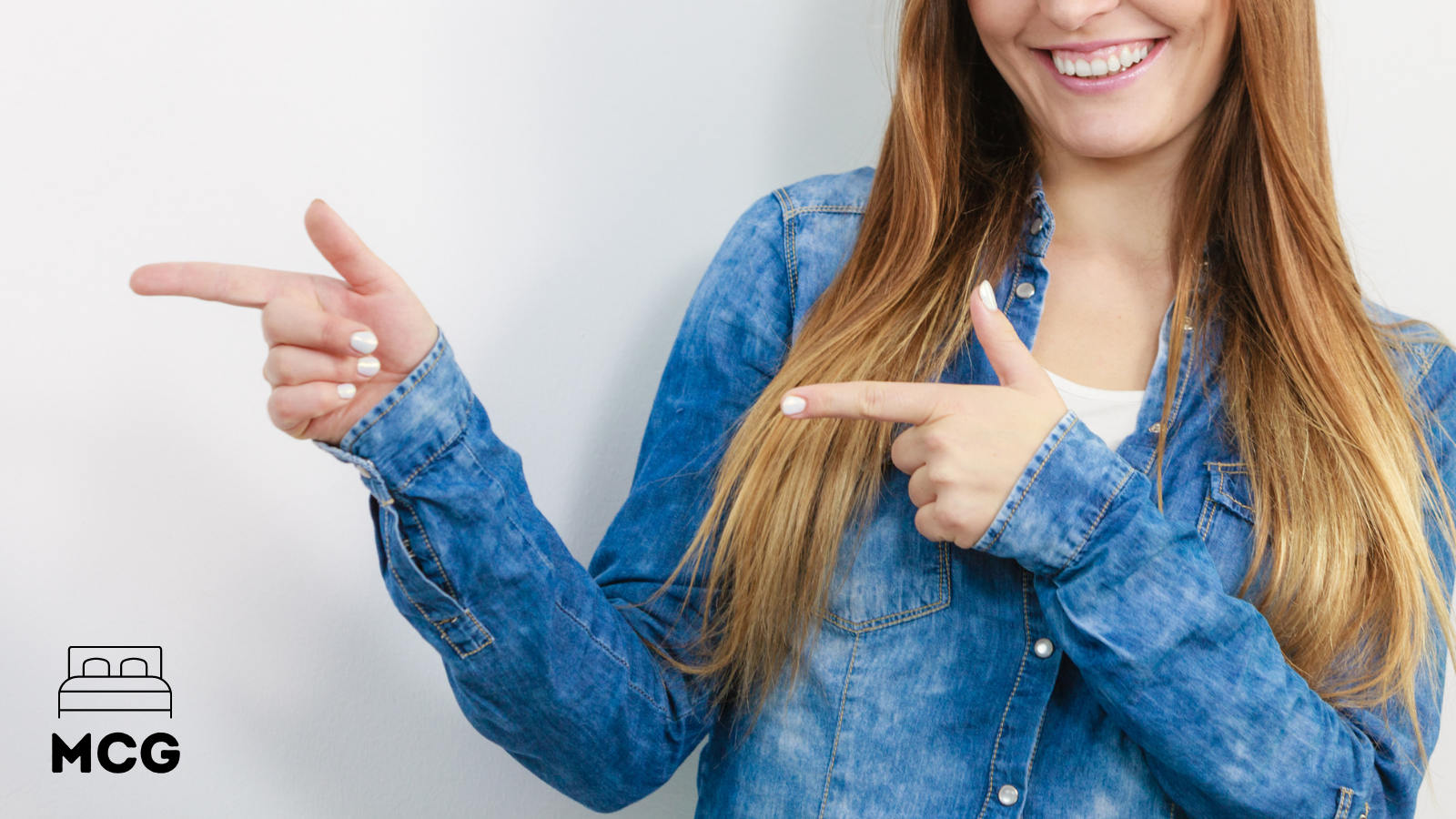 CAN YOU FLIP OVER A MEMORY FOAM MATTRESS?
No, you cannot flip your memory foam mattress. A memory foam mattress is designed with multiple layers and the top comfort layer is the side you should always be sleeping on.
The layers beneath the comfort layer are the transition layer and the core. The transition layer sits in the middle of the mattress and the core is at the bottom. If you flipped your memory foam you would end up sleeping on the mattress core.
The core is not designed for sleeping on. It has been specially designed to provide rigid support and stability to the layers above. You should never sleep on the bottom core level of a memory foam mattress.
HOW LONG DOES A MEMORY FOAM MATTRESS LAST?
The length of time a memory foam mattress will last depends on the quality of the mattress. In general high-quality memory foam mattresses use foam materials of higher durability.  The care with which you treat the mattress will also affect its expected lifespan. However, in general, you can expect a high-quality memory foam mattress to last 8-10 years.
DO MEMORY FOAM MATTRESSES GET SOFT OVER TIME?
Yes, memory foam mattresses will get softer over time. When you first get a new memory foam it may feel too firm. Don't worry, this is what you can expect from a new mattress. Just give it a couple of weeks and you will notice the mattress begins to soften as it becomes familiar with your body weight.
IS A MEMORY FOAM OR A HYBRID MATTRESS BETTER?
The best type of mattress is the mattress that works best for you. Everyone will have an individual preference based on their preferred levels of responsive movement, motion isolation, cooling effect, and firmness. Sleeping position and body size and weight will also play a key role. In general, memory foams have become incredibly popular thanks to their soft cushioning support and pressure relief on stress areas such as the hips and shoulders.
IS MEMORY FOAM GOOD FOR SLEEPING?
Memory foam is great for sleeping. A good-quality memory foam mattress provides outstanding comfort and soft cradling support. The foam polymer of memory foam has been specially designed to contour your body and deliver incredible gentle cushioning.
---
READ NEXT
• Latex Mattress vs Memory Foam
---
ABOUT THE AUTHOR
SARAH FOY – Mattress Expert
Sarah joined the MCG team in the summer of 2021. She is our in-house foam mattress expert. Whether it's memory foam, latex foam, or straightforward polyfoam – she has you covered. Sarah has a particular passion for the unique body contouring effects and soft cradling support of latex and memory foam mattresses.
She has over 15 years of experience in the bedding, furniture, and textile industries. Sarah is a native of Arizona where she graduated from Northern Arizona University in the mid-noughties. When she's not in the office she likes to tend to her apple tree orchard in Flagstaff where she lives with her husband and two daughters.
---