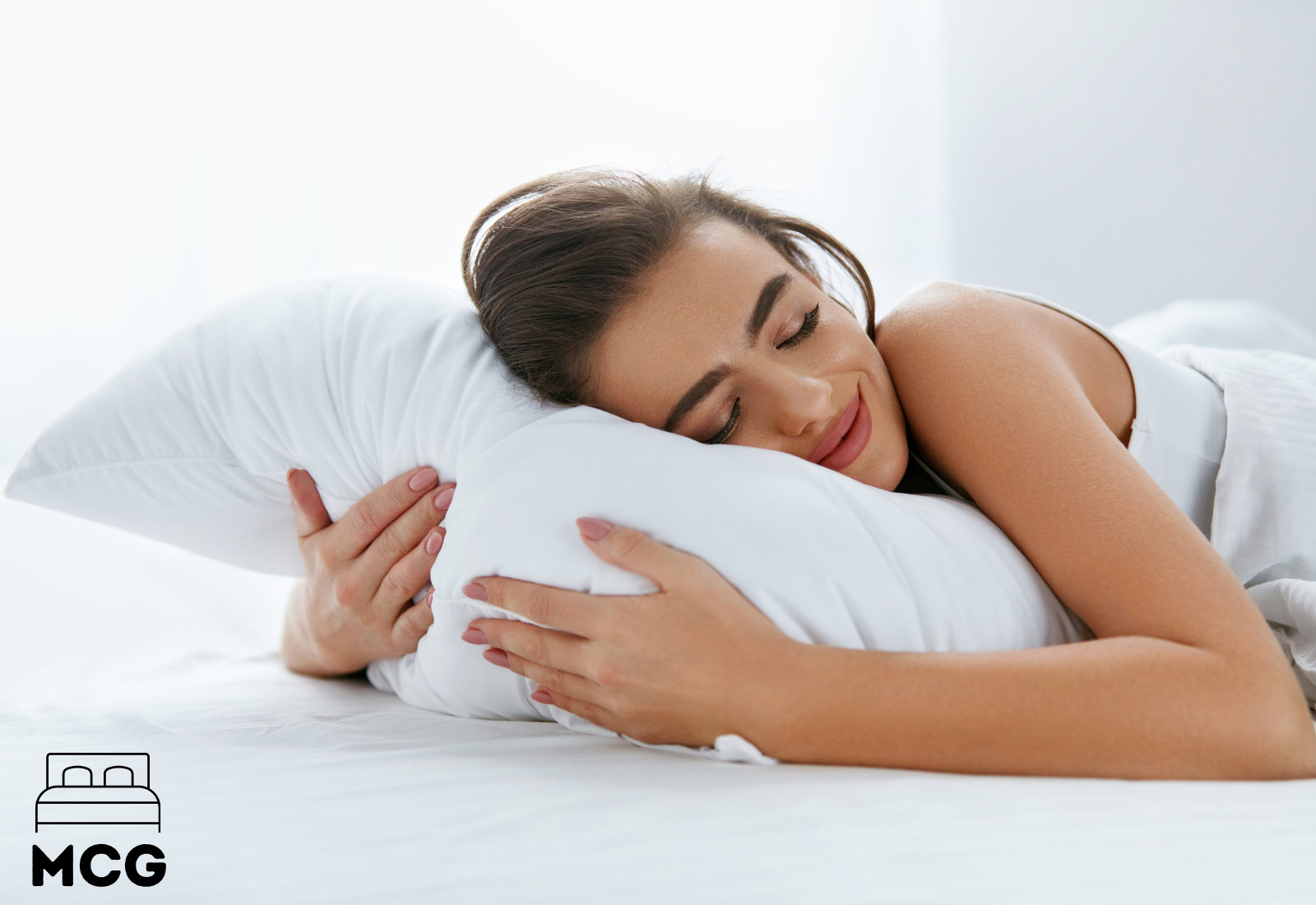 A kapok pillow is a soft fluffy pillow made using the cotton-like fibers found in the seeds of the kapok tree. Kapok is a natural and sustainable material and is ideal for making pillows. It has a light and airy feel and provides gentle soft cushioning. They make an excellent alternative to feather-down and synthetic pillows.  Check out this guide for all you need to know about – What is a Kapok Pillow? What is Kapok filling? And, What is Kapok stuffing?

---
KAPOK PILLOW GUIDE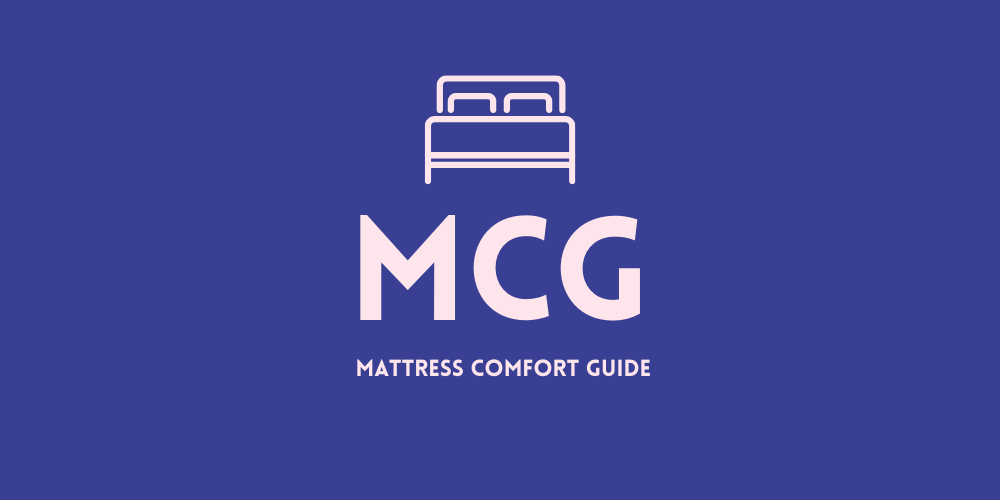 ---
HOW ARE THEY MADE?
Kapok pillows are made by harvesting the soft fibers that grow inside the seeds of the kapok tree. Kapok is a sustainable source and the fluffy fiber material can be collected without damaging the tree. Once collected the fibers are graded based on color and then processed for use as pillow stuffing.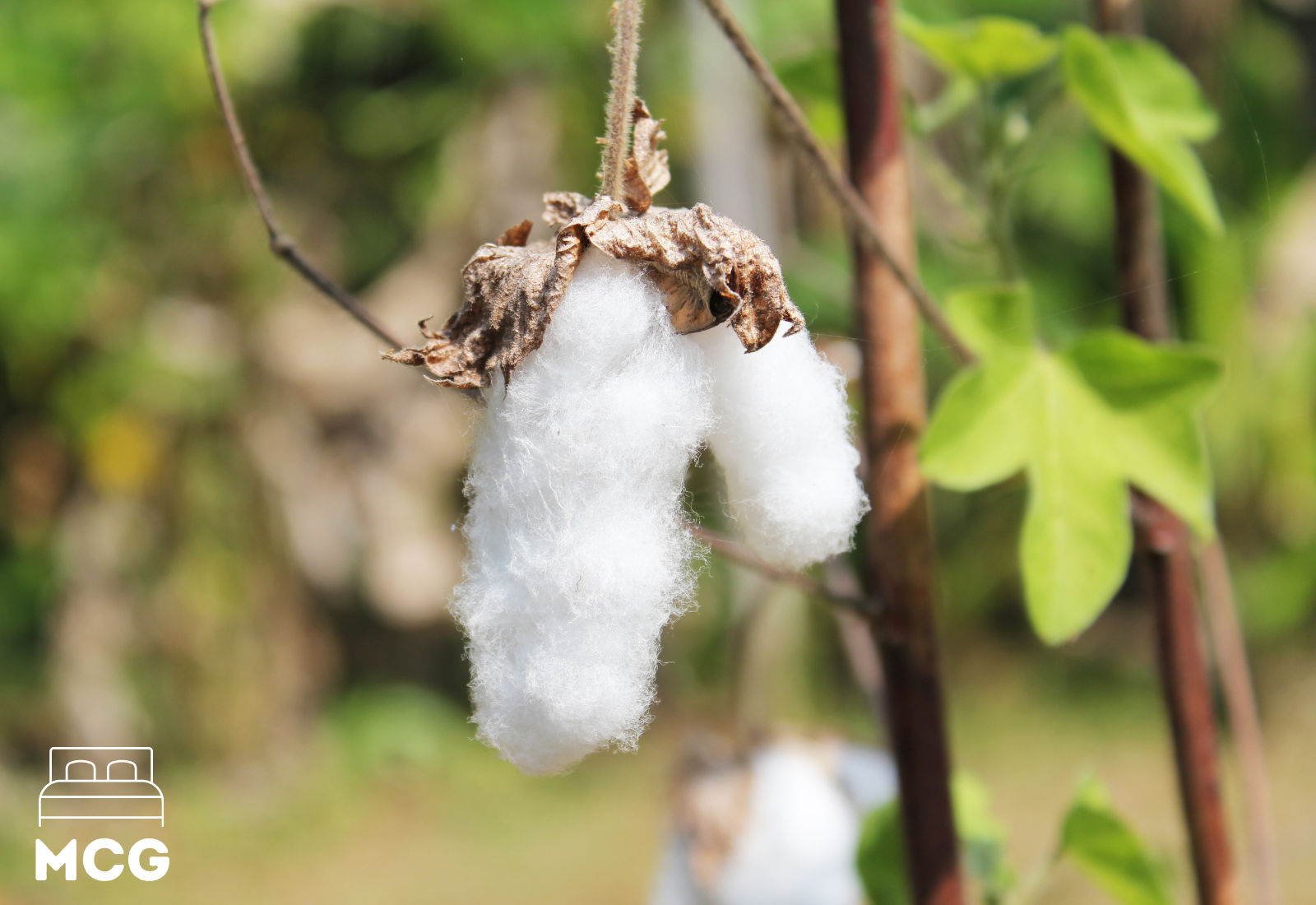 Kapok is available in a range of colors including white, off-white, and yellow. The fluffy fiber is then stuffed into a pillow casing just like any other pillow. The material used can vary but cotton is a popular choice.
Kapok pillows are adjustable. They are made with a zippered panel so you can open the pillow up and access the kapok stuffing. This allows you to adjust the thickness of the pillow by adding or removing stuffing.
---
WHAT IS KAPOK?
What is kapok fiber?  Kapok is a naturally occurring fiber that grows in the pods of the kapok tree. These pods contain plant seeds and a fluffy protective material that is collected and used in the manufacture of kapok pillows. It is an excellent plant-based alternative to synthetic pillow fillings. And, it is a cruelty-free alternative to down pillows.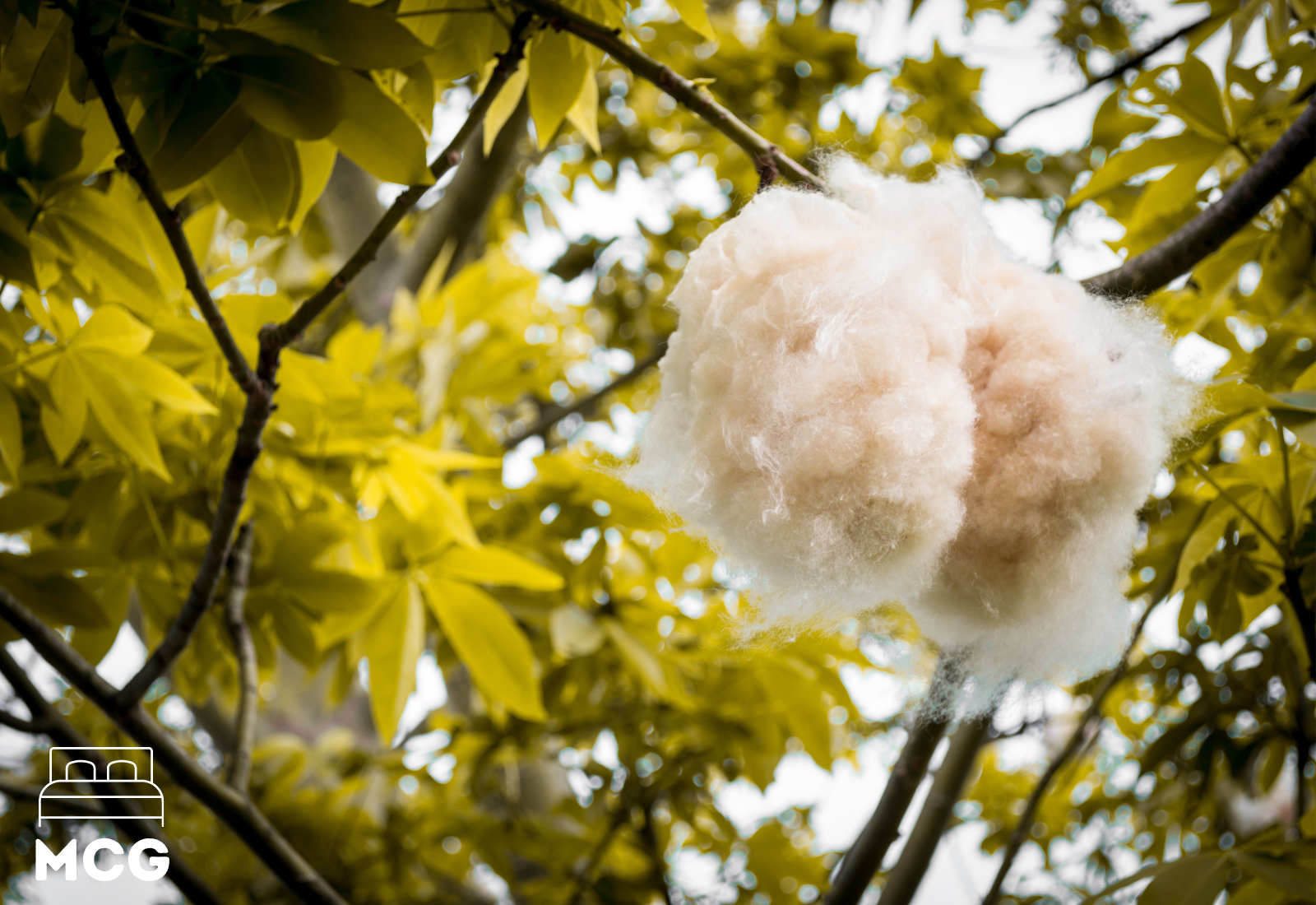 The kapok is a tropical tree that thrives in hot climates such as rainforests. The tree is native to Mexico and is commonly found throughout Central America, South East Asia, and Australia. Kapok trees are known to grow to heights in excess of two hundred feet and can have trunks measuring nine feet wide. It is a deciduous tree and loses its leaves during seasons of heavy tropical rain.
---
KAPOK PILLOW PROS AND CONS
What are the pros and cons of a kapok pillow? Kapok pillows have some distinct features that make them stand out from the crowd. Below we take a look at the benefits and disadvantages of a kapok pillow.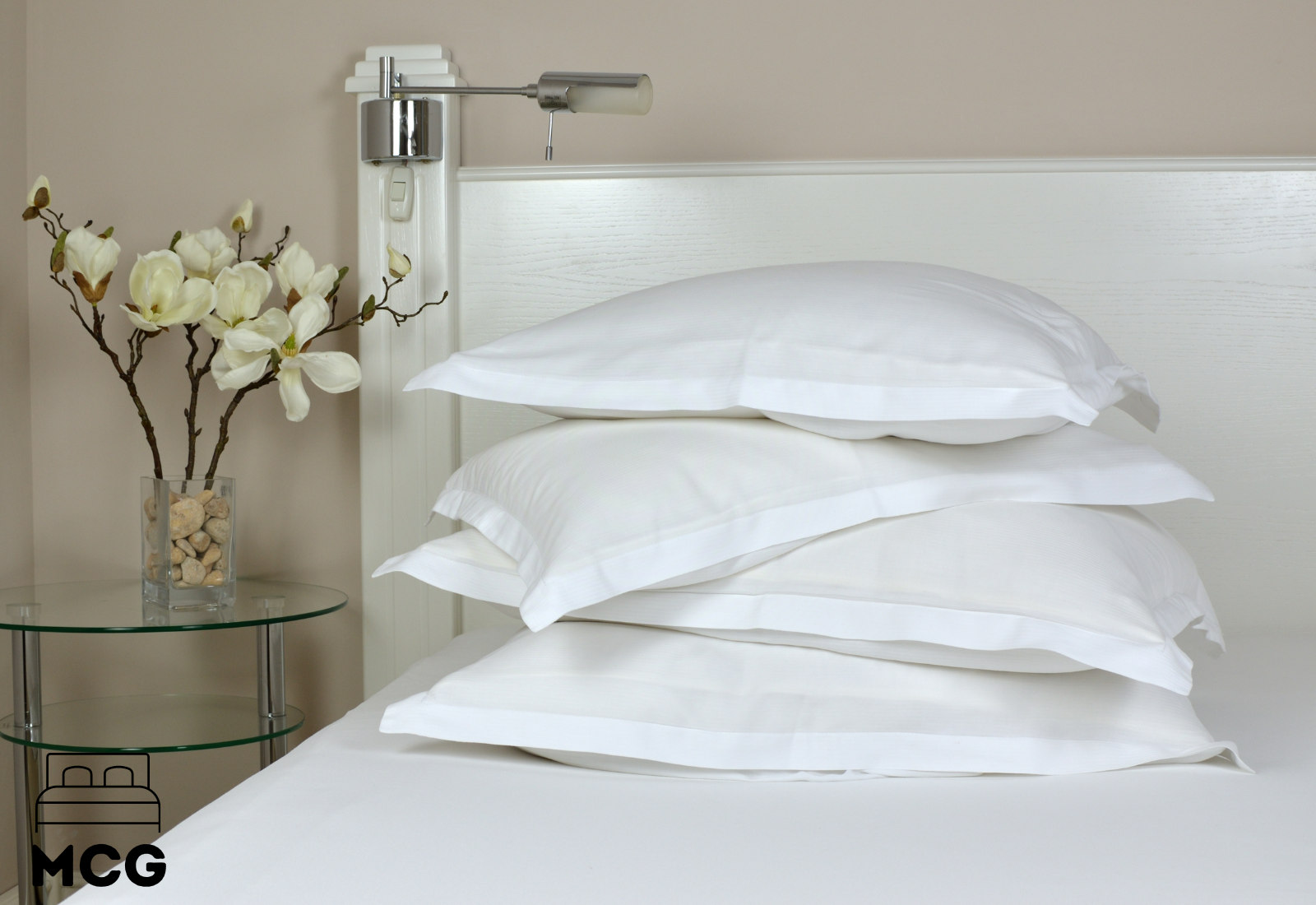 BENEFITS OF A KAPOK PILLOW
SOFT GENTLE CUSHIONING
One of the most striking benefits of a kapok pillow is its soft gentle cushioning. The natural woven kapok fiber gently cradles your head when it rests on the pillow. Kapok pillows are a good choice for people that want a pillow with a light and fluffy feel.
The feel of a kapok pillow is comparable to down and raw cotton. It is sometimes referred to as a 'silk-cotton' pillow. Kapok pillows and be fluffed up to restore their volume and shape after a night's sleep.  For best results match them up with one of the Top 10 Most Comfortable Mattress.
NATURAL MATERIAL
One of the most prominent kapok pillow benefits is the fact that kapok is a natural plant material. It is sourced from pods of the kapok tree that house the plant's seeds and this wonderful fluffy cotton-like fiber. If you want a pillow that contains natural-only materials and is chemical-free, then kapok is a great choice.
The fluffy pillow-filling material can be gathered from the kapok pods without damaging the tree. It is a renewable and sustainable material. And, by choosing a certified organic kapok pillow you can rest assured your pillow of choice is chemical and toxin-free.
ADJUSTABLE THICKNESS
The thickness of a kapok pillow can be adjusted. This is a feature we love. It allows you to customize your pillow so that it provides the precise amount of cushioning you need to get a comfortable night's sleep.
To adjust the thickness, all you have to do is open the zipper of the pillow casing. Then add or remove kapok filling until the pillow reaches your preferred thickness. We advise holding on to any kapok you remove in case you want to add it back in later.
CHEMICAL FREE
Kapok pillows are chemical-free. The fibers are completely natural and collected from the seed pods of the kapok tree. If you want to spend your nights resting your head on a pillow that contains no harmful chemicals or toxins – reach for an organic kapok pillow. This way you'll know your pillow has been made from all-natural materials.
DURABILITY
Kapok pillows are durable. They are relatively cheap and hold their shape well. Treated with care, a good quality kapok pillow should last you at least two years. Sometimes even longer. After this point, the filling material begins to clump and loses its shape. Once this happens you should invest in a new pillow.
VEGAN FRIENDLY
Kapok pillows are vegan-friendly. The material is 100% natural and sourced from the pods of the kapok trees. It contains no animal-based products – which will be welcome news to our vegan friends. Unlike feather stuffed pillows such as down, no animals are harmed in the making of a kapok pillow.
ECO-FRIENDLY & SUSTAINABLE
Kapok pillows are an eco-friendly choice. The material is naturally sourced, sustainable, and 100% bio-degradable. The pillows are made using no synthetic materials or chemicals. They are a great option f you want to reduce your carbon footprint.
---
RELATED
---
KAPOK PILLOW DISADVANTAGES
What are the disadvantages of a kapok pillow? Now, let's take a look at the cons of a kapok pillow you should be aware of.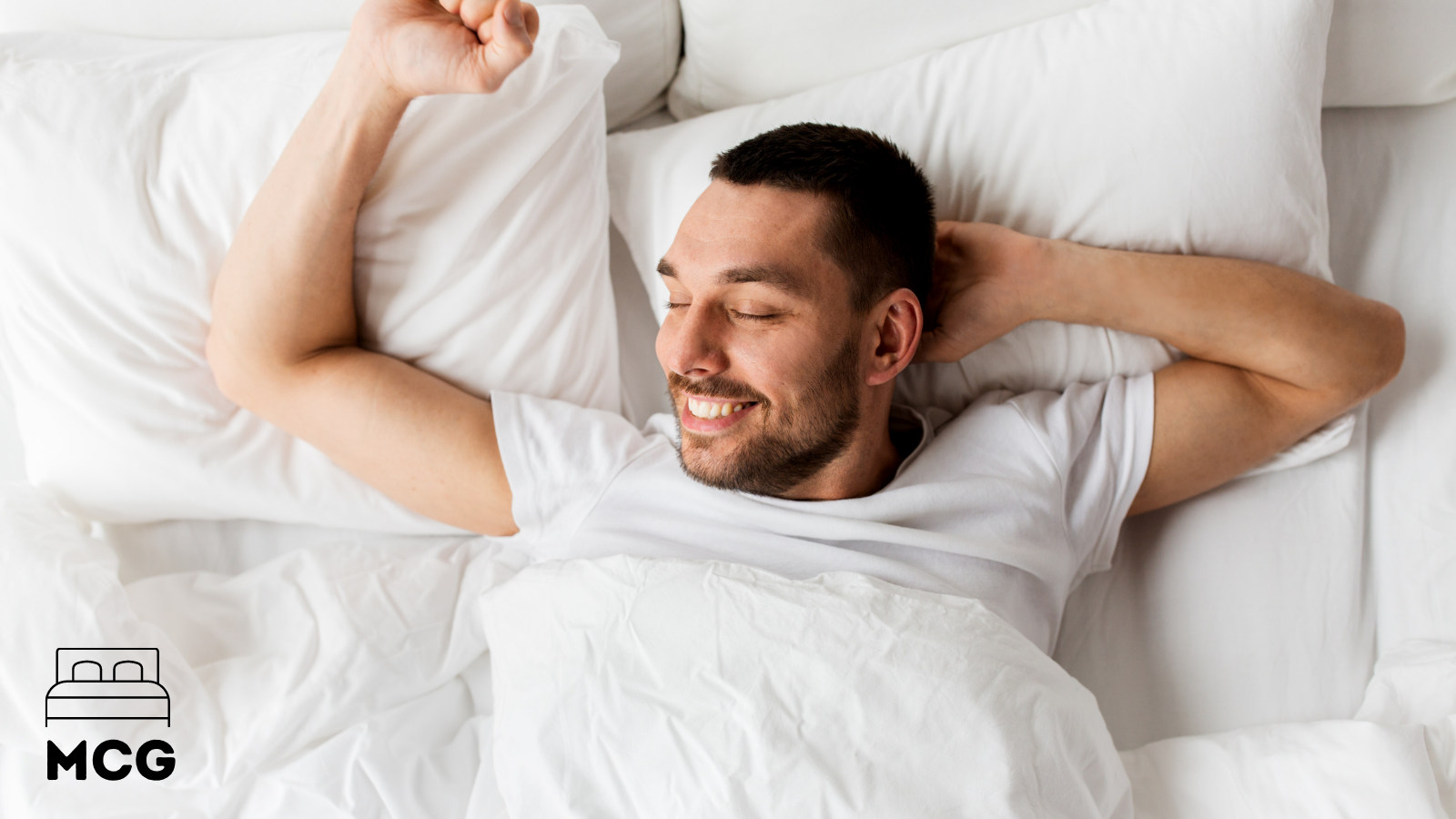 FLAMMABLE MATERIAL
One of the main drawbacks to a kapok pillow is its flammable nature. Kapok is a flammable material. And, unless you go for one that has been treated with fire retardant chemical such as formaldehyde – you can expect it to catch fire quickly if it is exposed to a naked flame. Smokers beware – keep your cigarette and lighter well away from your kapok pillow.
CAN DEVELOP CLUMPS
Kapok tends to clump as it ages. This means the fiber gathers in local areas that prevent it from spreading out evenly across the entire surface of the pillow. Regular puffing and reshaping help prevent clumping – but you may need to splash out on a new pillow after a couple of years if it begins to lose its shape.
DOESN'T MOLD AROUND YOUR HEAD
Kapok doesn't mold around the shape of your head like memory foam. Instead, it provides a soft cushioning surface and compresses under weight. Once you remove the weight of your head it quickly springs back to its original shape. If you want a pillow that closely molds around the shape of your head you should aim for a memory foam pillow.
DIFFICULT TO CLEAN
Kapok pillows are difficult to clean. The kapok material does not take kindly to a machine wash. In fact, if you want to wash the pillow your best bet is to remove the kapok filling completely and put the pillow casing through the laundry cycle.
Then, when the case is clean and dry replace the kapok filling. If you put the kapok material through the laundry it will clump. The fibers will entangle when they become wet and draw together in big lumps. This makes for an uneven and uncomfortable sleeping surface.
---
WHO IS A KAPOK PILLOW GOOD FOR?
Now that we've run through the pros and cons of a natural kapok pillow – let's take a look at who we think this type of pillow is good for.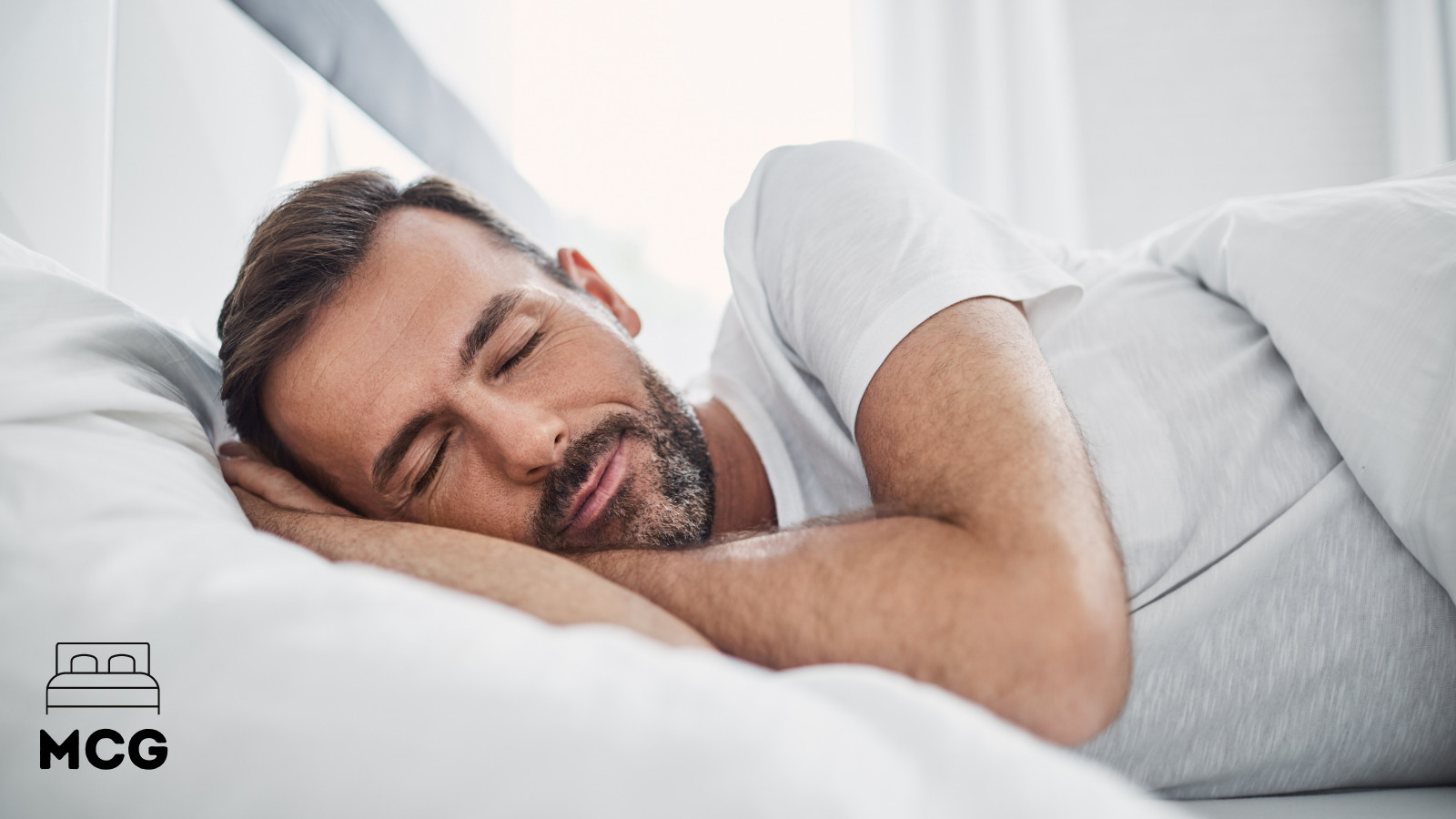 PEOPLE THAT WANT A SOFT LIGHTWEIGHT PILLOW
Kapok pillows are a great choice for people that want a soft cushioning fluffy pillow. Kapok is sometimes referred to as silk-cotton thanks to its distinct gentle cradling properties. Their distinct light and airy feel is key to their popularity.
PEOPLE THAT WANT A NATURAL MATERIAL
They're also a great choice for people that prefer a pillow made from natural materials. Kapok is a plant-based material and it is 100% natural. The cotton-like fibers are harvested from the seed pods of the tree and contain no man-made materials.
PEOPLE THAT WANT TO REDUCE THEIR CARBON FOOTPRINT
Kapok pillows are great for people that want to reduce their carbon footprint and help protect the planet. The pillows are made from eco-friendly, sustainable kapok and contain no chemicals, toxins, or synthetic materials. Better still, kapok is completely biodegradable.
PEOPLE THAT WANT A PILLOW THEY CAN ADJUST
These pillows are a great choice for people that want a customizable pillow. Kapok pillows can be opened up and filling added or removed to adjust thickness. This allows you to adjust the height of the pillow so you can find a sweet spot that's perfect for your sleeping position.
---
SHOULD YOU BUY ONE?
Yes, you should buy a kapok pillow if you want an all-natural, eco-friendly, super soft cushioning pillow. We think they're a great alternative to all-cotton and down pillows. They have a similar feel to feather-down pillows but are cruelty-free. Kapok is sourced from the seed pods of a tree while down involves the removal of feathers from animals.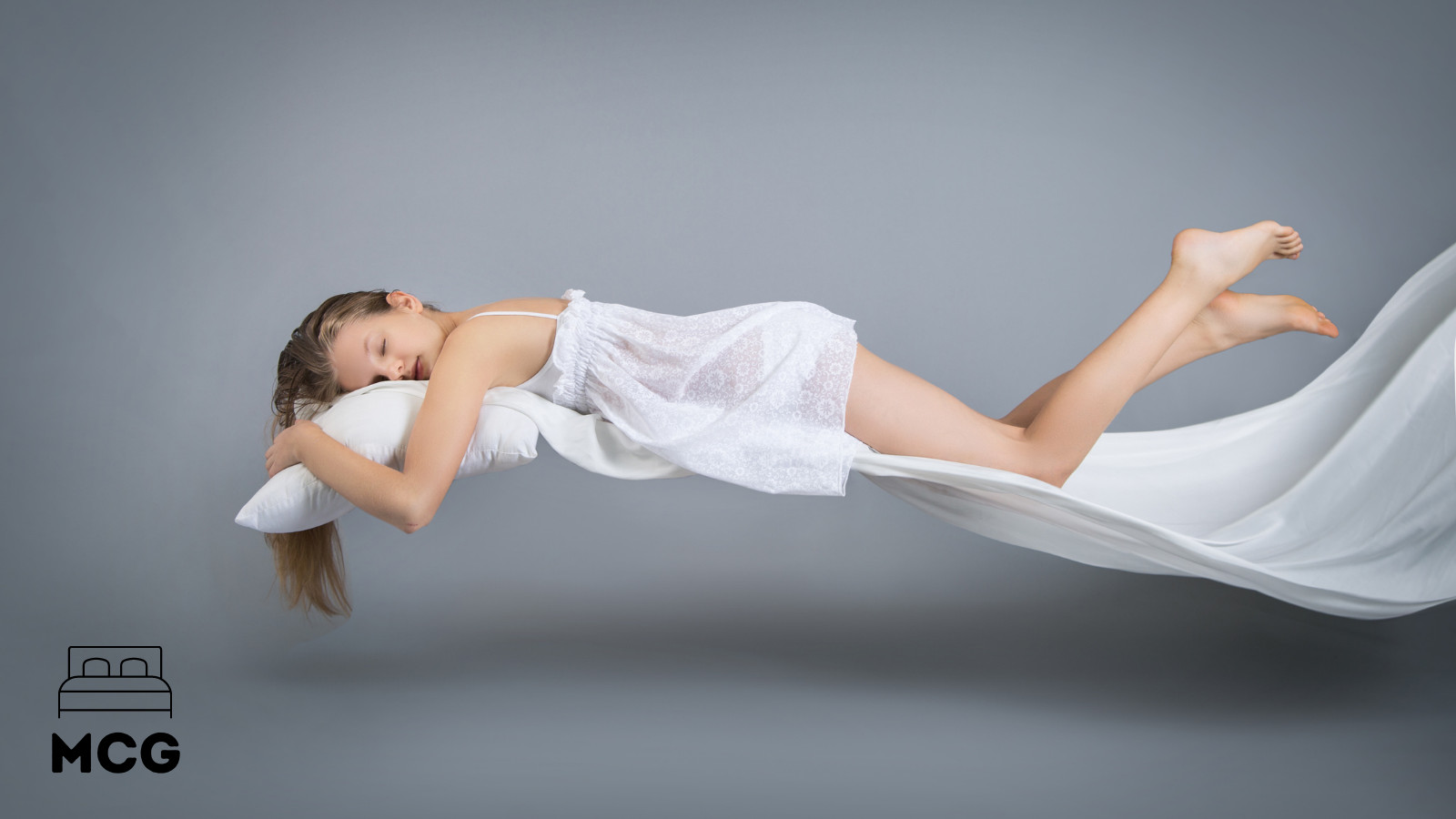 The pillows are adjustable, durable, and vegan friendly. But, there are some key disadvantages you need to take into consideration. Kapok pillows are difficult to clean, flammable, and can develop clumps over time. The only way to decide if a kapok pillow is a good choice for you is to way up all the pros and cons and figure out if they are a good fit for your lifestyle.
---
FREQUENTLY ASKED QUESTIONS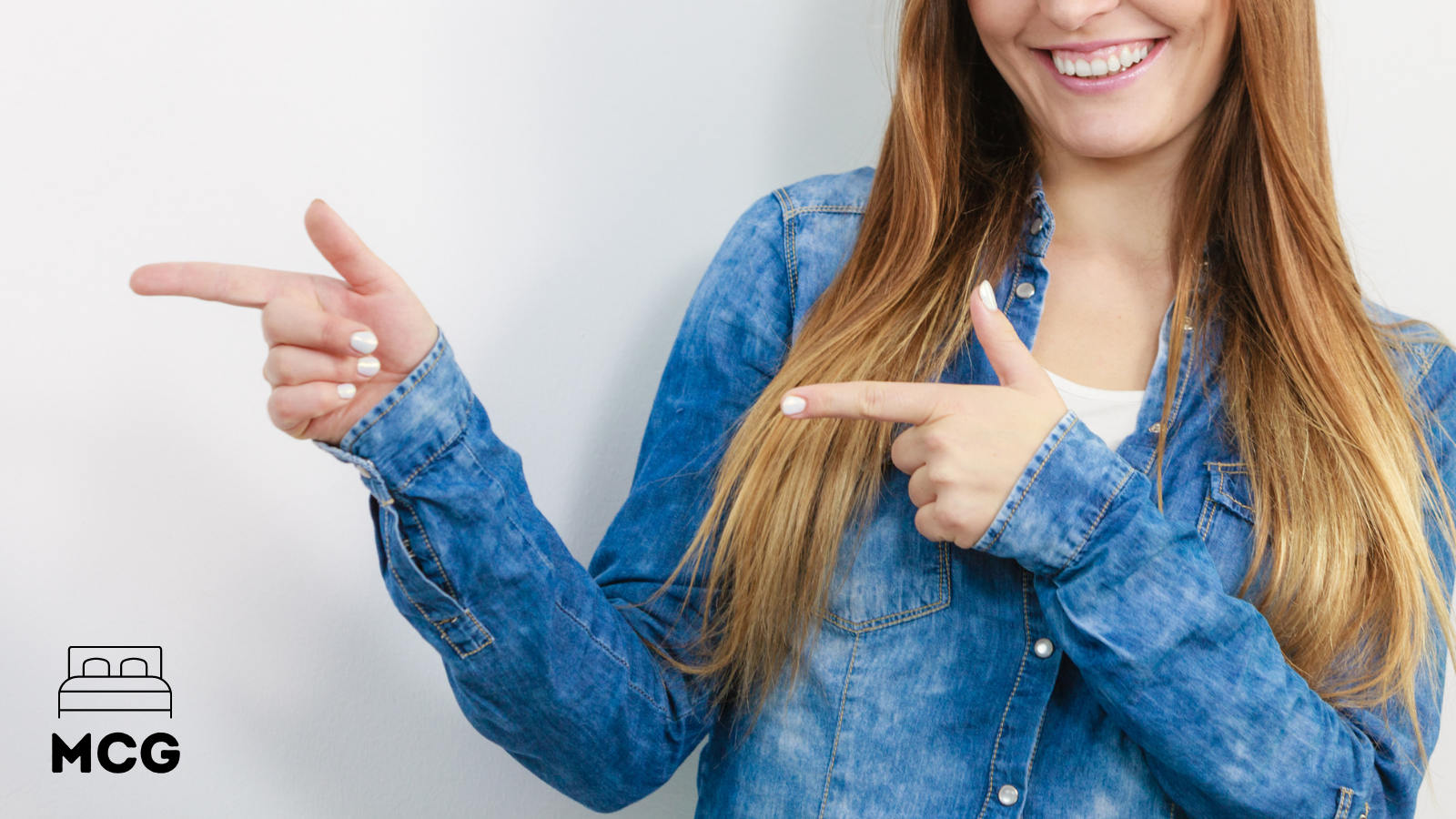 HOW MUCH DOES A KAPOK PILLOW COST?
Kapok pillows cost between $50-$100. Kapok pillows at the lower end of the price range are of lower quality, while high quality organic certified kapok pillows are priced closer to the $100 mark.
IS KAPOK A GOOD FILLING FOR PILLOWS?
Yes, kapok is a good filling for pillows. It is an all-natural, sustainable, plant-based material. And, it provides soft gentle cushioning. Pillow height can be adjusted by adding or removing kapok filling and they are an eco-friendly alternative to synthetic pillows options.
WHAT'S BETTER, A COTTON OR KAPOK PILLOW?
Cotton and kapok are both good choices for pillows. They have a similar feel – but many people think kapok has a lighter and bouncier feel than cotton. Kapok is sometimes called 'silk-cotton'.
WHAT DO KAPOK PILLOWS FEEL LIKE?
Kapok pillows have a very soft and fluffy cushioning feel. The natural plant fibers have a feel similar to feather-down pillows. When you rest your head on a kapok pillow it gently cradles your head. When weight is removed it quickly bounces back to its original shape.
HOW LONG DO KAPOK PILLOWS LAST?

How long does a kapok pillow last?  Kapok pillows last approximately two years. After this time they begin to clump and lose their shape. You will need to replace your kapok pillow once this begins to happen.
IS KAPOK PILLOW FILLING WASHABLE?
No, kapok pillow filling cannot be washed. It tends to clump and lose its shape when it gets wet. To wash a kapok filling you should remove all the filling and wash only the pillow casing.
ARE KAPOK PILLOWS ENVIRONMENTALLY FRIENDLY?
Yes, kapok pillows are environmentally friendly. They are a natural, sustainable, plant-based material. Organic kapok pillows contain no toxic chemicals or synthetic filling components. They are also completely biodegradable.
---
ABOUT THE AUTHOR
SARAH FOY – Mattress Expert
Sarah joined the MCG team in the summer of 2021. She is our in-house foam mattress expert. Whether it's memory foam, latex foam, or straightforward polyfoam – she has you covered. Sarah has a particular passion for the unique body contouring effects and soft cradling support of latex and memory foam mattresses.
She has over 15 years of experience in the bedding, furniture, and textile industries. Sarah is a native of Arizona where she graduated from Northern Arizona University in the mid-noughties. When she's not in the office she likes to tend to her apple tree orchard in Flagstaff where she lives with her husband and two daughters.
---